Compétences
E-skills association. Welcome to e-skills UK - e-skills UK is the Sector Skills Council for Business and Information Technology. Quelques compétences mobilisées par les Dép. Formation dans leur politique e-learning… | epedagogie. Bloom's - Introduction. This is an update to Bloom's Revised Taxonomy which attempts to account for the new behaviours and actions emerging as technology advances and becomes more ubiquitous.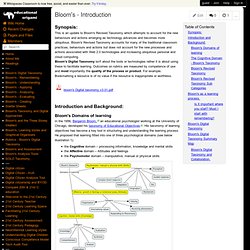 Bloom's Revised Taxonomy accounts for many of the traditional classroom practices, behaviours and actions but does not account for the new processes and actions associated with Web 2.0 technologies and increasing ubiquitous personal and cloud computing.Bloom's Digital Taxonomy isn't about the tools or technologies rather it is about using these to facilitate learning. Outcomes on rubrics are measured by competence of use and most importantly the quality of the process or product. For example. European e-Competence Framework - Home. Learning-outcomes.net. Toutes les fiches. LinkedIn lance LinkedIn Skills. – Blog référencement, positionnement Web, LinkedIn lance LinkedIn Skills. Blog référencement, positionnement Web, « Affluences Référencement. LinkedIn a su s'imposer comme la référence en matière de réseau social professionnel.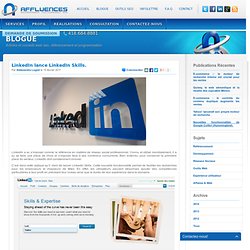 Connu et utilisé mondialement, il a su se faire une place de choix et s'imposer face à ses nombreux concurrents. Bien entendu, pour conserver la première place du secteur, LinkedIn doit constamment innover. Compe-tic. Www.tocosk.com.
---