Compétences
e-skills association
EeSA congratulates the European Commission for launching the second European e-Skills Week. e-Skills are and will continue to be critical for building a modern workforce, and all individuals especially young people need to be made aware of the limitless opportunities that e-skills and a career in IT can bring. EeSA and all other pan-European stakeholders and National Contact Points will be working together to bring the message that e-skills matter for jobs, and for life. – Enhancing the performance and international attractiveness of Europe's higher education institutions and raising the overall quality of all levels of education and training in the EU.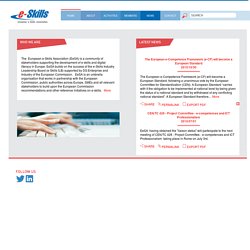 Quelques compétences mobilisées par les Dép. Formation dans leur politique e-learning… | epedagogie
Voila en ce mardi un site ou plutôt comme j'aime souvent les nommer une trousse à outils audio - vidéo gratuite en ligne. Un site qui va vous donnez accès à six outils voir sept tous vraiment très intéressants, que ce soit, un découpeur audio, un convertisseurs multi formats audio, un fusionneur audio, un convertisseur multi formats vidéo, un enregistreur de voix et un découpeur vidéo, tous ces outils sont gratuits et disponible en ligne via un simple navigateur web. Via Frédéric DEBAILLEUL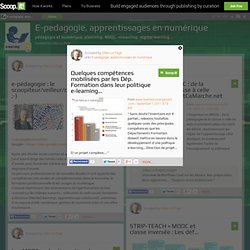 This is an update to Bloom's Revised Taxonomy which attempts to account for the new behaviours and actions emerging as technology advances and becomes more ubiquitous. Bloom's Revised Taxonomy accounts for many of the traditional classroom practices, behaviours and actions but does not account for the new processes and actions associated with Web 2.0 technologies and increasing ubiquitous personal and cloud computing.Bloom's Digital Taxonomy isn't about the tools or technologies rather it is about using these to facilitate learning. Outcomes on rubrics are measured by competence of use and most importantly the quality of the process or product. For example.
Bloom's - Introduction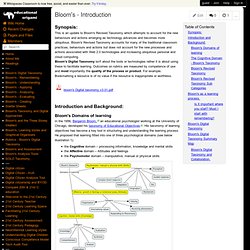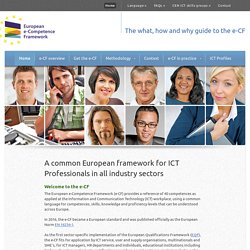 A common European framework for ICT Professionals in all industry sectors The European e-Competence Framework (e-CF) is a reference framework of 36 ICT competences that can be used and understood by ICT user and supply companies, the public sector, educational and social partners across Europe. The framework provides an international tool for: ICT practitioners and managers, with clear guidelines for their competence developmentHuman resources managers, enabling the anticipation and planning of competence requirementsEducation and training, enabling effective planning and design of ICT curriculaPolicy makers and market researchers, providing a clear and Europe-wide agreed reference for ICT skills and competences in a long-term perspectiveProcurement managers, providing a common language for effective technical terms of reference in national and international bids. The European e-Competence Framework has been developed in the context of the CEN workshop on ICT Skills.
learning-outcomes.net
Toutes les fiches
LinkedIn lance LinkedIn Skills. – Blog référencement, positionnement Web, LinkedIn lance LinkedIn Skills. Blog référencement, positionnement Web, « Affluences Référencement
LinkedIn a su s'imposer comme la référence en matière de réseau social professionnel. Connu et utilisé mondialement, il a su se faire une place de choix et s'imposer face à ses nombreux concurrents. Bien entendu, pour conserver la première place du secteur, LinkedIn doit constamment innover.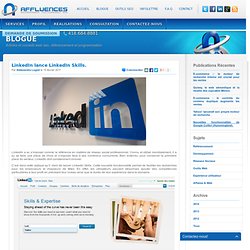 www.tocosk.com