Collaborative Writing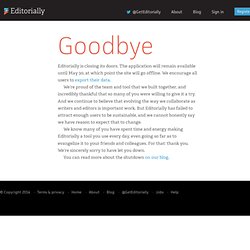 Editorially is closing its doors. The application will remain available until May 30, at which point the site will go offline. We encourage all users to export their data. We're proud of the team and tool that we built together, and incredibly thankful that so many of you were willing to give it a try. And we continue to believe that evolving the way we collaborate as writers and editors is important work. But Editorially has failed to attract enough users to be sustainable, and we cannot honestly say we have reason to expect that to change.
Hello, We launched Writeboard back in October of 2005 as a stand-alone service. A few years later we integrated Writeboards into Basecamp Classic and Backpack. Today, the vast majority of Writeboards are created inside those two products.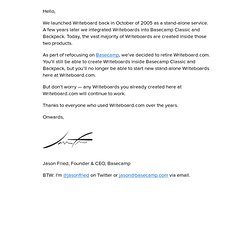 Download Free Ebooks » 18 Free Short Story Sites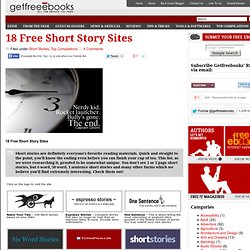 18 Free Short Story Sites Short stories are definitely everyone's favorite reading materials. Quick and straight to the point, you'll know the ending even before you can finish your cup of tea. This list, as we were researching it, proofed to be somewhat unique. You don't see 1 or 2 page short stories, but 6 word, 50 word, 1 sentence short stories and many other forms which we believe you'll find extremely interesting.
6 Collaborative Writing Sites – Place For Writers & A Good Source For Short Stories With Interesting Twists Have you heard of Photoshop Tennis? One would provide or design an initial image, which will be passed on to another person which he or she will modify, and then passed back to the original person for more modifications.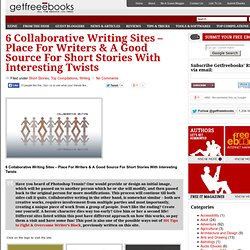 Download Free Ebooks » 6 Collaborative Writing Sites – Place For Writers & A Good Source For Short Stories With Interesting Twists
One Million Monkeys Typing: A Collaborative Writing Project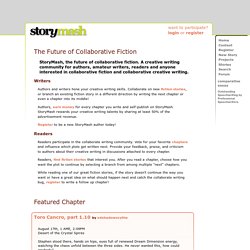 "Hush. hush," Sang the wind, gently blowing the leaves across the soft green grass. The stars danced up above, shining their light down from the heavens and into the bedroom of a little girl named Clara, who slept oh so soundly in her canopy bed, dreaming of fairies and butterflies, fluttering around her head. In the next room slept her mother and father, peacefully, curled into one another arms as though never wanting to let go. And in the last room slept Clara's brother, Walker, who sat up in his bed, groaning because of his lassitude and unable to fall asleep. Somnolent he got out of bed and headed for the bedroom door.
Updated passage correction settings March 8, 2008 - 8 comments We know it's been a long time since we last posted here, but we are still working to add new features to Novlet: the first of the list is the new set of message boards, which should allow all of us to ... Read more