Collaboration
Make beautiful products - sprint.ly. TV and Online Video Advertising Slow to Integrate. Someday, online video will almost certainly become so disruptive that TV advertising will have to integrate with it.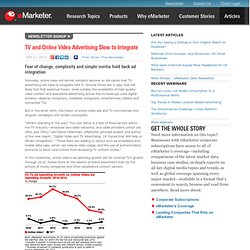 Several forces are in play that will likely fuel that eventual fusion, most notably the availability of high-quality video content and associated advertising across five increasingly used digital screens—desktop computers, notebook computers, smartphones, tablets and connected TVs. But in the short term, the fusion of online video ads and TV commercials into singular campaigns will remain incomplete. "What's standing in the way?
The core factor is a fear of financial loss within the TV industry—broadcast and cable networks, and cable providers (which are often also ISPs)," said David Hallerman, eMarketer principal analyst and author of the new report, "Digital Video and TV Advertising: 16 Forces that Will Help or Hinder Integration." Company and Team Collaboration - Hall. Project Management & Cloud Collaboration by Rule. Open Source Enterprise Documentation Platform by MindTouch - MindTouch, Inc. Online Mind Mapping - MindMeister. Social Networking Software - Jive Engage Employees. Online Business Collaboration Software: Intranet Software, Business Email Service, Online Document & Database Management. Enterprise Collaboration, Business Process and Workflow - WizeHive.
Online collaboration that is user friendly, well designed and cost-effective • Onehub. Bounce – A fun and easy way to share ideas on a website. Friendpaste - Welcome. A.nnotate.com: Upload, Annotate, Share. Online document review and collaboration - PDF, Word and HTML. Collaborative Online Diagram Software - Try it Free. Docs - Online documents, spreadsheets, presentations, surveys, file storage and more. Groups (1) FriendFeed. Business group chat, file sharing, group decision making: Campfire.
Group email collaboration tool and CRM. Simple and Secure: tgethr.
Hashwork - Social Business & Social CRM. StatusNet | Your Network. CoSketch.com - Online Whiteboard Collaboration. Online text editor, real-time collaboration - collabedit. Diigo - Web Highlighter and Sticky Notes, Online Bookmarking and Annotation, Personal Learning Network. Socialcast - Enterprise Microblogging, Social Networking and Activity Streams. The Enterprise Social Network.
---