Collaboration
Make beautiful products - sprint.ly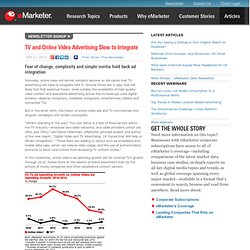 Someday, online video will almost certainly become so disruptive that TV advertising will have to integrate with it. Several forces are in play that will likely fuel that eventual fusion, most notably the availability of high-quality video content and associated advertising across five increasingly used digital screens—desktop computers, notebook computers, smartphones, tablets and connected TVs. But in the short term, the fusion of online video ads and TV commercials into singular campaigns will remain incomplete. "What's standing in the way? The core factor is a fear of financial loss within the TV industry—broadcast and cable networks, and cable providers (which are often also ISPs)," said David Hallerman, eMarketer principal analyst and author of the new report, "Digital Video and TV Advertising: 16 Forces that Will Help or Hinder Integration."
TV and Online Video Advertising Slow to Integrate
Company and Team Collaboration - Hall
Project Management & Cloud Collaboration by Rule
See what we've been up to We've always had a vision to Rule work and enjoy life. As a garage startup from San Diego, things were bound to evolve in a, well, "creative way". After more than 10,000 companies signed up to Rule work, we made a discovery: Conversations are the fuel of productivity. Email was not built for team collaboration and while Rule does have a stream, we built it last to tie work activity and conversations together.
Open Source Enterprise Documentation Platform by MindTouch - MindTouch, Inc.
Online Mind Mapping - MindMeister
Social Networking Software - Jive Engage Employees
Online Business Collaboration Software: Intranet Software, Business Email Service, Online Document & Database Management
Enterprise Collaboration, Business Process and Workflow - WizeHive
Online collaboration that is user friendly, well designed and cost-effective • Onehub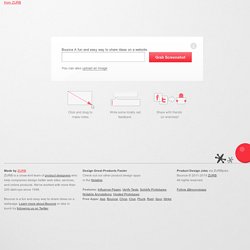 Bounce – A fun and easy way to share ideas on a website
from ZURB Bounce A fun and easy way to share ideas on a website. What is Bounce?
Friendpaste - Welcome
A.nnotate.com: Upload, Annotate, Share. Online document review and collaboration - PDF, Word and HTML
A.nnotate is an online annotation, collaboration and indexing system for documents and images, supporting PDF, Word and other document formats. Instead of emailing different versions of a document back and forth you can now all comment on a single read-only copy online. Documents are displayed in high quality with fonts and layout just like the printed version. It is easy to use and runs in all common web browsers, with no software or plugins to install. Hosted solutions are available for individuals and workgroups. For enterprise users the full system is available for local installation.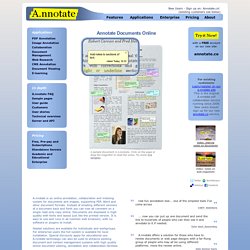 Collaborative Online Diagram Software - Try it Free
Docs - Online documents, spreadsheets, presentations, surveys, file storage and more
Groups (1)
FriendFeed
Business group chat, file sharing, group decision making: Campfire
Group email collaboration tool and CRM. Simple and Secure: tgethr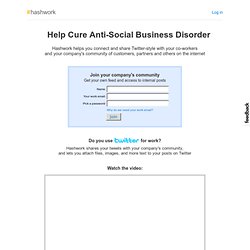 Hashwork - Social Business & Social CRM
Help Cure Anti-Social Business Disorder Hashwork helps you connect and share Twitter-style with your co-workers and your company's community of customers, partners and others on the internet Do you use for work? Hashwork shares your tweets with your company's community, and lets you attach files, images, and more text to your posts on Twitter
StatusNet | Your Network
Do you have an idea, a problem or just a cool picture that you quickly want to show a friend? • Anything you paint will show up for all other users in the room in real time. • One click to save a sketch as an image for embedding on forums, blogs, etc. • Runs in all common browsers without plugins or installation. • Free and without registration.
CoSketch.com - Online Whiteboard Collaboration
online text editor, real-time collaboration - collabedit
Diigo - Web Highlighter and Sticky Notes, Online Bookmarking and Annotation, Personal Learning Network.
Socialcast - Enterprise Microblogging, Social Networking and Activity Streams
The Enterprise Social Network