Cocreation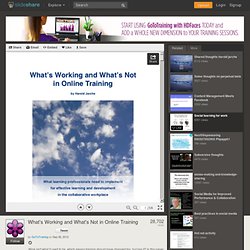 What's Working and What's Not in Online Training
28,702 views Work isn't what it used to be, which means training should have changed too, but has it? In this paper from learning expert, Harold Jarche, we learn what the learning landscape of 2013 and beyond will ...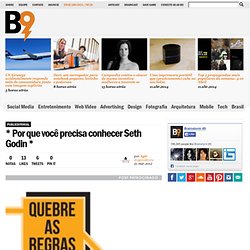 13 likes 6 Tweets 0 Pin it 0 pin it
* Por que você precisa conhecer Seth Godin *
The genes in our bodies can be traced back over three-and-a-half billion years to a single organism, Luca, the Last Universal Common Ancestor. As Luca reproduced, its genes copied and copied and copied and copied, sometimes with mistakes — they transformed. Over time this produced every one of the billions of species of life on earth. Some of these adopted sexual reproduction, combining the genes of individuals, and altogether, the best-adapted life forms prospered. This is evolution.
Everything is a Remix Part 4 Transcript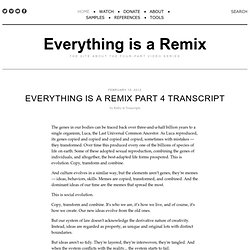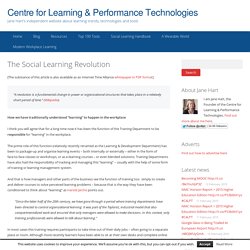 The Social Learning Revolution
EmailShare EmailShare [The substance of this article is also available as an Internet Time Alliance whitepaper in PDF format] "A revolution is a fundamental change in power or organizational structures that takes place in a relatively short period of time." (Wikipedia) How we have traditionally understood "learning" to happen in the workplace I think you will agree that for a long time now it has been the function of the Training Department to be responsible for "learning" in the workplace.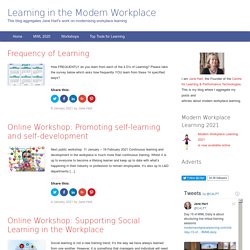 It's a hardhitting headline – and one that I copied from a recent post I found on THE Journal – Personalized Learning, Flipped Classrooms, Video Watching: Last Gasps of the Old Education, In that article, the authors argue that "personalized instruction, flipped classrooms, video watching, etc., etc. are the last gasps of the old, "education as acquiring stuff" model; they are attempts at putting a patina of new on an old, outmoded, broken and ultimately ineffective educational model." Like many, they believe that "'education as acquiring stuff" model is broken, and that the hordes of job hunters are the proof that education is not preparing students for the economic realities of the global marketplace" . They believe that "social learning, inquiry learning, just-in-time learning, and learning-by-doing, will become the dominant pedagogies.
Jane Hart is the Founder of the Centre for Learning and Performance Technologies, one of the most visited learning sites on the Web. In her monthly column for eLearn she shares some "gems"—useful or valuable tools, resources, and products she has unearthed for learning and performance improvement/support. In this month's column she lists her 10 favorite articles from 2011. From more than 500 links to articles, blog posts, slideshows, reports and infographics saved in my 2011 Reading List, I recently produced a list of the Top 100 Articles that impressed me the most in 2011. But if I had to choose just 10, what would they be? Below are my 10 favorite articles of 2011, with a taster quote from each.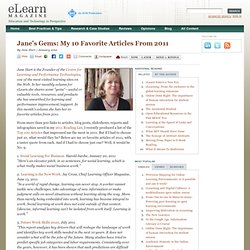 My 10 Favorite Articles From 2011
Fronteer Strategy
Co-Creation 5 Guiding Principles
CO-CRIAÇÃO: REINVENTANDO O CONCEITO
CO-CREATION GUIDE