Clojure
disclojure: public disclosure of all things clojure
ClojureDocs - Community-Powered Clojure Documentation and Examples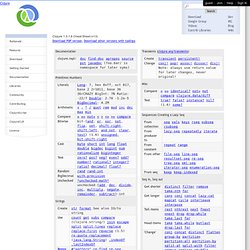 cheatsheet
guest|Join|Help|Sign In Clojure
Learn Clojure
Fatvat: Data Persistence in GAE with Clojure
If you want to persist stuff in Java, you've got a bewildering amount of choiceThere's even an entire book about making the right decision!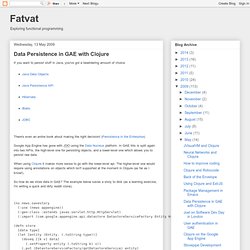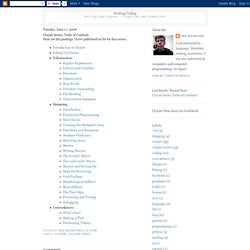 Writing/Coding
Clojure Series: Table of Contents
Clojure Programming - Wikibooks, collection of open-content textbooks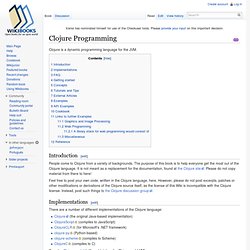 Clojure is a dynamic programming language for the JVM. Introduction[edit] People come to Clojure from a variety of backgrounds.
Mark Volkmann's Page
Mark Volkmann's Clojure Page
Casting SPELs with Clojure - Home -
Anyone who has ever learned to program in Lisp will tell you it is very different from any other programming language. It is different in lots of surprising ways - This comic book will let you find out how Lisp's unique design makes it so powerful ! This tutorial was adapted for Clojure, an exciting new dialect of Lisp running on the Java Virtual Machine.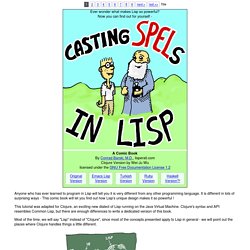 Try Clojure
Clojure Notes