International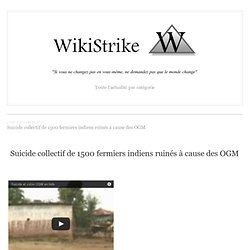 Lundi 5 décembre 2011 1 05 /12 /Déc /2011 11:47 Suicide collectif de 1500 fermiers indiens ruinés à cause des OGM Ces dernières semaines, 1500 fermiers se sont suicidés collectivement en Inde, dans la province de Chattisgarh.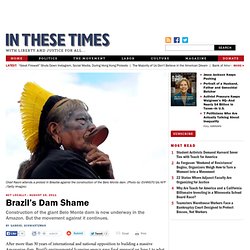 Construction of the giant Belo Monte dam is now underway in the Amazon. But the movement against it continues. After more than 30 years of international and national opposition to building a massive Amazonian dam, Brazil's environmental licensing agency gave final approval on June 1 to what could become the world's third-largest hydroelectric site. But the fight to protect the Amazon is not over. The dam had been held up for decades by the fierce resistance of Amazonian peoples, including indigenous groups, small farmers and river dwellers.
Brazil's Dam Shame
Trailer/White Nile
The Last Descent - A Film by Ebb and Flow Productions
Une pollution « dangereuse » enveloppe Pékin
18/07/2011...Chine, l'état des fleuves et rivières est une véritable catastrophe.
La Chine contemporaine après ses 30 années d'industrialisation à marche forcée en ont fait un pays sinistré sur le plan écologique ainsi que le premier responsable de l'émission de gaz à effet de serre, devant les Etats-Unis. Durant les trente-cinq dernières années, les préoccupations environnementales ont notoirement été négligées par la Chine au profit de la poursuite exclusive de la croissance économique.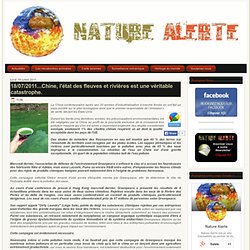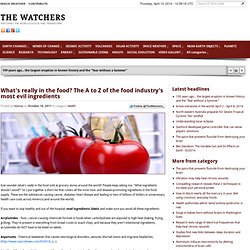 Ever wonder what's really in the food sold at grocery stores around the world?
What's really in the food? The A to Z of the food industry's most evil ingredients
30/08/2011...Josh Fox le réalisateur du film "gazland" revient avec un film militant sur l'exploitation des sables bitumineux, film bombe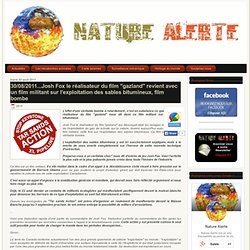 L'effet d'une véritable bombe à retardement , c'est en substance ce que Josh Fox le réalisateur du film "gazland" nous dit dans ce film militant sur les sables bitumineux. Josh Fox le réalisateur du film "gazland" qui dénonçait déjà les ravages et les dangers de l'exploitation du gaz de schiste sur la nature, revient aujourd'hui avec un nouveau film militant, cette fois sur l'exploitation des sables bitumineux.
Lundi 20 avril 2009 1 20 / 04 / Avr / 2009 16:48 le collage de Chris Jordan semble être prémonitoire du Tsunami d'ordure qui guette Hawaï - voyez plus bas... est la dernière production photographique de l'artiste américain Chris Jordan .
La vague de Kanagawa : Un tsunami d'ordures sur Hawaï - Topinambours et billevesees
No let up in greenhouse gas rise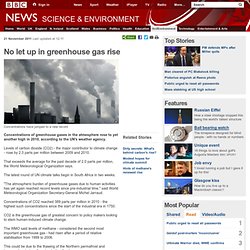 21 November 2011Last updated at 07:11 ET Concentrations have jumped to a new record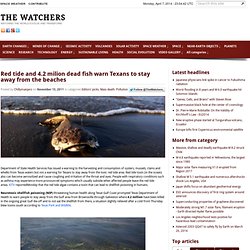 Department of State Health Services has issued a warning to the harvesting and consumption of oysters, mussels, clams and whelks from Texas waters but not a warning for Texans to stay away from the toxic red tide area. Red tide toxin (in the ocean) also can become aerosolized and cause coughing and irritation of the throat and eyes.
Red tide and 4.2 milion dead fish warn Texans to stay away from the beaches