Médias
The flip: Classwork at home, homework in class. Today, the 48-year-old helps teachers around the world "flip" their classrooms.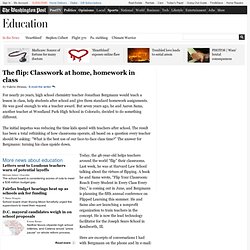 Last week, he was at Harvard Law School talking about the virtues of flipping. A book he and Sams wrote, "Flip Your Classroom: Reach Every Student in Every Class Every Day," is coming out in June, and Bergmann is planning the fifth annual conference on Flipped Learning this summer. He and Sams also are launching a nonprofit organization to train teachers in the concept. He is now the lead technology facilitator for the Joseph Sears School in Kenilworth, Ill. Students Enthusiastic About 'Flipped Classroom' Students at Hilliard Darby High School are experiencing what some refer to as a 'flipped classroom'.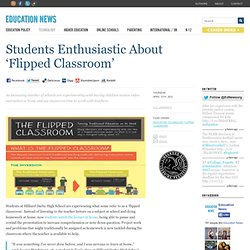 Instead of listening to the teacher lecture on a subject at school and doing homework at home, now students watch the lecture at home, being able to pause and rewind the presentation to increase comprehension or note down question. Project work and problems that might traditionally be assigned as homework is now tackled during the classroom where the teacher is available to help.
Professors put lectures online, use class for activities. David Marcey decided to mix things up in his biology classes last fall.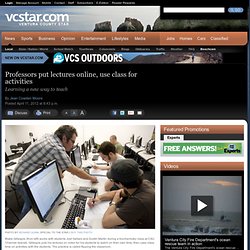 The professor at California Lutheran University in Thousand Oaks decided he wouldn't lecture in class anymore. Instead, he put his lectures on YouTube so students could listen to them whenever they liked. eSchool News TV. Watch this short video to get a glimpse into a "day in the life" of parents, students, and educators who are immersed in technology.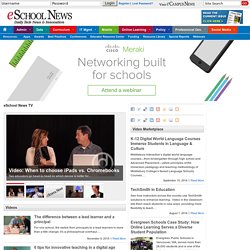 . … Flipped Classrooms in Michigan aid student learning. Technology enables schools to rethink the way that they deliver instruction to students, and a recent phenomenon that's catching on is called "flipping the classroom."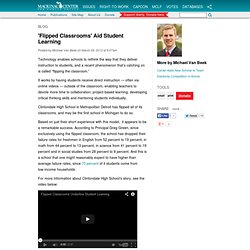 It works by having students receive direct instruction — often via online videos — outside of the classroom, enabling teachers to devote more time to collaboration, project-based learning, developing critical thinking skills and mentoring students individually. Clintondale High School in Metropolitan Detroit has flipped all of its classrooms, and may be the first school in Michigan to do so. St. Gabriel's Launches 1:1 iPad Initiative To Flip Classrooms.
Tablets | News St.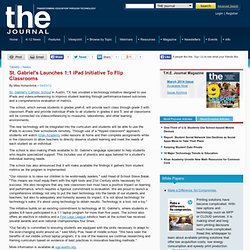 Gabriel's Launches 1:1 iPad Initiative To Flip Classrooms. Flipped learning: A response to five common criticisms. By Alan November and Brian Mull Read more by Contributor March 26th, 2012 One of the reasons this debate exists is because there is no true definition of what "flipped learning" is.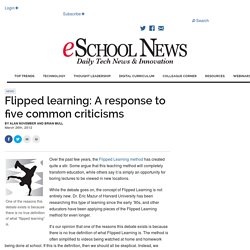 Over the past two years, the Flipped Learning method has created quite a stir. Some argue that this teaching method will completely transform education, while others say it is simply an opportunity for boring lectures to be viewed in new locations. While the debate goes on, the concept of Flipped Learning is not entirely new.
---