Actualidad Internet
Socialworks.
Google + Pinterest. Facebook Timeline For Brand Pages Expected To Arrive For Feb 29th. Facebook Plugins Keep People On Websites 50% Longer. Web surfers who log into third-party sites with Facebook Connect spend an average of 50 percent more time on those sites, and view twice as many pages.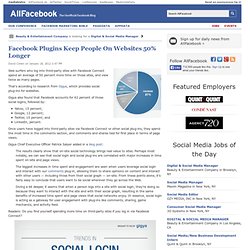 That's according to research from Gigya, which provides social plug-ins for websites. Gigya also found that Facebook accounts for 62 percent of those social logins, followed by: Yahoo, 15 percent;Google, 12 percent;Twitter, 10 percent; andLinkedIn, percent. Some Key Social Media Trends To Look For In 2012. Editor's note: Guest contributor Joseph Puopolo is an entrepreneur and start-up enthusiast, who blogs on a variety of topics including green initiatives, technology and marketing.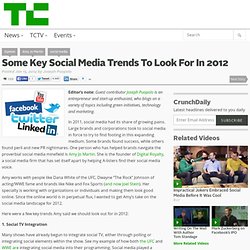 In 2011, social media had its share of growing pains. Large brands and corporations took to social media in force to try to find footing in this expanding medium. Some brands found success, while others found peril and new PR nightmares.
---