Museums, Libraries and Gov. Resources
25 Awesome Virtual Learning Experiences Online - Virtual Education Websites. Posted by Mark on June 18th, 2009 Just because you're online doesn't mean that you can't experience the world first-hand — or as close to first-hand as possible.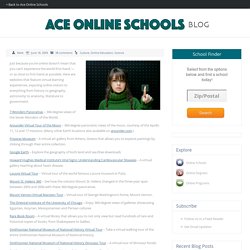 Here are websites that feature virtual learning experiences, exposing online visitors to everything from history to geography, astronomy to anatomy, literature to government. 7 Wonders Panoramas – 360-degree views of the Seven Wonders of the World. Arounder Virtual Tour of the Moon – 360-degree panoramic views of the moon, courtesy of the Apollo 11, 12 and 17 missions. (Many other Earth locations also available on arounder.com.) FREE -- Teaching Resources and Lesson Plans from the Federal Government. Digital Collections & Programs. The British Museum ? Welcome to the British Museum.
Project Gutenberg - free ebooks online download for iPad, Kindle, Nook, Android, iPhone, iPod Touch, Sony Reader.
---