Chrome - extensions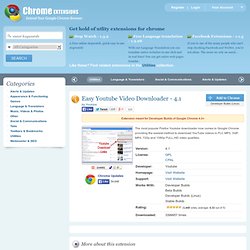 Stop Watch - 1.5.2 A Free online stopwatch, quick easy to use stopwatch! Free Language translation - 1.3.96 With our Language Translation you can translate entire websites in one click and in real time! You can get entire web pages translat..
Easy Youtube Video Downloader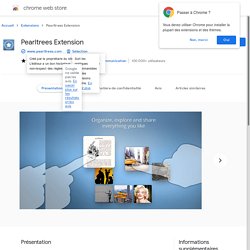 Pearltrees permet de collectionner, d'organiser et de partager tout ce que vous aimez sur le web. Pearltrees est un moyen gratuit et amusant d'organiser vos pages web, fichiers, photos et notes afin de les retrouver et de les partager partout, très facilement. Profitez de la communauté Pearltrees pour découvrir des nouveautés au coeur de vos intérêts et enrichir votre compte. Retrouvez tout ce que vous gardez dans Pearltrees depuis votre ordinateur, votre mobile ou votre tablette. A propos de Pearltrees : "L'application Pearltrees est magique !
Firebug Lite for Google Chrome, supported by the Firebug Working Group. Overview ------------- Firebug Lite is not a substitute for Firebug, or Chrome Developer Tools. It is a tool to be used in conjunction with these tools. Firebug Lite provides the rich visual representation we are used to see in Firebug when it comes to HTML elements, DOM elements, and Box Model shading. It provides also some cool features like inspecting HTML elemements with your mouse, and live editing CSS properties.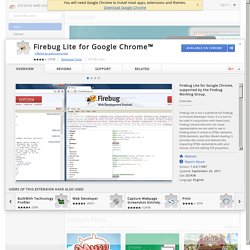 Firebug Lite for Google Chrome - Google Chrome extension gallery