EMOTION FROM PERCEPTION
Have you hugged your family today? [VIDEO]
Man makes an amazing discovery on Antiques Roadshow
The best surprise military homecomings
Strongest girl in the world prank
Cutest puppy attack ever
Epic crying baby prank by Jack Vale
Couple meets for the first time after dating long distance for 5 years
Suddenly... puppies
Andy Murray's emotional speech after loss in Wimbledon 2012
One unbelievably lucky ice climber
How do pain relievers work? [VIDEO]
This man remained a secret hero for most of his life
Microsoft's new tablet, Surface, freezes during presentation
Vitamine C - Gianna
Stress at Work Office COMPILATION
Crazy woman caught on security tapes
Man vs Computer
Bungee jump prank
How it feels to sell Instagram for a billion dollars
Perfect reflection: Hard to determine what's up and what's down
That was a close call
Dog has a morning visitor
Nice basketball shot
Drive-by compliments
Baseball player makes a kid cry... in a good way
Kid wakes up by drumming
How Pixar nearly deleted Toy Story 2 before its release
Why you should never celebrate too soon..
Victor Marx demonstrates the world's fastest gun disarm
Incredibly scary amusement park ride in Russia
Otters chase little girl
25 most awesome wedding proposals
US soldier home from Kuwait surprises his father-in-law
Mom and dad react to their daughter's pregnancy
Epic water bucket prank
00:16: The moment a lead singer of a band realizes they've "made it"
Meanwhile in Romania..
Cu sania in Voiniceni
Scum pot valve explosion
Lucky guy
INFO
Un invité pète les plombs à la télé
Mister Rogers: "Take 10 seconds of your time..." [VIDEO]
Incredible Ball Boy Catch - Aussie Open
Cat is watching you
Cat attacks singing card.
Funny Videos - Prank Gone Wrong Knock Out
Dog vs. Leaves
PEUR
Poor ball girl asked to catch huge bug at the Australian Open 2012
VESTIBULE
TOUCHER
Soda machine prank
GOUT
BODY REACTION
SONORE
Bebé que se asusta con su dinosaurio
Notorious B.I.G. calms down crying baby - original
Bebê rasgando as contas
Adorable baby says his first words..
почти авария
Great White Shark Accident ★★★★★
UK fireworks and parties welcome in new year
1 January 2012Last updated at 05:18 Fireworks, set to music, lit up the London skyline for 11 minutes Thousands of revellers have taken to the streets across the UK to herald the new year. Hundreds of thousands gathered in London to watch the 11-minute fireworks display under the London Eye, triggered by Big Ben's chimes. In Cardiff there was free live music at the Civic Centre, but no outdoor concert in Belfast this year. People attended events across Scotland, including some 80,000 in Edinburgh for the Hogmanay street party celebrations.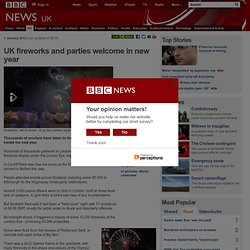 video futur joueur de foot italien ! - enfant, acteur, pleurs
Grandma's Double Rainbow Reaction
TOP 5 SEXIEST SUPERBOWL ADS - Five Sexy Super Bowl XLVI 2012 Commercials
Oserez-vous combattre ce ninja ?
mongolia! on Vimeo
Kristen Bell meets a sloth
I'm no expert, but I think this dog wants to go for a walk..
Wife gets a nonchalant surprise by her soldier husband returning home
DEGOUT
Guy eats a whole jar of nutella
Faire du buggy sur un lac gelé