Celebrities support OWS
Noam Chomsky on Occupy Wall Street protests
Noam Chomsky at Occupy Boston
Chomsky Has Some Advice for the Occupiers
Noam Chomsky's statement on the Wall Street protests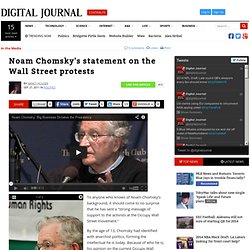 To anyone who knows of Noam Chomsky's background, it should come to no surprise that he has sent a "strong message of support to the activists at the Occupy Wall Street movement." By the age of 13, Chomsky had identified with anarchist politics, forming the intellectual he is today. Because of who he is, his opinion on the current Occupy Wall Street protests is considered extremely relevant to the Wall Street movement and to its supporters.
The Venus Project-Occupy Miami-Nov.20, 2011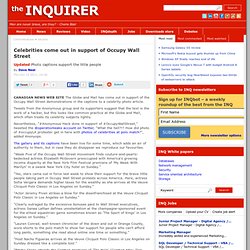 CANADIAN NEWS WEB SITE The Globe and Mail has come out in support of the Occupy Wall Street demonstrations in the captions to a celebrity photo article. Tweets from the Anonymous group and its supporters suggest that the text is the work of a hacker, but this looks like common practice at the Globe and Mail, which often treats its celebrity subjects lightly.
Celebrities come out in support of occupy wall street
Last night I was arrested in my home town , outside an event to which I had been invited, for standing lawfully on the sidewalk in an evening gown.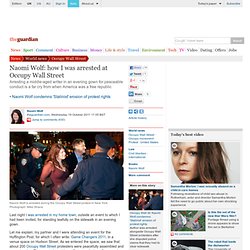 Naomi Wolf: How I was arrested at Occupy Wall Street | Comment is free
Joseph Stiglitz and Jeff Madrick @ #occupywallstreet Open Economic Forum
Chris Hedges Arrested in Front of Goldman Sachs Posted on Nov 3, 2011 Chris Hedges made this statement in New York City's Zuccotti Park on Thursday morning during the People's Hearing on Goldman Sachs, which he chaired with Dr.
Chris Hedges: Chris Hedges Arrested in Front of Goldman Sachs
Naomi Klein to Occupy Wall Street: Get Organized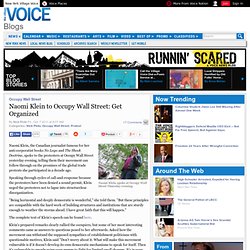 Naomi Klein, the Canadian journalist famous for her anti-corporatist books No Logo and The Shock Doctrine , spoke to the protesters at Occupy Wall Street yesterday evening, telling them their movement can follow through on the promises of the global trade protests she participated in a decade ago. Speaking through cycles of call-and-response because the protesters have been denied a sound permit, Klein urged the protesters not to lapse into structureless disorganization.
Given the consistent mantra of representing the "99%" (everyone except the top 1% of income earners) by the "Occupy" movement, it's been interesting to see the number of celebrities that have supported the protestors. Below is a list of the top ten wealthiest celebrities who have made efforts to help the group.
Top Ten list of celebrities lending support to 'Occupy Wall Street' protestors - Tampa Bay TEA Party
The Blaze thought it might be interesting to take a look at some of Occupy Wall Street's wealthiest celebrity supporters. Given that OWS "are the 99%," and, given the movement's general distaste for "the other 1%," we wonder how enjoying support from the wealthy elite jibes with movement's core principles.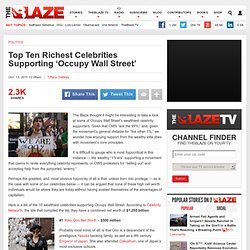 Top Ten Richest Celebrities Supporting 'Occupy Wall Street'
The 10 Richest Celebrities Supporting Occupy Wall Street | Celebrity Net Worth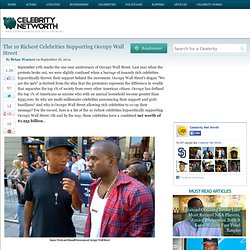 September 17th marks the one year anniversary of Occupy Wall Street.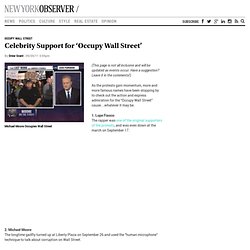 Celebrity Support for 'Occupy Wall Street'
By Drew Grant 9/30/11 3:55pm
Actor Mark Ruffalo attends the 2011 Greater New York Human Rights Campaign Gala at The Waldorf-Astoria on Feb. 5, 2011 in New York. / Getty Images/Astrid Stawiarz (CBS) Mark Ruffalo, Tim Robbins, Susan Sarandon and Penn Badgley are only some of the stars lending their celebrity to the Occupy Wall Street cause.
Occupy Wall Street gets celebrity support - Celebrity Circuit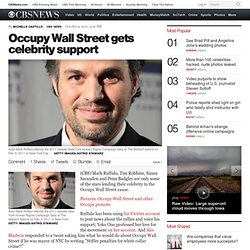 Are Celebrities Supporting Occupy Wall Street The Movement's Heroes, Or Hypocrites?
Kanye West visited Occupy Wall Street in a $355 Givenchy shirt topped with wearing gold grills and chains. Alec Baldwin claims he supports Occupy Wall Street, but makes big bucks starring in commercials for Capital One Bank. Numerous other celebrities who annually pull in multiples of the average American salary also say they sympathize with the plight of the so-called 99 percent.
Jen Ortiz | Oct. 10, 2011, 3:55 PM | |
Which Celebrities Support "Occupy Wall Street"?
Who Supports and Who Derides Occupy Wall Street?
Occupy Wall Street is streaming footage of Oscar-winning actress and activist Susan Sarandon at the camp site .
Happening Now: Susan Sarandon Talks To Protesters At Occupy Wall Street Site
Danny Glover speaks at Occupy LA
Danny Glover Speaks to Occupy Oakland, October 15, 2011
Safe to say George Clooney will not be voting for Herman Cain in 2012. While the GOP Presidential hopeful raised eyebrows this week by telling those at "Occupy Wall Street" protests in NYC to blame themselves for their joblessness and/or lack of prosperity, The Ides of March star stands behind the movement.
George Clooney, Penn Badgley Support Occupy Wall Street Protests
Slavoj Zizek en Occupy Wall Street
Occupy Assange: 'Corrupt banks, corrupt cash'
Slavoj Žižek thoughts on Occupy Wall St at St. Mark's Bookshop Oct 26 2011
JOHN LENNON was the radical, revolutionary Beatle who made New York his home.
Yoko Ono Supports Occupy Wall Street… | Flips Blog
Occupy Wall Street: Mark Ruffalo shares a first-person account
Deepak Chopra meditation at Occupy Wall St. Grounded TV Network, video 1
Activist turned 'preacher' slams Wall Street - Americas
Arundhati Roy: Occupy Wall Street is "So Important Because It is in the Heart of Empire"
Deepak Chopra interviewed by We Are Change @ #occupywallstreet
Dr. Cornel West Joins Occupy Wall Street, Will Lead Meeting Tonight
Cornel West in Liberty Plaza Warns Protest Will Grow
Stéphane Hessel on Occupy Wall Street: Find the Time for Outrage When Your Values Are Not Respected
Dr. Cornel West Visits OCCUPY LA
Michael Moore on support of Occupy Wall Street protest
Occupy Wall Street: Michael Moore states, "We oppose the way our economy is structured"
Video: Michael Moore Visits, Encourages Occupation Of Wall Street
Roseanne Barr with We Are Change at Occupy Wall Street
Immortal Technique Occupy Wall Street 2am | | By We are Change (wearechange)
Occupy Wall Street Interview: Rapper Lupe Fiasco on Building 7.
Talib Kweli - Shows Solidarity at OccupyWallStreet
Immortal Technique at Occupy Wall Street: "We are here to stay"
Immortal Technique #OccupyWallStreet