Cards and papercrafts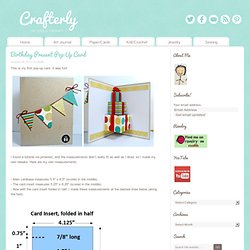 Birthday Present Pop-Up Card
This is my first pop-up card. It was fun! I found a tutorial via pinterest, and the measurements didn't really fit as well as I liked, so I made my own tweaks. Here are my own measurements: - Main cardbase measures 5.5″ x 8.5″ (scored in the middle). - The card insert measures 5.25″ x 8.25″ (scored in the middle). - Now with the card insert folded in half, I made these measurements at the dashed lines below (along the fold):
fiveturtles.com
LBV Handmade Cards par lbvcards sur Etsy
Sizzix Big Shot + quilting dies
plain jane
Simon Says Stamp Blog
DarleneDesign.Com
Paper Trufflez
http://marianagrigsby.wordpress.com/
Creations with Christina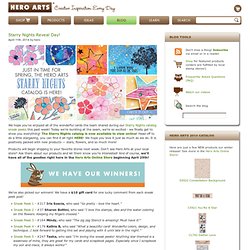 Hey y'all, it's Lisa here. Is it cold where you are? It sure is here! While writing this post I heard on the radio that we had a record breaking 19 F here today — it was 12 F with the windchill! Those who live up north will laugh, but that is cold for us here in Austin, Texas!
Gallery Projects - Cardmaking
mama elephant | design blog
Paper Smooches
sideoats + scribbles
Paper Crafts Connection
Clips-n-Cuts
My Paper Secret
Kloset Kreations
I Create
Doublestick Heaven
So Many Stamps, So Little Time...
cardediem.com
Cherry Hill Design
Soapbox Creations
Ribbon Girls {Handmade Cards}
Simply Made By Wendy
Damask Love