Cards and papercrafts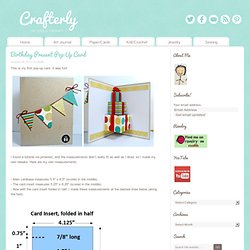 Birthday Present Pop-Up Card
This is my first pop-up card. It was fun! I found a tutorial via pinterest, and the measurements didn't really fit as well as I liked, so I made my own tweaks. Here are my own measurements: - Main cardbase measures 5.5″ x 8.5″ (scored in the middle). - The card insert measures 5.25″ x 8.25″ (scored in the middle). - Now with the card insert folded in half, I made these measurements at the dashed lines below (along the fold):
fiveturtles.com
LBV Handmade Cards par lbvcards sur Etsy
Sizzix Big Shot + quilting dies
Hello! Today I have a video that shows using layered stamping to achieve new ink colors. I also share a peek at the new WPlus9 Pure Color Inks… and a giveaway of a whole set! [Supplies are linked in the thumbnails at the end of this post.] One of the best ways to get more out of your ink is to layer two colors on top of each other. By doing this, you can get three colors instead of just two.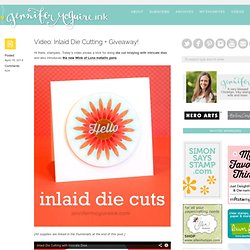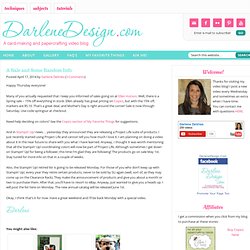 Hi All, I pack my 9 year old's lunch pretty much every day. And every day, I include a note. She comes home with the note every day and stores it in a box by her bed. I keep doing it because she feels special when I do.
DarleneDesign.Com
(shhh! I tested colors to the side of this stamped image but Photoshopped them out! Watch the video to see what it actually looked like with the color swatches on the side. LOL!) Hi all! Today I have some Copic coloring!
plain jane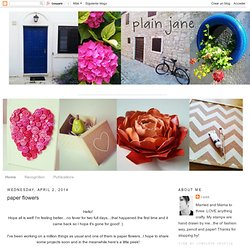 Hello! I hope you all had a lovely Valentine's Day!! I ate way too much chocolate...pretty sure I'm not the only one! :) I asked my kids what baked goodies they wanted me to bake for Valentine's and they said my chocolate cupcakes and chocolate chip cookies. You can find my chocolate cupcake recipe here.
Simon Exclusives with Shari! Hey there everyone! It's Shari here with a really quick Valentine's Day card inspiration for you using Simon Dies, Stamps and Stencils. I tried something new with my background. I masked off part of the Falling Hearts Stencil and colored the white Embossing Paste with Simon's Schoolhouse Red Ink… I like how it worked out! Of course I had to layer things up, and what better way to show off the background than to create a Pee-A-Boo frame from the Medium Tag Die!
Simon Says Stamp Blog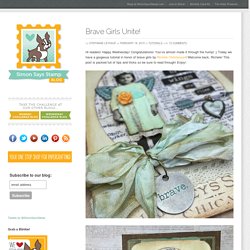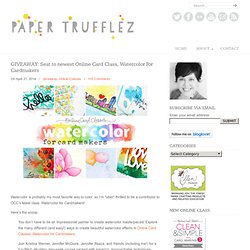 Watercolor is probably my most favorite way to color, so I'm *uber* thrilled to be a contributor to OCC's latest class: Watercolor for Cardmakers! Here's the scoop: You don't have to be an Impressionist painter to create watercolor masterpieces! Explore the many different (and easy!)
Paper Trufflez
Hi there! I am back today to share something that I have recently been doing to organize my stamps. A few months ago I saw a post by Jennifer McGuire about using clear sleeves to keep your stamps. I thought this was a good idea.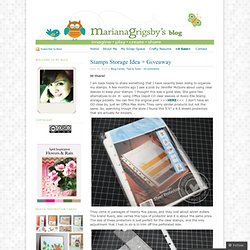 http://marianagrigsby.wordpress.com/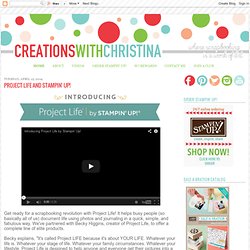 Creations with Christina
Get ready for a scrapbooking revolution with Project Life! It helps busy people (so basically all of us) document life using photos and journaling in a quick, simple, and fabulous way. We've partnered with Becky Higgins, creator of Project Life, to offer a complete line of elite products.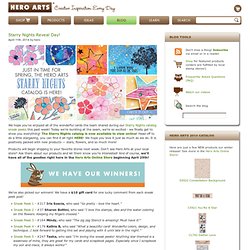 Starry Nights Reveal Day! We hope you've enjoyed all of the wonderful cards the team shared during our Starry Nights catalog sneak peeks this past week! Today we're bursting at the seam, we're so excited - we finally get to show you everything! The Starry Nights catalog is now available to view online! Head off to do a little stargazing, you can find it all right HERE!
Gallery Projects - Cardmaking
mama elephant | design blog
Hey everyone, welcome back! This month we have a soft release of 3 Creative Cuts designs. Why a soft release as supposed to a regular release? It's been pretty crazy here. Angela and I desperately needed some down time to recharge.
Paper Smooches
stock updateOut of stock: Love Word die - expected to arrive around April 14th Ohhhh how I love the oval word bubble that Ashley created with our Quotables dies! She combined it with our Scalloped dies, Hello Word dies, and Hearts dies. I love her collage-style!! I think this would make a fantastic teen card.
Hey hello! I'm over on the Hero Arts blog today, sharing a video tour of the awesome techniques in the Starry Nights catalog! I'm so excited that I just had to include the video here, too! Check it: If you'd like to see more about any of the techniques or have any questions please be sure and leave a comment over on the Hero blog.
sideoats + scribbles
Paper Crafts Connection
Jennifer Schaerer, Editor in Chief Don't you just love orchids? I'm not sure if it's the graceful arch of the branch, or the elegant blooms, or the confidently broad green leaves at the foundation of this iconic plant that draw me in, but there's something special about an orchid that makes me catch my breath every time I see one. When my son was born eight years ago, a good friend sent a gorgeous (live) orchid to celebrate his arrival.
Apr17 Featuring Lawn Fawn – CARD 4 Hi everyone! Today I am sharing another card using one of the Lawn Fawn stamp sets. Just because Lawn Fawn sets are so cute they are great for creating fun, cute and colorful...
Clips-n-Cuts
My Paper Secret
Kloset Kreations
I Create
Lime Doodle Design - by Debby Hughes
Doublestick Heaven
So Many Stamps, So Little Time...
Cherry Hill Design
Soapbox Creations
Ribbon Girls {Handmade Cards}
Simply Made By Wendy
Damask Love