Cards and papercrafts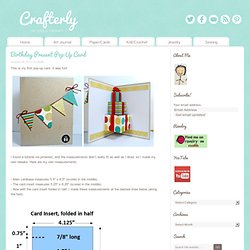 Birthday Present Pop-Up Card
This is my first pop-up card. It was fun! I found a tutorial via pinterest, and the measurements didn't really fit as well as I liked, so I made my own tweaks. Here are my own measurements: - Main cardbase measures 5.5″ x 8.5″ (scored in the middle). - The card insert measures 5.25″ x 8.25″ (scored in the middle). - Now with the card insert folded in half, I made these measurements at the dashed lines below (along the fold):
fiveturtles.com
LBV Handmade Cards par lbvcards sur Etsy
Sizzix Big Shot + quilting dies
Boy is it cold! It's -2 degrees here, but I know some of you have it much worse. Ack! Hopefully this will brighten your day: a closer look at the new Hero Arts Shadow Inks. I am the biggest fan of their inks, but I tend to reach for the same colors over and over. I was thrilled that they released SIX new colors – Soft Vanilla, Dark Quartz, Lemon Yellow, Lime Green, Ultra Pink and Blackboard – and I LOVE them all.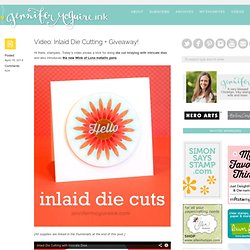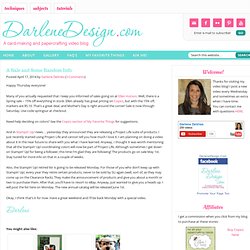 Hi All! One week until Christmas! Yeah!! Things are just crazy right now, aren't they? Gift-buying, parties, final exams, and school events on top of the existing hectic schedule of sports, homework, and activities.
DarleneDesign.Com
(shhh! I tested colors to the side of this stamped image but Photoshopped them out! Watch the video to see what it actually looked like with the color swatches on the side. LOL!) Hi all! Today I have some Copic coloring!
plain jane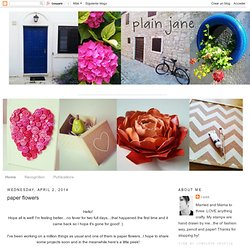 Hello! I hope you all had a lovely Valentine's Day!! I ate way too much chocolate...pretty sure I'm not the only one! :) I asked my kids what baked goodies they wanted me to bake for Valentine's and they said my chocolate cupcakes and chocolate chip cookies. You can find my chocolate cupcake recipe here.
Simon Exclusives with Shari! Hey there everyone! It's Shari here with a really quick Valentine's Day card inspiration for you using Simon Dies, Stamps and Stencils. I tried something new with my background. I masked off part of the Falling Hearts Stencil and colored the white Embossing Paste with Simon's Schoolhouse Red Ink… I like how it worked out! Of course I had to layer things up, and what better way to show off the background than to create a Pee-A-Boo frame from the Medium Tag Die!
Simon Says Stamp Blog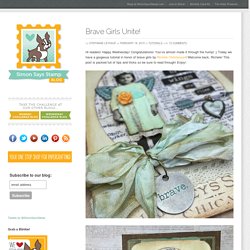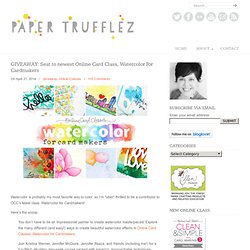 Wasn't December a blur??? It was for me, so I'm behind in sharing recent designs I've created for Ellen Hutson. If you click on the accompanying link, it takes you to the videos on our Hello, Monday YouTube Channel. LINK: Hello, Monday 12.30.2013 on YouTube
Paper Trufflez
Hi! The year is just beginning and I am thrilled to be back here in my cyber spot. I went to Mexico for fifteen days with my hubby and two sons, and I really enjoyed my time there. I spent time with my mom, sister and brothers, and I also had the chance to see some of my girl friends.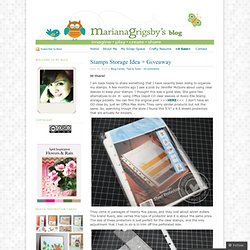 http://marianagrigsby.wordpress.com/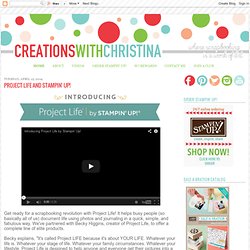 Creations with Christina
Hi Everyone, Happy Wednesday, hope you are having a great week so far. Today's card is a great masculine card that will be perfect for my brother in-law who celebrates his birthday next week.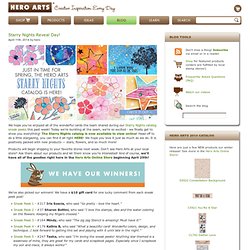 Hey y'all, it's Lisa here. Is it cold where you are? It sure is here! While writing this post I heard on the radio that we had a record breaking 19 F here today — it was 12 F with the windchill! Those who live up north will laugh, but that is cold for us here in Austin, Texas!
Gallery Projects - Cardmaking
mama elephant | design blog
Hey friends, we have a bittersweet announcement today. Our design team member Pearl Lui-Chan recently became a new mommy this past November to a gorgeous baby girl. Some of you may know that Pearl is not only our designer, but she's also one of my best friends in real life. She has supported Mama Elephant way before we were even Mama Elephant. She was the initial spark that ignited this hobby for me and have always, always, ALWAYS been one of my biggest supporters.
Paper Smooches
Our PS Design Team is top-notch, everyone knows that...but let me show you some of their "die" projects that will surely inspire you. Check out this darling little card by Ashley. This could easily be made into a cute baby card. I love the layering and mix of pastel patterns...super-sweetness! (Hello Words dies, Frame 1 die, Streamers dies, Scalloped Circles die)
Hey y'all! I have a card over on the Hero Arts blog today using the new poppy stamps. These stamps work so well together — I just had to use them ALL! There're just gorgeous. Thought I'd share it here in case ya missed it.
sideoats + scribbles
Paper Crafts Connection
Jennifer Schaerer, Editor in Chief Don't you just love orchids? I'm not sure if it's the graceful arch of the branch, or the elegant blooms, or the confidently broad green leaves at the foundation of this iconic plant that draw me in, but there's something special about an orchid that makes me catch my breath every time I see one. When my son was born eight years ago, a good friend sent a gorgeous (live) orchid to celebrate his arrival.
Jan12 Giveaway Winner What? No video today? Well, I am over-occupied watching videos on YouTube, checking instagram and facebook about all the new releases at CHA 2014!
Clips-n-Cuts
My Paper Secret
Kloset Kreations
I Create
Lime Doodle Design - by Debby Hughes
Doublestick Heaven
So Many Stamps, So Little Time...
cardediem.com
Cherry Hill Design
Soapbox Creations
Ribbon Girls {Handmade Cards}
Simply Made By Wendy
Damask Love