Legalizing Marijuana CA: Proposition 19
March 2010. Why a comprehensive rationale is needed to end Cannabis prohibition in Spring 2010 Decades of grassroots activism, public education and scientific research have failed to end Cannabis prohibition in the United States and at the United Nations.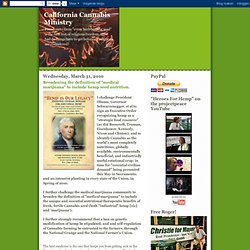 There is obviously something broken in a system of governance that fails to acknowledge the true value of an uniquely essential, "strategic food resource. " Prolonged essential resource scarcity is threatening the world with sudden, unpredictable, unresolveable, synergistic collapse of environment, economics and social structures upon which we all depend for survival. California Super Initiative | Medical Marijuana & Cannabis Cultivation Community's Future. Regulate Marijuana Like Wine | 62% of California voters agree: Legalize marijuana in a framework we know and trust. It is time we treated the problem like adults. Build the movement: Join the Courage Campaign and pledge to support cannabis legalization. Pot Wars: Battlefield California. The Skinny on Prop 19. Obama and Medical MJ. A Brief History of Weed. Go here next - 5th.
6th - Humor after the Interview: History of Weed Part II.
The Opposition
Tell the California Democratic Party: Endorse Prop 19!
---