Legalizing Marijuana CA: Proposition 19
March 2010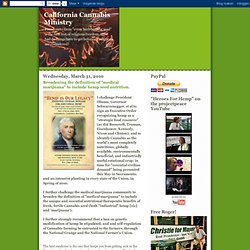 Why a comprehensive rationale is needed to end Cannabis prohibition in Spring 2010
California Super Initiative | Medical Marijuana & Cannabis Cultivation Community's Future
Regulate Marijuana Like Wine | 62% of California voters agree: Legalize marijuana in a framework we know and trust. It is time we treated the problem like adults.
Build the movement: Join the Courage Campaign and pledge to support cannabis legalization
Pot Wars: Battlefield California
The Skinny on Prop 19
Obama and Medical MJ
Go here next - 5th
Tell the California Democratic Party: Endorse Prop 19!