Cannabis Research
Israeli company grows medical marijuana which doesn't get you high. Situated in an undisclosed location near Tzfat, northern Israel, is a government-approved medical marijuana plantation which was founded in 2004 by a retired biology teacher.
Named Tikun Olam, the plantation has created a new cannabis strain which contains very low traces of tetrahydrocannabinol (THC), the main constituent in cannabis responsible for making people feel "stoned". By virtually eliminating THC in the new strain, Tikun Olam can now offer the drug's medicinal benefits to those patients who wish to keep a clear head. Marijuana contains over 60 constituents named cannabinoids and though THC is the most famous due to its psychoactive effects, another important constituent is cannabidiol (CBD). CBD is believed by some researchers to offer anti-inflammatory benefits, thus offering the potential to relieve pain without making patients intoxicated, if the THC-to-CBD concentrations can be correctly balanced. Weed sequenced. No really — weed.
(Credit: stock image) DNA sequencing hit a new high with the release of the Cannabis sativa genome, says Nature News.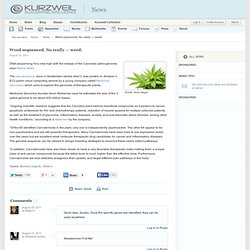 The raw sequence, done in Amsterdam (where else?) , was posted on Amazon's EC2 public cloud computing service by a young company called Medicinal Genomics, which aims to explore the genomes of therapeutic plants. Medicinal Genomics founder Kevin McKernan says he estimates the size of the C. sativa genome to be about 400 million bases. "Ongoing scientific research suggests that the Cannabis plant harbors beneficial compounds as it pertains to cancer apoptosis, antiemesis for HIV and chemotherapy patients, reduction of muscle spasms for multiple sclerosis patients, as well as the treatment of glaucoma, inflammatory diseases, anxiety, and post-traumatic stress disorder, among other health conditions," according to a statement by the company.
What cannabis actually does to your brain - io9. Chances are they would've ended up brainless morons with or without the pot.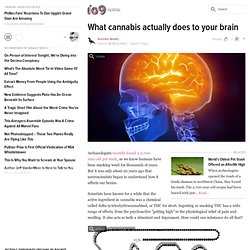 It's quite frankly not strong enough of a narcotic to destroy one's life such as you describe. It's very dependent on the user's persona. @Tadashii: Are you also for alcohol and tobacco prohibition? Those ruin more lives every year then marijuana has ever. Wow- Tadashii, pot is not meth or cocaine. THC Gives Cancer Cells the Munchies Too : The Scientific Activist.
Through the results of widespread experimentation of the… well… let's say "non-scientific" variety, it's pretty well known that marijuana has the side effect of making the user very hungry.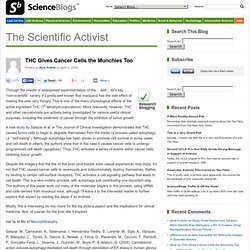 This is one of the many physiological effects of the active ingredient THC (? 9-tetrahydrocannabinol). Cannabis. Nugshots - Professional Medical Marijuana Photography and Design. Marijuana Testing | Cannabis Testing. Molecular mechanism found that controls marijuana-like substance in body | KurzweilAI - (Build 20100722150226) A newly discovered molecular mechanism helps control the amount and effectiveness of a substance that mimics an active ingredient in marijuana, but that is produced by the body's own nerve cells.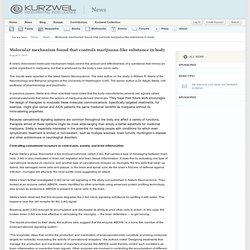 The results were reported in the latest Nature Neuroscience. The lead author on the study is William R. Marrs of the Neurobiology and Behavior program at the University of Washington (UW). The senior author is Dr.
---