calling for artists
Get flash to fully experience Pearltrees
The Creators Project est une célébration mondiale de l'art et de la technologie. Créé grâce à un partenariat révolutionnaire entre Intel et VICE, The Creators Project soutient les artistes visionnaires d'aujourd'hui qui utilisent la technologie de manière innovante, afin de repousser les barrières de l'expression créative. À une époque de l'histoire de l'art où la technologie numérique a révolutionné la distribution, démocratisé l'accès et complètement transformé la portée et l'échelle avec lesquelles chaque artiste peut créer une oeuvre et toucher un public, The Creators Project est une nouvelle chaîne consacrée à l'art et à la culture dans un monde de nature entièrement différente. The Creators Project est fier d'avoir soutenu et regroupé plus de 150 artistes du monde entier.
The Curator (Le conservateur) Structurée comme une bande-annonce hollywoodienne avec un montage rythmé et des effets multiples, la vidéo de Shahar Marcus dépeint la "montée en puissance" d'un conservateur. Elle esquisse une représentation grotesque du monde l'art, sur lequel le conservateur règne comme souverain absolu. En schématisant les marques extérieures et les codes culturels qui le caractérisent, Marcus retrace l'activité du conservateur et ses multiples fonctions, médite sur les compétences requises pour ce poste convoité, et analyse le mécanisme d'autoglorification qui fait la marque du conservateur d'art. Au passage, il critique la superficialité et le simulacre dans le monde de l'art.
The Japan Foundation will be celebrating its 40th anniversary in 2012 as an organization dedicated to promoting international cultural exchange. As a celebration of this milestone, and with an eye to further developing its worldwide cultural initiatives, the Japan Foundation is soliciting designs for a logo commemorating its anniversary. We are calling on the up-and-coming generation of students to use their youthful creativity to create logo designs that befit the 40th anniversary theme. The logo mark chosen will be featured in events sponsored or cosponsored by the Japan Foundation to mark its anniversary as well as in our publications, on our website, and in other publicity materials.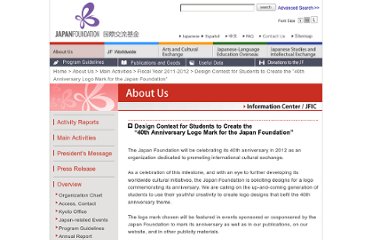 Apply now for 2013 Right now sundaymorning@ekwc takes proposals for 2013. Deadline for this round of applications has been set to January 8, 2012. Applicants will be informed before April 1st about the results of the selection procedure. Artist-in-residence centre Sundaymorning@ekwc annually welcomes about 45 artists, designers and architects to experiment with ceramics for a continuous or phased period of three months.