Business Resources
Crowd Science | First-party audience data for publishers. Digital Marketing and Measurement Model: Web Analytics. Beginner's Guide To Web Data Analysis: Ten Steps To Success. Designing the Perfect Call to Action. Every email you send should have a purpose, and that purpose should be reflected in the call to action (CTA).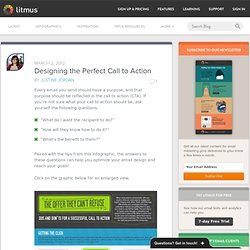 If you're not sure what your call to action should be, ask yourself the following questions: "What do I want the recipient to do?" "How will they know how to do it?" "What's the benefit to them?" Freelancers: How to Work Better with Your Clients. Working with clients all day long may sometimes lead to stress in a freelance schedule.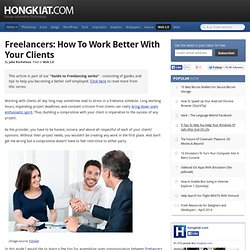 Long working hours, impending project deadlines, and constant criticism from clients can really bring down one's enthusiastic spirit. Thus, building a compromise with your client is imperative to the success of any project. As the provider, you have to be honest, sincere, and above all respectful of each of your clients' opinions. Without their project needs, you wouldn't be creating any work in the first place. And don't get me wrong but a compromise doesn't have to feel restrictive to either party. Roadmap to Freelancing: Getting the Deal (Part 2) Working as a freelancer is just like any other business.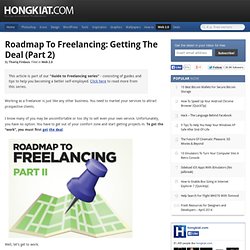 You need to market your services to attract prospective clients. I know many of you may be uncomfortable or too shy to sell even your own service. Unfortunately, you have no option. 8 Contract Clauses You Should Never Freelance Without. Quick question: Did you have a freelance contract when you first began freelancing?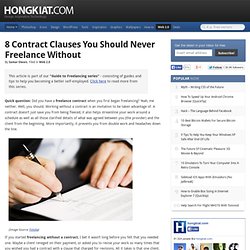 Yeah, me neither. Well, you should. Working without a contract is an invitation to be taken advantage of. A contract doesn't just save you from being fleeced, it also helps streamline your work around a schedule as well as all those clarified details of what was agreed between you (the provider) and the client from the beginning. More importantly, it prevents you from double work and headaches down the line. How To Create An Editorial Calendar to Publish Blogs, Facebook Fan Pages, Twitter, and Email Newsletters | Reach Customers Online | Connect with Low-Cost Tools and Know-How.
How To Create An Editorial Calendar to Publish Blogs, Facebook Fan Pages, Twitter, and Email Newsletters This article is an exhaustive overview of how to design, create, and use an editorial calendar with links to additional articles, templates, and more.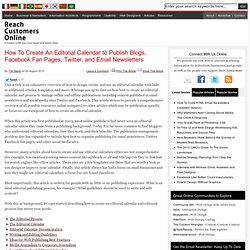 It brings you up to date on how best to create an editorial calendar and process to manage online and offline publications, including content published in email newsletters and social media sites Twitter and Facebook. This article strives to provide a comprehensive overview of all possible resources online compared to other articles which may be publication-specific or focus on one viewpoint of how to create an editorial calendar. When this article was first published in 2003, most online publishers had never seen an editorial calendar unless they came from a publishing background. Today it is far more common to find bloggers who understand editorial calendars, how they work, and their benefits. Think Content Marketing, Not Copywriting. Cashmore Offers Peek at Mashable Model. New York—Mashable has come a long way from its beginnings as a Wordpress blog that a 19-year-old Pete Cashmore launched as a way to connect with his peers and learn about social media and tech as he went along.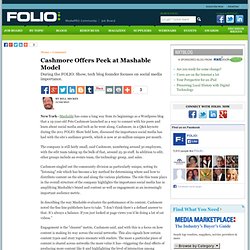 Cashmore, in a Q&A keynote during the 2011 FOLIO: Show held here, discussed the importance social media has had with the site's audience growth, which is now at 20 million uniques per month. The company is still fairly small, said Cashmore, numbering around 50 employees, with the edit team taking up the bulk of that, around 25-30 staff. In addition to edit, other groups include an events team, the technology group, and sales. Cashmore singled out the community division as particularly unique, noting its "listening" role which has become a key method for determining where and how to distribute content on the site and along the various platforms.
Advertise with Mashable. 10 business models that rocked 2010 - by @nickdemey (boardofinnovat...
---