Startups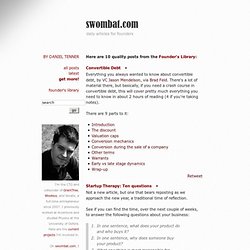 Have you seen Glengarry Glen Ross? It's a pretty awesome movie based on a play by David Mamet. There's a scene in there that has been posted ad nauseam, the Always Be Closing speech where Alec Baldwin puts some serious pressure on the small sales team at some kind of real estate company that's never fully described. A less well-known feature of that film is the sales pitch and approach followed by that company's star salesperson, Ricky Roma, played by Al Pacino. Ricky is shown spouting ten shades of bullshit in a bar with his "mark", convincing him to buy a product that's clearly not good for him (and very expensive), and then actually lying to his face to try and maintain the sale when his customer realises (after being told by his wife that she'll divorce and ruin him if he doesn't cancel the sale) that he made a really, really bad deal that's about to literally destroy his life and put him in the gutter.
swombat.com on startups
Ever wondered what it takes to be an entrepreneur? The professional and personal challenges, the high and lows, the failures and the success? Startup Weekend is a global grassroots movement of active and empowered entrepreneurs who are learning the basics of founding startups and launching successful ventures.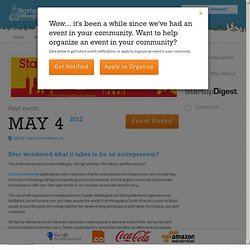 Startup Weekend Madrid
Spain Startup & Investor Summit
Acaban de nacer. Entre las tres, no suman ni medio año de vida y el fundador más longevo no sobrepasa los 33 años. Les falta experiencia, pero les sobra ambición y olfato de éxito.
La nueva hornada de 'start-ups' españolas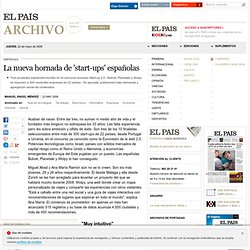 What Kind of Startup Is Right for You?
Nellie Akalp is the CEO of CorpNet.com, an online legal document filing service, where she helps entrepreneurs incorporate or form an LLC for their new businesses. Connect with Nellie directly on Twitter or visit her free resource center for more tips! Do you dream of the day you can start your own business? Take control of the reins, set your own schedule and make your own decisions? In these days of economic uncertainty when layoffs and unemployment rates dominate the news, the idea of starting a business no longer seems all that much riskier than the traditional nine-to-five office job.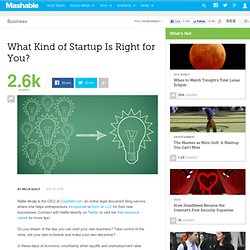 Startups
Small Business Finance - Business and Finance,Small Business Financing,Finance for Small Business Owners, Entrepreneurs, Education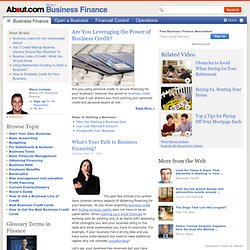 The past few articles I've written have covered various aspects of obtaining financing for your business. As you know acquiring business credit and finding working capital does not have to be an uphill battle. When starting up a small business or working with an existing one, it all starts with assessing what strengths you and your business bring to the table and what weaknesses you have to overcome. For example, if your business has a strong idea and you have some initial backers but need to raise additional capital why not consider crowdfunding? Let's say your business has revenues but you have challenged credit.
Volume 13, Number 3 - 3 March 2008
Nivi · February 11th, 2013 AngelList "corporate policy" is that team members should ask forgiveness, not permission. We would rather have someone do something wrong than ask permission to do it.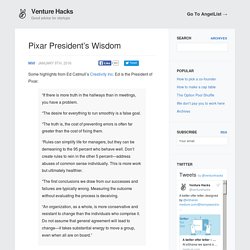 Papa John's franchisee to open five new outlets with help of 2014 incentive scheme Pizza chain's latest recruit Steve Mullarkey to extend Warrington territory across North West… In Franchise news 10 reasons to get into franchising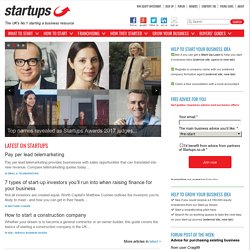 La compañía líder de juegos sociales tradicionales y de casino online Akamon Entertaiment ha sido elegida como una de las cinco startups de mayor crecimiento en España. Así se refleja en el ranking Tech5, organizado por The Next Web y el proveedor de tecnología de pagos Ayden, y en el que se tiene en cuenta los datos de facturación, el número de empleados y el aumento de base de usuarios de las empresas en siete países. Lee el resto del artículo!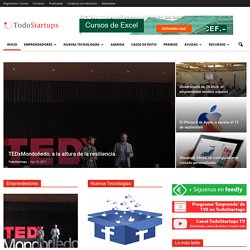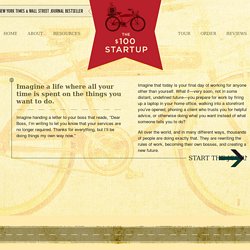 Imagine a life where all your time is spent on the things you want to do. Imagine handing a letter to your boss that reads, "Dear Boss, I'm writing to let you know that your services are no longer required. Thanks for everything, but I'll be doing things my own way now."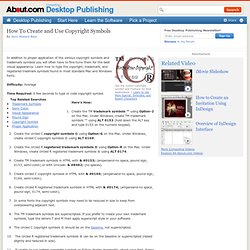 Create and Use Copyright Symbols
In addition to proper application of the various copyright symbols and trademark symbols you will often have to fine-tune them for the best visual appearance. Learn how to type the copyright, trademark, and registered tradmark symbols found in most standard Mac and Windows fonts. Difficulty: Average Time Required: A few seconds to type or code copyright symbol. Here's How:
Guest post by Lisa Regan, writer for The Lean Startup Conference. Our fall webcast series concluded on a high note with three extraordinary conversations about the origins and implications of Lean Startup. If you missed these when they went out live, we encourage you to watch them now, as they lay a strong foundation for The Lean Startup Conference, December 9 -11 in San Francisco—less than two weeks from today. You can also listen to any of the webcasts, which, at the suggestion of a webcast attendee, we've turned into podcasts you can stream or download (from iTunes or SoundCloud). None of the webcasts included slides, so the audio versions work really well.
Anaxago est une plateforme de financement participatif (crowdfunding) dédiée aux startup et pme. La plateforme d'investissement permet de devenir actionnaire en ligne dans les pme référencées. Aucun gestionnaire ne procède à l'allocation des fonds, vous procédez à votre propre diversification de patrimoine à travers différentes prises de participation.
Greetings from midtown Manhattan, where a large amount of coffee is about to be consumed in a corner room at the Doubletree hotel. Today is the day. After three years of research and writing, it's finally here. The $100 Startup is going out to the world! Hundreds of people from all over the world have helped in the making of this book.
The $100 Startup Is Live!
Imagine you and I are cofounders. We're talking about the direction of the company. We have different ideas. I am making fair criticisms of your idea and you are doing the same to mine. But my idea is inside my head, so it feels like you're criticising me, not it. The conversation escalates.
Top Startup Businesses for 2012 | The Business Finance Store