Startups & Entrepreneurs
Bush and French Word For Entrepreneur
Claim: President George W. Bush proclaimed, "The problem with the French is that they don't have a word for entrepreneur."
Les réseaux sociaux constituent un très bon moyen d'accroître sa visibilité sur Internet. Ils jouent donc un rôle important lorsqu'on souhaite gérer et améliorer son identité numérique . Et c'est un fait, beaucoup de recruteurs utilisent certains de ces sites (ceux axés sur les relations professionnelles) pour faciliter leurs recherches et trouver la bonne personne.
LinkedIn, Viadeo, Ziki, etc : quel réseau social professionnel utilisez-vous ?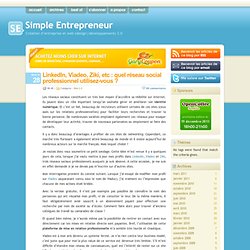 Startup Ideas We'd Like to Fund Paul Graham July 2008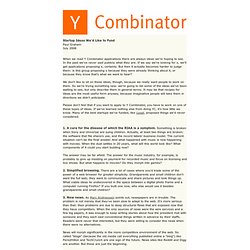 Facebook, The Perfect Startup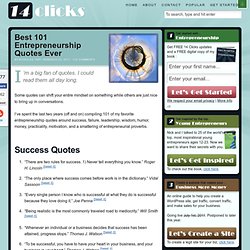 I 'm a big fan of quotes. I could read them all day long. Some quotes can shift your entire mindset on something while others are just nice to bring up in conversations. I've spent the last two years (off and on) compiling 101 of my favorite entrepreneurship quotes around success, failure, leadership, wisdom, humor, money, practicality, motivation, and a smattering of entrepreneurial proverbs. Success Quotes "There are two rules for success. 1) Never tell everything you know."
The World's Most Valuable Startups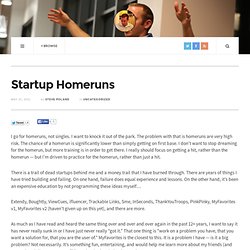 Steve Poland (@popo) | Startup Homeruns
I go for homeruns, not singles. I want to knock it out of the park. The problem with that is homeruns are very high risk. The chance of a homerun is significantly lower than simply getting on first base.
Weemba.es | Plataforma de Préstamos
Steve Poland (@popo) | 100+ Web Start-up Business Ideas
With this recession and unemployment so high, there's likely a lot of people looking to start their own business. Hopefully one of these ideas of mine can provide some inspiration to just one of those people. I'm formerly a TechCrunch writer , a serial web entrepreneur, and an idea guy.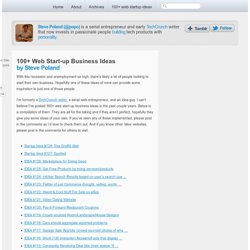 Startups with billion-dollar valuations
Steve Poland (@popo) | Serial entrepreneur and former early @TechCrunch Writer.
Twine
février 12th, 2008 · No Comments · On peut dire que Twine a été l'un des points forts de notre voyage. Nous avons été très bien reçu dans cette startup basée non pas dans le sud de la bay mais à San Francisco.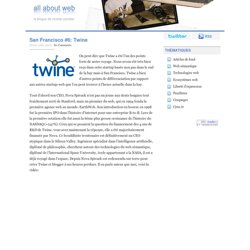 Author: Wilmott, Paul. Edition: 2nd ed. Publisher: Chichester, U.K. : Wiley, 2009. Description: xiv, 608 p. : col. ill. ; 18 cm. Subject: Finance Mathematical models. Investments Mathematical models.
Frequently asked questions in quantitative finance : including key models, important formulæ, popular contracts, essays and opinions, a history of quantitative finance, sundry lists, the commonest mistakes in quant finance, brainteasers, plenty of straigh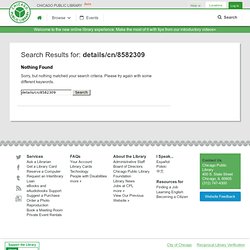 LinkedIn, Viadeo, Ziki, etc : quel réseau social professionnel utilisez-vous ? I want to write a screenplay. I wanted to write one last year, but other work took more time than I expected, and I kept pushing "write screenplay" off my to-do list. I know I'm not alone in struggling to make incremental progress on long-term projects or goals. How do you get started when you have "all the time in the world"? Maybe you have a project with no deadline, like my screenplay.
What Startups Can Learn From Haruki Murakami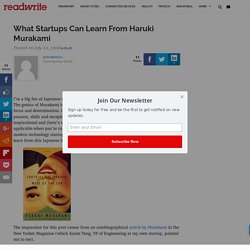 I'm a big fan of Japanese writer Haruki Murakami . The genius of Murakami is in his discipline, focus and determination. I see him as a virtual Zen master - an embodiment of wisdom, passion, skills and exceptional will. The elements of his work and life story are inspirational and (here's where ReadWriteWeb comes in) particularly applicable when you're running a startup.
Brad is one of the managing directors at Foundry Group, a venture capital firm that invests in early stage software / Internet companies throughout the United States. He is also the co-founder of TechStars, a mentor-driven accelerator, author of several books and blogs, and a marathon runner.
About
Thu, 12/15/2011
ZeekRewards
The Making Of Likeonomics: An Exclusive "Behind The... - Eventbrite
Founders: Jonathan Marcus, David Marcus, and Jack Zerby Funding: $3 Million+ in funding led by Alex Zubillaga of the Rhone Group. Additional angel investors include Dave Morin of Path, David Tisch of TechStars, Vimeo founder Jake Lodwick, Joey Levin of Mindspark, and John Foley of Barnes & Noble.
20 best startups of 2011
DARE - Because Entrepreneurs Do
Small & Medium Business - Office templates - presentations
Jorge Omar Jasso Una marca personal necesita tener ciertos activos para que crezca día a día .
http://pulsosocial.com/2009/07/17/los-8-activos-de-tu-personal-branding/
Empowering Yourself to Think that Nothing is Impossible
Have you ever wondered why so few of us succeed? We always hear about those people that came up with a simple idea and made millions but most of us react by "oh well, all the simple ideas are gone by now". What's ironic is that usually every few months, we hear about another idea that seems brilliant and ridiciously simple.
Achieving Financial Freedom: How Well Do You Know Yourself?
Nathaniel Whittemore
Jason Fried's Secret To Getting Customers Without Spending A Lot On Advertising [clips]
Vinicius Vacanti
Emprendedores y sus Startups o Negocios en Internet
¿Qué red social se adapta mejor a tu estrategia? Infografía
101 Ways to Make Money Online
11 Consideraciones a la Hora de Liderar y Desarrollar un Proyecto Online-Digital
Palantir Finance Analysis Blog
Analysis Blog | Palantir Technologies