Bullying:The Big March
Get flash to fully experience Pearltrees
Aggressive behavior may be bullying depending on what happened, how often it happens and who it happens to. Find out what bullying is and what the different types are. You can also learn more about other topics related to bullying. Bullying Definition Bullying is unwanted, aggressive behavior among school aged children that involves a real or perceived power imbalance. The behavior is repeated, or has the potential to be repeated, over time.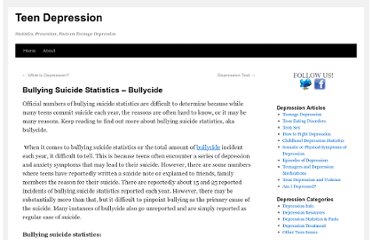 Official numbers of bullying suicide statistics are difficult to determine because while many teens commit suicide each year, the reasons are often hard to know, or it may be many reasons. Keep reading to find out more about bullying suicide statistics, aka bullycide. When it comes to bullying suicide statistics or the total amount of bullycide incident each year, it difficult to tell. This is because teens often encounter a series of depression and anxiety symptoms that may lead to their suicide.
Frequently asked questions based on the Bullying at School publication. These Frequently Asked Questions about bullying are extracted from key concepts presented in the California Department of Education's publication titled Bullying at School (PDF) . They are easy to adapt and provide information for educators, students, families, and community safety partners who wish to educate themselves and others about effective measures to prevent bullying and respond to it.
Cyber bullying statistics refers to Internet bullying. Cyber bullying is a form of teen violence that can do lasting harm to young people. Bullying statistics show that cyber bullying is a serious problem among teens. By being more aware of cyber bullying, teens and adults can help to fight it.