BEAUBOTS
Apple is getting ready to release its latest and greatest version of OS X, Mountain Lion, possibly as early as next week. But owners of older 64-bit Macs will be left out. Here's how to find out if your machine is Mountain Lion-ready.
How to Tell if Your Mac Is Ready for Mountain Lion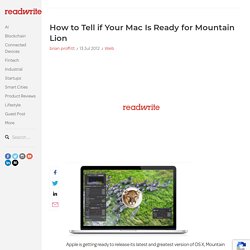 Healthcare Social Media: New Software Aims To Limit Risks - Healthcare - Security & Privacy
Editor's note: This is a guest post by Andy Liu, CEO of BuddyTV Guide, a channel guide app available on iOS, Android and Google TV.
Google TV Needs To Decide: Platform Or Closed Ecosystem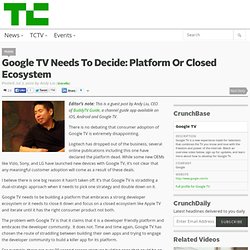 According to Gene Munster, a Piper Jaffray analyst, Apple is interested in buying television components, as the Cupertino Company contacted at least one major supplier to check out its offer.
Apple interested in buying TV components from a major supplier - AppsRumors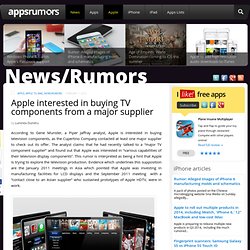 Secretly Monitor Cop Stops With New ACLU App | Threat Level
The American Civil Liberties Union of New Jersey is unveiling an Android app allowing citizens to secretly record audio and video of police stops, and have the footage sent to the group's servers for review. "This app provides an essential tool for police accountability," ACLU-NJ Executive Director Deborah Jacobs said in a statement.
GoogleTV Stories - GoogleTV as Universal Remote - Chromemote
CERN Confirms Existence of a Particle Consistent With Higgs Boson
CERN's scientists have found a new boson within five standard deviations of accuracy. The new particle is the heaviest boson ever found and it's "consistent" with the Higgs boson.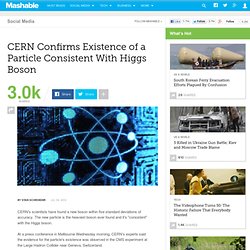 Pulp Fiction presented in chronological order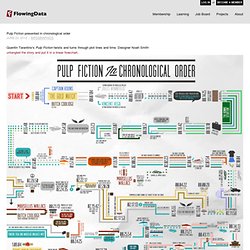 Log in or Become a Member Pulp Fiction presented in chronological order June 22, 2012 | Infographics
Little "Want" Button Code Foreshadows Big Things For Facebook Ecommerce
Last week, developer Tom Waddington uncovered Facebook code that points to the creation of a "Want" button — a plugin that potentially points to a new kind of commercial innovation being developed by Facebook itself, different from "want" buttons already being developed by third parties (one example here), and partially working but only within Facebook's Graph API tester.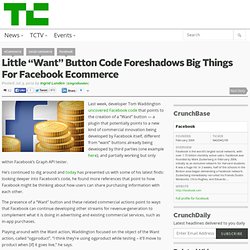 SpillTrend
NYT: Black market for body parts spreads in Europe - World news - The New York Times - msnbc.com
When "Creative Destruction" Destroys More than It Creates - Chris Zook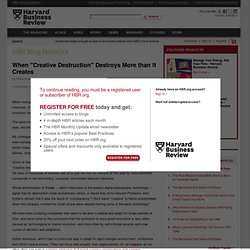 by Chris Zook | 9:33 AM June 27, 2012 When changes in the natural environment accelerate, so do the extinction rates of the Earth's creatures. It happened to the dinosaurs and again to many species during the Ice Age.
Infection biology: The elusive third factor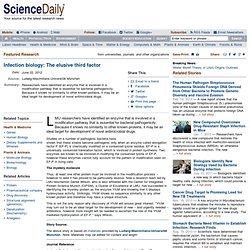 June 22, 2012 — LMU researchers have identified an enzyme that is involved in a modification pathway that is essential for bacterial pathogenicity.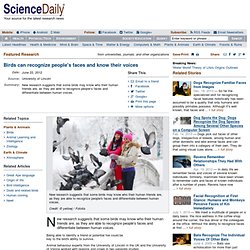 June 22, 2012 — New research suggests that some birds may know who their human friends are, as they are able to recognize people's faces and differentiate between human voices. Being able to identify a friend or potential foe could be key to the bird's ability to survive. Animal behaviour experts from the University of Lincoln in the UK and the University of Vienna worked with pigeons and crows in two separate studies.
Birds can recognize people's faces and know their voices
June 21, 2012 — A new paper by Crislyn D'Souza-Schorey, professor of biological sciences at the University of Notre Dame, discusses the biology of tumor-derived microvesicles and their clinical application as circulating biomarkers. Microvesicles are membrane-bound sacs released by tumor cells and can be detected in the body fluids of cancer patients. The World Health Organization estimates that cancer will cause approximately 9 million deaths in 2015.
The biology of tumor-derived microvesicles
Lovely: Unsupported Browser
Friendshake: Facebook's New Mobile Feature For Finding People Nearby (And A Highlight Killer?)
Facebook has created a new feature that lets users find friends and potential friends nearby.
Bloomberg is reporting that Google is in fact planning to show off a $199, Nexus-branded Asus tablet at its I/O developer conference this week.
Bloomberg confirms Google announcing $199 Nexus-branded Asus tablet at I/O | The Verge
Without Computer Scientists In Policy Debates, Nations Are Vulnerable to Cyber Attack
If the type of catastrophic cyber attack that makes for Hollywood blockbusters were to actually happen today, the response would be led by policy makers, politicians and military officials who may not have the expertise and training to deal with such an event. That's why computer scientists need to take a more active role in helping shape U.S. policy on cyber conflicts and national security, according to an article in the June issue of Communications of the ACM, an academic journal. "Policymakers have some experience with many kinds of crises, but their understanding of the cyber world is, with some exceptions, sketchy and incomplete," writes Herbert Lin, the chief scientist at the Computer Science and Telecommunications Board of the National Academies. "Nevertheless, in the event of cyber crisis, they will make decisions with whatever information and knowledge they have.
Everyone knows that dolphins are smarter than most other creatures -– but now we have the genetic evidence to prove it.
Why are dolphins smarter than most other mammals?
SystemDetails.com - Locate your IP Address, Web Browser, Operating System, Internet Connection, and Computer Information
Just How Small is an Atom?
Bioprinting & Other Medical Advances in 3D Printing - T.Rowe Price
CERN to give update on search for 'God-particle'
Super Physics Smackdown: Relativity v Quantum Mechanics...In Space
Sony's new Google TV set-top box coming July 22, and they are going global
NYT: Broke cities sell ads on manholes, fire trucks - US news - The New York Times
Nicotine In Vegetables: 20 Pounds Of Eggplant Equivalent To 1 Cigarette
Facebook Inc threatens to leave NASDAQ stock market and move to NYSE over flotation debacle
Facebook Has Become a Lazy Marketing Tool
Batbot: Building a functionally correct bat wing robot
Apple Campus 2 floor plans take you inside the 'spaceship'
What To Expect With iOS 6
RPM Rocking In The Free World Interview
Human Dummy
Google Promises To Unveil The "Next Dimension Of Google Maps" Next Week
Here Come the Arctic Drones
A Startup Hopes to Help Computers Understand Web Pages
The Avengers HUD Graphics by Jayse Hansen
Geometric Tape Floor by Jim Lambie
Tip Toland's Hyper Realistic Ceramic Sculptures
The Fancy Dives Into Mobile Commerce As It Nears 1 Million Users
The White House's Next Enemy: Botnets
Stop Burning All My Shirts, Bro!: An Iron Man Iron | Geekologie
Condensation wingtip vortices
Community > Blog > Malware Alert: OpenDNS users protected from Flame malware
One weekend, one million jailbreakers – what should Apple do next?
May 30th, 2012
Lotus Flower - Radiohead
Dubfire Live @ Timewarp
Threat of SSL malware highlights SSL security issues
Does BEAST SSL tool represent an SSL threat?
FDA Slaps J&J for Tampon, KY Trouble
The Biggest Attack Surface is US
Symantec Flame Analysis: A Sophisticated and Discreet Threat
Job Creator, Money Maker: Silicon Valley and the New Geography of Jobs
Wrike Releases Freemium Version of its Social Project Collaboration Software
am
am
35,000 Passwords Reset After BigPond GameArena Hacked
Comcast Phishing Site Contains Valid TRUSTe Seal
Texas School District To Track Kids Through RFID Tags
Broadcast Yourself
PHATNESS / FLIM FLAM
SealGuard RF Heat Sealing Buffers - Oliner Fibre
ibuffer.com
Twitter Brand Pages by Twylah | Get a custom brand page for your tweets.
Bredolab: Jail for man who masterminded botnet of 30 million computers
Kaspersky Warns of Critical Infrastructure Vulnerabilities
SpillTrend
G Shack Geetar Attaque by Beau Parry on SoundCloud
Love Music Wine & Revolution
BEAUBOTS