BEAUBOTS
How to Tell if Your Mac Is Ready for Mountain Lion. Apple is getting ready to release its latest and greatest version of OS X, Mountain Lion, possibly as early as next week.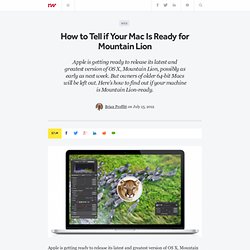 But owners of older 64-bit Macs will be left out. Here's how to find out if your machine is Mountain Lion-ready. Apple has started to release OS X 10.8 to developers, which - going by past releases - should mean that Mountain Lion may be generally available sometime next week. As Apple preps for the big day, new pages are showing up on the company website, including a list of devices that will be capable of running Mountain Lion: Healthcare Social Media: New Software Aims To Limit Risks - Healthcare - Security & Privacy.
SafeGuard, by OpenQ, monitors medical professionals' use of public networking platforms to make sure they don't break the law. 25 CIOs Who Are Transforming Healthcare (click image for larger view and for slideshow) Like many professionals, physicians have been climbing aboard the social media juggernaut.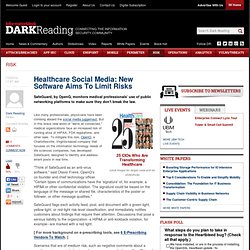 Google TV Needs To Decide: Platform Or Closed Ecosystem. Editor's note: This is a guest post by Andy Liu, CEO of BuddyTV Guide, a channel guide app available on iOS, Android and Google TV.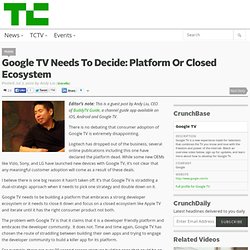 There is no debating that consumer adoption of Google TV is extremely disappointing. Logitech has dropped out of the business, several online publications including this one have declared the platform dead. While some new OEMs like Vizio, Sony, and LG have launched new devices with Google TV, it's not clear that any meaningful customer adoption will come as a result of these deals.
I believe there is one big reason it hasn't taken off. AR.Drone 2.0. Parrot new wi-fi quadricopter- AR.Drone 2.0 Parrot new wi-fi quadricopter - Fly with iPhone and iPad, Record videos in HD, Share on YouTube. Apple interested in buying TV components from a major supplier - AppsRumors.
According to Gene Munster, a Piper Jaffray analyst, Apple is interested in buying television components, as the Cupertino Company contacted at least one major supplier to check out its offer.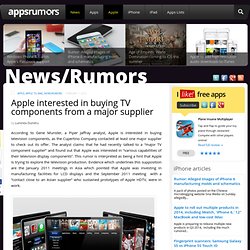 The analyst claims that he had recently talked to a "major TV component supplier" and found out that Apple was interested in "various capabilities of their television display components". This rumor is interpreted as being a hint that Apple is trying to explore the television production. Evidence which underlines this supposition are the January 2011 meetings in Asia which pointed that Apple was investing in manufacturing facilities for LCD displays and the September 2011 meeting with a "contact close to an Asian supplier" who sustained prototypes of Apple HDTV, were in work.
For the moment, Apple has encountered resistance from movie and TV studios that showed hesitance in providing their content to Apple television. Secretly Monitor Cop Stops With New ACLU App | Threat Level. The American Civil Liberties Union of New Jersey is unveiling an Android app allowing citizens to secretly record audio and video of police stops, and have the footage sent to the group's servers for review.
"This app provides an essential tool for police accountability," ACLU-NJ Executive Director Deborah Jacobs said in a statement. "Too often incidents of serious misconduct go unreported because citizens don't feel that they will be believed. Here, the technology empowers citizens to place a check on police power directly." The Police Tape app is among a growing number of apps aimed at empowering citizens in their encounters with police activity. The New York chapter of the ACLU released a similar app last month, and others enable protesters to notify family, friends and attorneys if they've been arrested. GoogleTV Stories - GoogleTV as Universal Remote - Chromemote. CERN Confirms Existence of a Particle Consistent With Higgs Boson. CERN's scientists have found a new boson within five standard deviations of accuracy.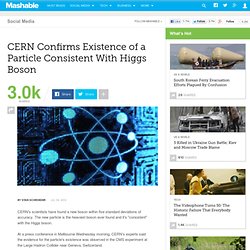 The new particle is the heaviest boson ever found and it's "consistent" with the Higgs boson. At a press conference in Melbourne Wednesday morning, CERN's experts said the evidence for the particle's existence was observed in the CMS experiment at the Large Hadron Collider near Geneva, Switzerland. The ATLAS experiment, also on the lookout for the elusive particle that is said to give all universe size and shape, will be announcing its experiments later today. By combining data sets from both experiments, the researchers are able to confirm the existence of the particle with even bigger certainty — there's about one in a 3.5 million chance the scientists would get these results if the Higgs boson didn't exist. Pulp Fiction presented in chronological order.
Log in or Become a Member Pulp Fiction presented in chronological order June 22, 2012 | Infographics.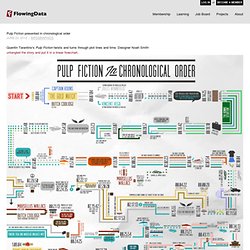 Little "Want" Button Code Foreshadows Big Things For Facebook Ecommerce. Last week, developer Tom Waddington uncovered Facebook code that points to the creation of a "Want" button — a plugin that potentially points to a new kind of commercial innovation being developed by Facebook itself, different from "want" buttons already being developed by third parties (one example here), and partially working but only within Facebook's Graph API tester.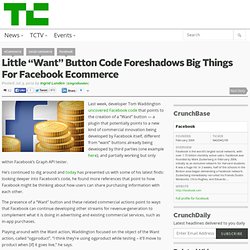 He's continued to dig around and today has presented us with some of his latest finds: looking deeper into Facebook's code, he found more references that point to how Facebook might be thinking about how users can share purchasing information with each other. The presence of a "Want" button and these related commercial actions point to ways that Facebook can continue developing other streams for revenue-generation to complement what it is doing in advertising and existing commercial services, such as in-app purchases.
NYT: Black market for body parts spreads in Europe - World news - The New York Times - msnbc.com. Google. Ställen När du är ute på vift visar Google Nu förslag på barer, restauranger och intressanta ställen i närheten.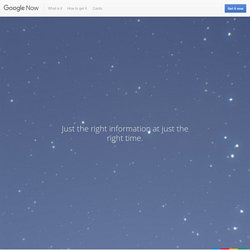 Du kan snabbt byta till Google Maps och få mer information, läsa recensioner och till och med göra en bokning. When "Creative Destruction" Destroys More than It Creates - Chris Zook. By Chris Zook | 9:33 AM June 27, 2012 When changes in the natural environment accelerate, so do the extinction rates of the Earth's creatures.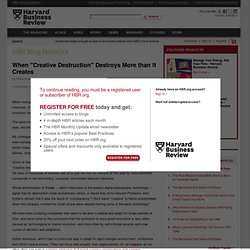 It happened to the dinosaurs and again to many species during the Ice Age. Infection biology: The elusive third factor. LMU researchers have identified an enzyme that is involved in a modification pathway that is essential for bacterial pathogenicity. Because it shows no similarity to other known proteins, it may be an ideal target for development of novel antimicrobial drugs. Studies on a number of pathogenic bacteria have shown that these strains become pathogenic only when an enzyme called elongation factor P (EF-P) is chemically modified on a conserved lysine residue. EF-P is a universally conserved translation factor, which is involved in protein synthesis. Two enzymes are known to be involved in modifying the conserved lysine of EF-P, however these enzymes cannot fully account for the pattern of modification seen on EF-P in living cells. Birds can recognize people's faces and know their voices. New research suggests that some birds may know who their human friends are, as they are able to recognize people's faces and differentiate between human voices.
Being able to identify a friend or potential foe could be key to the bird's ability to survive. Animal behaviour experts from the University of Lincoln in the UK and the University of Vienna worked with pigeons and crows in two separate studies. The biology of tumor-derived microvesicles. A new paper by Crislyn D'Souza-Schorey, professor of biological sciences at the University of Notre Dame, discusses the biology of tumor-derived microvesicles and their clinical application as circulating biomarkers. Microvesicles are membrane-bound sacs released by tumor cells and can be detected in the body fluids of cancer patients. The World Health Organization estimates that cancer will cause approximately 9 million deaths in 2015. Friendshake: Facebook's New Mobile Feature For Finding People Nearby (And A Highlight Killer?)
Facebook has created a new feature that lets users find friends and potential friends nearby. Currently Initially called "Friendshake" and also accessible through a URL that is the abbreviation of "find friends nearby" ( it's another step in Facebook furthering its reach into mobile, and creating services to meet new people — rather than building up more connectivity with the ones you already know.
And, in keeping with Facebook's emphasis on being as ubiquitous as possible, for now it's not being delivered in a native app, but via the mobile web. Update: it's accessible via Facebook's mobile apps, too (see below the break for more details, including comments from the developer). The service comes a little under two months after Facebook announced the acquisition of Glancee, a mobile app that helps users discover people near them with similar interests, whose three founders have now joined Facebook and closed down their app.
Bloomberg confirms Google announcing $199 Nexus-branded Asus tablet at I/O. Bloomberg is reporting that Google is in fact planning to show off a $199, Nexus-branded Asus tablet at its I/O developer conference this week. The 7-inch tablet has been rumored for months, and will reportedly be the first device to show off Google's new Jelly Bean operating system. Two days ago Gizmodo Australia posted images and specs it claims to have gleaned from a training manual, claiming the device will have a 1280 x 800 display, a 1.3GHz Tegra 3 processor with its 12-core GeForce GPU, and 1GB of RAM. While the news is definitely interesting, it's not official until Google gives the word, so be sure to check back tomorrow for up-to-the-second liveblog coverage of I/O.
Without Computer Scientists In Policy Debates, Nations Are Vulnerable to Cyber Attack. Why are dolphins smarter than most other mammals? SystemDetails.com - Locate your IP Address, Web Browser, Operating System, Internet Connection, and Computer Information. Just How Small is an Atom? CERN to give update on search for 'God-particle' Super Physics Smackdown: Relativity v Quantum Mechanics...In Space. Sony's new Google TV set-top box coming July 22, and they are going global.
NYT: Broke cities sell ads on manholes, fire trucks - US news - The New York Times. Nicotine In Vegetables: 20 Pounds Of Eggplant Equivalent To 1 Cigarette. Facebook Inc threatens to leave NASDAQ stock market and move to NYSE over flotation debacle. Facebook Has Become a Lazy Marketing Tool. Batbot: Building a functionally correct bat wing robot. Apple Campus 2 floor plans take you inside the 'spaceship' Intro. What To Expect With iOS 6. Human Dummy. Google Promises To Unveil The "Next Dimension Of Google Maps" Next Week. Here Come the Arctic Drones. A Startup Hopes to Help Computers Understand Web Pages. The Avengers HUD Graphics by Jayse Hansen. Geometric Tape Floor by Jim Lambie. Tip Toland's Hyper Realistic Ceramic Sculptures. The Fancy Dives Into Mobile Commerce As It Nears 1 Million Users.
The White House's Next Enemy: Botnets. Stop Burning All My Shirts, Bro!: An Iron Man Iron | Geekologie. Condensation wingtip vortices. Community > Blog > Malware Alert: OpenDNS users protected from Flame malware. One weekend, one million jailbreakers – what should Apple do next? Twitter Brand Pages by Twylah | Get a custom brand page for your tweets. May 30th, 2012. Lotus Flower - Radiohead. Dubfire Live @ Timewarp. HYPETRAK. Threat of SSL malware highlights SSL security issues.
Does BEAST SSL tool represent an SSL threat? FDA Slaps J&J for Tampon, KY Trouble. The Biggest Attack Surface is US. Symantec Flame Analysis: A Sophisticated and Discreet Threat. Job Creator, Money Maker: Silicon Valley and the New Geography of Jobs. Wrike Releases Freemium Version of its Social Project Collaboration Software. Am. Am. 35,000 Passwords Reset After BigPond GameArena Hacked. Comcast Phishing Site Contains Valid TRUSTe Seal. Texas School District To Track Kids Through RFID Tags. Broadcast Yourself. SealGuard RF Heat Sealing Buffers - Oliner Fibre.
Ibuffer.com. Put the internet to work for you. Twitter Brand Pages by Twylah | Get a custom brand page for your tweets. Bredolab: Jail for man who masterminded botnet of 30 million computers. Kaspersky Warns of Critical Infrastructure Vulnerabilities. G Shack Geetar Attaque by Beau Parry. Love Music Wine & Revolution.