Familly
dwh | donatwald + haque: Energizer Australia - Giving Older Toys New Life Rebels defy the convention and that's what John Caplan was born to do. Raised in the tumult and grit of New York City in the late 1970′s and early 80′s, Caplan is a product of his time. He grew up believing that anything was possible and that authority should be more than questioned – it should be challenged. A die-hard champion of the underdog, his parents thought he was going to become a public defender. It's not surprising that he's now at the helm of a company designed to empower the small business owner with an unabashed nose thumb to big box retailers. "The little guy is getting squeezed out everywhere," he tells me.
Modular Apple Store Recreate all the action and excitement of Launch Day with this set. #LegoAppleStore My Other Projects: Minion from Despicable Me Urban Moto: A Modular Motorcycle Shop Olivia's Mobile Scooter Repair Midi-Scale Republic Gunship Star Wars Sound Brick Now featured on resscmnews , BrickFanaticsUK , ReBrick , Mac4Ever , Eurobricks Star Wars Blog , The Drop NYC , BrickCreator , BrickEnd , RocketNews24 , UberGizmo , PC World , PhoneArena , TechDigest.TV , CultOfMac , MacGasm , AppAdvice , YourDailyMac , MacDaddyNews , WinAndMac , Tek.Gadg , and TUAW !!! 1 Vote on 3/12 !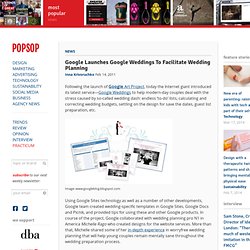 Google Launches Google Weddings To Facilitate Wedding Planning
Following the launch of Google Art Project, today the Internet giant introduced its latest service—Google Weddings to help modern-day couples deal with the stress caused by so-called wedding dash: endless 'to-do' lists, calculating and correcting wedding budgets, settling on the design for save the dates, guest list preparation, etc. Image: www.googleblog.blogspot.com Using Google Sites technology as well as a number of other developments, Google team created wedding-specific templates in Google Sites, Google Docs and Picnik, and provided tips for using these and other Google products. In course of the project, Google collaborated with wedding planning pro N1 in America Michelle Rago who created designs for the website services. More than that, Michelle shared some of her in-depth experience in worryfree wedding planning that will help young couples remain mentally sane throughout the wedding preparation process.
#33 – Google – Weddings
Who? Google, again! What's the utility?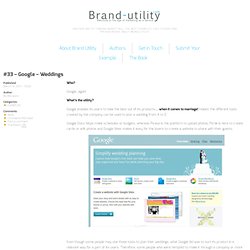 #32 – Google – Person Finder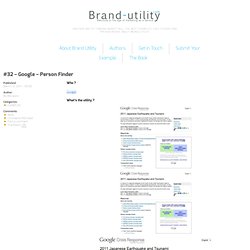 Who ? Google. What's the utility ?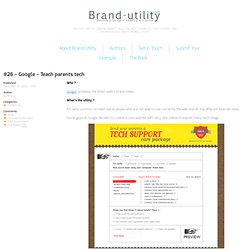 Who ? Google, probably the most useful brand today. What's the utility ? It's very commun to meet some people who are not able to use correctly the web and all the different Internet tools. Some guys at Google decided to create a cool website with very nice videos to explain many tech things. You will have many many videos to explain any basic stuff you need to do on a computer… They just created something valuable for people.
#26 – Google – Teach parents tech | Brand Utility, another way of thinking marketing and brand content.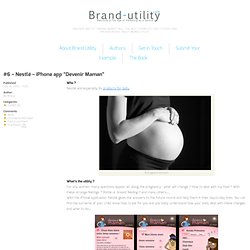 #6 – Nestlé – iPhone app "Devenir Maman"
Who ? Nestlé and especially its products for baby. A pregnant woman. What's the utility ? For any women, many questions appear all along the pregnancy : what will change ? How to deal with my food ?
#11 – Huggies – iGo Potty iPhone App | Brand Utility, another way of thinking marketing and brand content.
Who ? Huggies and its famous pull-ups, diapers designed for babies. You can have a look at their website and story here. What's the utility ? The diaper brand created a quite entertaining iPhone application to help parents make their children…go on potty! Parents usually have a hard time making their children go on potty and it can be a real struggle in order to succeed.