Brand utility evangelists
La Brand Utility pour les nuls. Parlons marketing !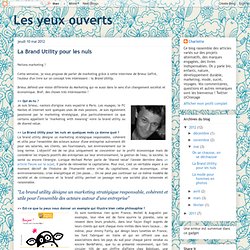 Cette semaine, je vous propose de parler de marketing grâce à cette interview de Brieuc Saffré, l'auteur d'un livre sur un concept très intéressant : la Brand Utility. Brieuc défend une vision différente du Marketing qui va aussi dans le sens d'un changement sociétal et économique. Bref, des choses très intéressantes ! => Qui es-tu ?
Rethinking the Idea of the Brand - Umair Haque. A great guide about brand utility. "Why does your brand exist ?" 1,000 True Fans. [Translations: Chinese, French, German, Hebrew, Italian, Japanese, Portuguese, Romanian, Spanish] The long tail is famously good news for two classes of people; a few lucky aggregators, such as Amazon and Netflix, and 6 billion consumers.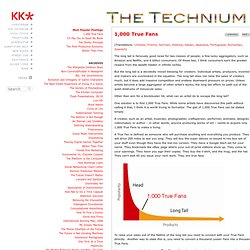 Of those two, I think consumers earn the greater reward from the wealth hidden in infinite niches. But the long tail is a decidedly mixed blessing for creators. Individual artists, producers, inventors and makers are overlooked in the equation. Benjamin Palmer of Barbarian Group. For the first stop of our search to find out more about Branded Utility we called Benjamin Palmer of the progressive digital shop Barbarian Group based in Boston.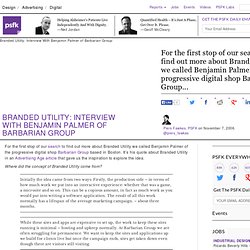 It's his quote about Branded Utility in an Advertising Age article that gave us the inspiration to explore the idea. Where did the concept of Branded Utility come from? Seth Godin and the purple cow | Brand Utility, another way of thinking marketing and brand content. Don't Suck. Are you worried about bad customer reviews online?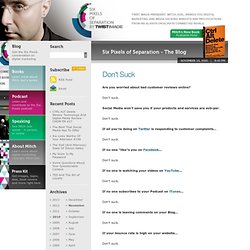 Don't suck. Social Media won't save you if your products and services are sub-par. The next evolution of marketing | Brand Utility, another way of thinking marketing and brand content. Brand Utility vs Branded Utility. Bram De Maesschalck left an interesting comment the other day when we were discussing Branded Utility: I think it could be usefull to consider 'brand utility' as something different than 'branded utility'.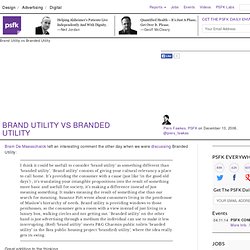 'Brand utility' consists of giving your cultural relevancy a place to call home. It's providing the consumer with a cause (just like 'in the good old days') , it's translating your intangible propositions into the result of something more basic and usefull for society, it's making a difference instead of just meaning something. It makes meaning the result of something else than our search for meaning. Helge Tenno. Connect everything else. Paul Isakson. Several years ago I was interviewing at what was then one of the top creative agencies in the world.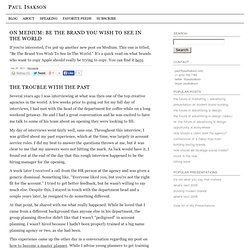 A few weeks prior to going out for my full day of interviews, I had met with the head of the department for coffee while on a long weekend getaway. He and I had a great conversation and he was excited to have me talk to some of his team about an opening they were looking to fill. My day of interviews went fairly well, sans one. Gareth Kay. Gareth's five minute Transformer's video is well worth watching.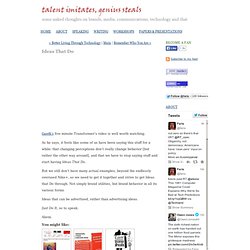 As he says, it feels like some of us have been saying this stuff for a while: that changing perceptions don't really change behavior [but rather the other way around], and that we have to stop saying stuff and start having Ideas That Do. But we still don't have many actual examples, beyond the endlessly overused Nike+, so we need to get it together and strive to get Ideas that Do through. Not simply brand utilities, but brand behavior in all its various forms. Jeremy Gutsche to bring cool to Ottawa - Local.
The Innovators Alliance will host the Calgary-born Mr.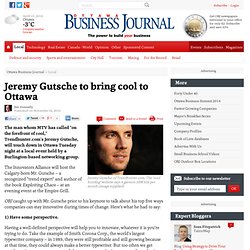 Gutsche – a recognized "trend expert" and author of the book Exploiting Chaos – at an evening event at the Empire Grill. OBJ caught up with Mr. Gutsche prior to his keynote to talk about his top five ways companies can stay innovative during times of change. Here's what he had to say:
---