Essays
Études littéraires. George Orwell - The Orwell Prize. 25 Great Thinkers Every College Student Should Read. By Donna Scott College is for expanding one's intellectual horizons.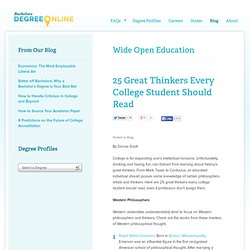 Unfortunately, drinking and having fun, can distract from learning about history's great thinkers. From Mark Twain to Confucius, an educated individual should posses some knowledge of certain philosophers, artists and thinkers. Here are 25 great thinkers every college student should read, even if professors don't assign them. L'invisible omniprésence de l'analyse de données. L'invisible omniprésence de l'analyse de données [vendredi 24 juillet 2009 - 14:00] Sciences Super crunchers.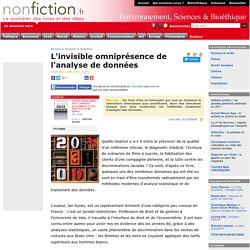 Why thinking-by-numbers is the new way to be smart Éditeur : Bantam Books. Very Short Introductions. "I love the Very Short Introduction Series as should everyone who is interested in the history of ideas.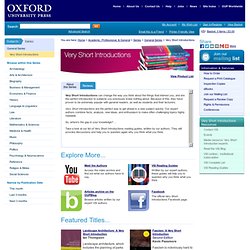 They manage to straddle that difficult line between making the complex accessible without ever compromising on quality. The sheer range of subjects covered make the series an invaluable asset for anyone trying to understand the development of human thought. They are a must-go-to gateway for those of us keen to know more but needing a steer as to where to start. " - Claire Fox, Director, Institute of Ideas. Guest Blog: A Year of Non-Fiction? by Emily « Nadia Lee :: Romance Writer - Blog. I have been utterly and completely turned off reading fiction.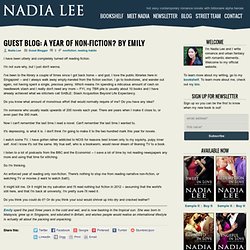 I'm not sure why, but I just don't wanna. I've been to the library a couple of times since I got back home -- and god, I love the public libraries here in Singapore! -- and I always walk away empty-handed from the fiction section. I go to bookstores, and wander out again, not having spent a single, precious penny. Which means I'm spending a ridiculous amount of cash on needlework stash and I really don't need any more -- FYI, my TBR pile is usually about 10 books and I have already achieved what we stitchers call SABLE: Stash Acquisition Beyond Life Expectancy.
Essays. The World's Top 20 Public Intellectuals. Rankings are an inherently dangerous business. Whether offering a hierarchy of countries, cities, or colleges, any such list -- at least any such list worth compiling -- is likely to generate a fair amount of debate. In the last issue, when we asked readers to vote for their picks of the world's top public intellectuals, we imagined many people would want to make their opinions known. But no one expected the avalanche of voters who came forward. I Love You Christopher Hitchens, You Irritating Bastard. Christopher Hitchens, along with Robert Hughes and Spy magazine's Michèle Bennett, first started me imagining that I would like someday to be a journalist and critic.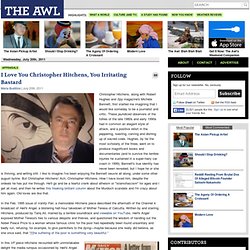 These jaundiced observers of the follies of the late 1980s and early 1990s had in common an elegant style of attack, and a positive relish in the peppering, roasting, carving and dishing up of sacred cows. Hughes, by far the most scholarly of the three, went on to produce magnificent books and documentaries (and to survive the terrible injuries he sustained in a super-hairy car crash in 1999); Bennett's true identity has never been revealed, but I hope he or she is thriving, and writing still. I like to imagine I've been enjoying the Bennett oeuvre all along, under some other august byline. But Christopher Hitchens! Ach, Christopher Hitchens.
---