Book Art
J'aime les livres, tant l'objet que le contenu. Et je me dis que la dématérialisation progressive des supports, rend l'objet-livre encore plus nécessaire.


Je me dis aussi que les nouvelles technologies permettent de faire soi-même ses livres, un passage au service print de ma fac, et un google-Book est imprimé et relié. C'est un profond changement qui va vers une personnalisation du livre et du contenu (stabilo, notes, etc).

Retour au XVIème, où de lecture collective, l'imprimerie l'a modifié en lecture privée.
La XXIème, du livre collectif (tous le même texte) on passe au livre privé (chacun le sien, et son texte travaillé). David Hortala - Portfolio. Éditions Tishina - Soie - Baricco et Dautremer - Qui sommes-nous ? Avocat d'affaires chez Weil, Gotshal & Manges LLP, Jonathan Bay a 29 ans.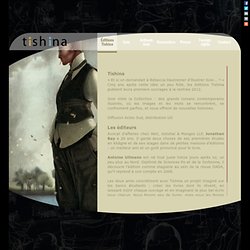 Il garde deux choses de ses premières études en khâgne et de ses stages dans de petites maisons d'éditions : un meilleur ami et un goût prononcé pour le livre. Antoine Ullmann est né tout juste treize jours après lui, un peu plus au Nord. Diplômé de Sciences Po et de la Sorbonne, il découvre l'édition comme stagiaire au sein de la revue DADA, qu'il reprend à son compte en 2008. Les deux amis concrétisent avec Tishina un projet imaginé sur les bancs étudiants : créer les livres dont ils rêvent, en laissant mûrir chaque ouvrage et en imaginant le plus bel écrin pour chacun. Nous ferons peu de livres, mais nous les ferons bien ! Librairie du ciel. Noriko Ambe. Georgia Russell. Par Jean-Paul Gavard-Perret L'Amour Fou (Andre Breton) 2009 Cut and painted book in oval bell jar - England & Co Gallery L'artiste écossaise Georgia Russell propose une étrange spéculation livresque.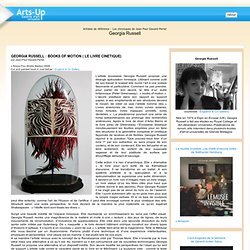 Utilisant comme outil de son travail le scalpel elle ouvre l'art à une poésie fascinante et particulière. Comment ne pas prendre, pour parler de son œuvre, le titre d'un autre britannique (Peter Greenaway) : « books of motion ». Robert The.
Book Art photograph
Cara Barer. Abelardo Morell. Alicia Martín. Brian Dettmer - Noriko Ambe. Su Blackwell. Book Arts! blog et artistes moins connus. Text 36 Notes pigeons4sale asked: Those Harvard books are not bound in human flesh, but actually in sheepskin.Interesting, I just read the article about the sheep/Jonas Wright.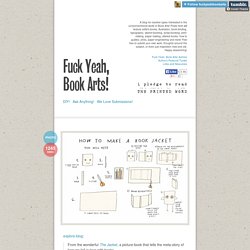 Sounds like the author was possibly trolling! :) Nevertheless, for those of you who are macabre-minded, there's plenty of books out there that are actually bound in human flesh! Quote 4200 Notes "People might tell you that reading is a way to hide from the world, and sometimes it can be, but in my experience, people who love books are also interested in myriad other things. They love music and movies and travel food and (gasp!) 飯田竜太 / Ryuta Iida / Lithospher.
Stephen Doyle's Paper. On occasion the editors of Sight Unseen spot a story about creativity told from a viewpoint that's not unlike our own.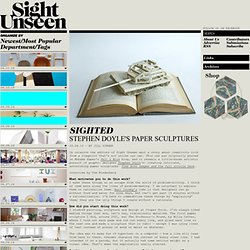 This one was originally posted on Mohawk Paper's Felt & Wire blog, and it reveals a little-known artistic pursuit of graphic designer Stephen Doyle's: creating intricate, astonishing paper sculptures. View more images and the full article here. Interview by Tom Biederbeck What motivates you to do this work? I make these things as an escape from the world of problem-solving. Jacqueline Rush Lee.
Www.inhabitat.com
---