Book Art
J'aime les livres, tant l'objet que le contenu. Et je me dis que la dématérialisation progressive des supports, rend l'objet-livre encore plus nécessaire.

Je me dis aussi que les nouvelles technologies permettent de faire soi-même ses livres, un passage au service print de ma fac, et un google-Book est imprimé et relié. C'est un profond changement qui va vers une personnalisation du livre et du contenu (stabilo, notes, etc).

Retour au XVIème, où de lecture collective, l'imprimerie l'a modifié en lecture privée. La XXIème, du livre collectif (tous le même texte) on passe au livre privé (chacun le sien, et son texte travaillé). yeepeebou May 17
David Hortala - Portfolio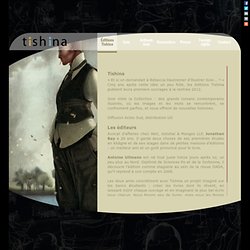 Éditions Tishina - Soie - Baricco et Dautremer - Qui sommes-nous ?
Avocat d'affaires chez Weil, Gotshal & Manges LLP, Jonathan Bay a 29 ans. Il garde deux choses de ses premières études en khâgne et de ses stages dans de petites maisons d'éditions : un meilleur ami et un goût prononcé pour le livre.
Librairie du ciel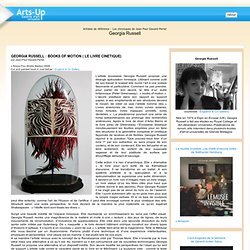 par Jean-Paul Gavard-Perret
Georgia Russell
Robert The
Cara Barer
Abelardo Morell
Alicia Martín
Book Arts! blog et artistes moins connus
飯田竜太 / Ryuta Iida / Lithospher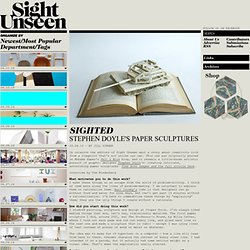 Stephen Doyle's Paper
On occasion the editors of Sight Unseen spot a story about creativity told from a viewpoint that's not unlike our own. This one was originally posted on Mohawk Paper's Felt & Wire blog, and it reveals a little-known artistic pursuit of graphic designer Stephen Doyle's: creating intricate, astonishing paper sculptures.
'the defrauder' by jonathan callan, 2006 (paper and screws) jonathan callan is an english artist born in manchester and now based in london. his work is quite varied, however many of his works utilize books and paper as a sculptural medium. some of the piece combines books into large masses held together by screws, showing their pages and covers from the side angle. other works use plain white paper combined with glue or plaster to create a single form, much like marble. callan is currently represented by kudlek van der grinten gallery in cologne. http://www.kudlek-vandergrinten.de 'seven volumes' by jonathan callan, 2009 (paper) 'neon' by jonathan callan, 2007 (paper and screws) 'for stuart callan 1962-2005' by jonathan callan, 2005 (paper and screws)
Jonathan Callan
Jacqueline Rush Lee