Print & Play
Baptism at Bull Run is a game recreating the Battle of First Bull Run (or First Manassas). Fought on July 21, 1861, First Bull Run was the first major engagement of the American Civil War. Despite opening the engagement with a successful flank march against two smaller Confederate armies, which had only just combined, the Union army would end the day in a disastrous rout back to Washington, D.C. The design of Baptism at Bull Run is based on the highly regarded Bonaparte at Marengo (Simmons Games).
Baptism at Bull Run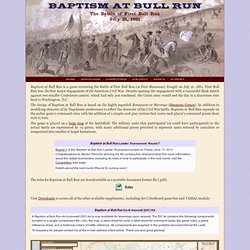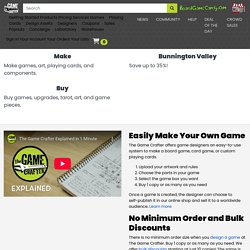 The Game Crafter offers game designers an easy-to-use system to make a board game, card game, or custom playing cards. Free templates, instructions, videos, and proofing tools are available to help people create quality products. It's Easy to Make Your Own Game: Upload your artwork and rules Choose the parts in your game Select the game box you want Buy 1 copy or as many as you need
Game components, game bits, game pieces | Game boards - Game components
Free Solo games you can make yourself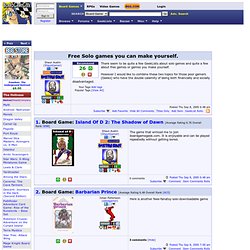 Robert Carroll United StatesLawrenceKansas From the Rules: All Time Championship Soccer lets you can relive the excitement, passion, glory and defeat of taking a national team through the World Cup. Choose from 64 national teams, representing that country's best team ever to play in the World Cup. Each team is statistically generated to match its performance in the World Cup.
Games That Are Free To Print and Play
David Thompson United StatesHuntsvilleAlabama 3-6 players | Ages: 8+ | 30 minutes Loyalty | Deduction | Deception | Betrayal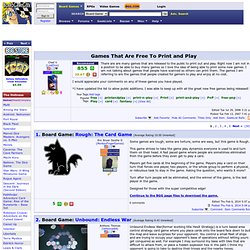 Print and Play are Ranked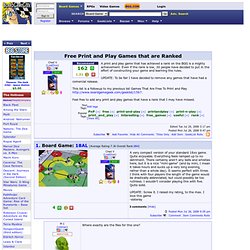 Chad V United StatesAtlantaGeorgia Great Game, beautiful board and cards.. what to use for pcs? Its the best free printable game we have yet found, with a very beautiful cards and especially the board. I recommend printing the board on a 6 color inkjet photo printer on photo paper. The colors are far more vibrant doing this than my laser printer.