Blogs
Speak like a Star! ESL writing & multiliteracies. Common Misunderstandings of Educators Who Fear Technology. Education is currently at a crossroads as traditional methods and tools are changing as a result of advances in technology and learning theory.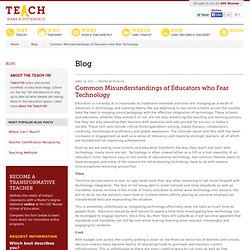 We are beginning to see some schools across the country take the lead in merging sound pedagogy with the effective integration of technology. These schools and educators, whether they realize it or not, are not only enhancing the teaching and learning process, but they are also providing their learners with essential skill sets pivotal for success in today's society. Students using their cellphones to learn. Do you let your students have their cellphones on in your class or do you ask them to turn them off ?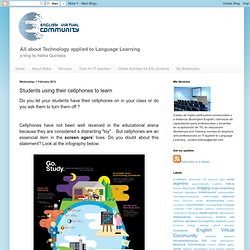 Cellphones have not been well received in the educational arena because they are considered a distracting "toy" . But cellphones are an essencial item in the screen agers' lives. Your e-library for " Social Media In Education " Yvonne Crawford | The English Guru. How ESL and EFL classrooms differ. In her first guest post for OUP, Kate Bell, a writer and researcher, talks us through some of the practical differences between ESL and EFL classrooms.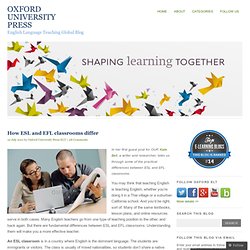 You may think that teaching English is teaching English, whether you're doing it in a Thai village or a suburban California school. And you'd be right, sort of. Contexto educativo y Mediación pedagógica. TweetDeck & 100s of Twitter tools for Teachers. I have posted about Twitter a few times before.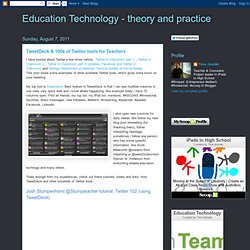 Twitter in Classroom part 1. ; Twitter in Classroom 2 ; Twitter in Classroom part 3; Updates: Facebook and Twitter in Classroom and Georgia Department of Defense: Tactical Guides of Social Media. This post share some examples of other available Twitter tools which gives extra boost on your tweeting. My top tool is TweetDeck. Best feature in TweetDeck is that i can see multible columns in one view, very quick look and i know whats happening, like example today i have 15 columns open. First all friends, my top list, my iPad list, mentions, #RSCON3, #finnedchat, favorites, direct messages, new followers, #edtech, #mlearning, #ipadchat, #ipaded, Facebook, Linkedin. The Rapid eLearning Blog. Linear, click-and-read courses are pretty common and usually held up as the worst of online training and cause of boring courses because they're mostly information dumps with little focus on how the learner can actually use the course content.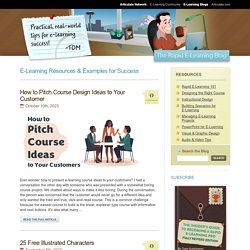 They may be the worst of elearning. Or perhaps not. Let's review some common reasons why these types of online courses exist and what we can do to fix them so that you're not producing ... Ed Tweeps. Blog A section dedicated to image processing techniques and how to get the most out of the photographic process.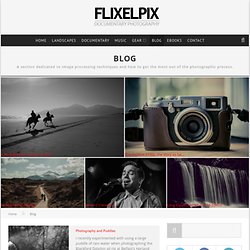 A Photographic Review of 2013. The Creative Education Blog. Writing Your Own Professional Development Plan Date: 17th Feb 2012 As the half term draws mercilessly towards its close, I started wondering about all those resolutions I made back in late last year and how they've fared – some well, some less well.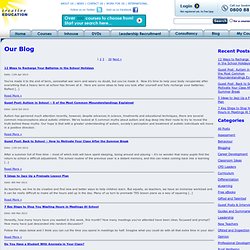 I suspect you may have made similar resolutions too. Teacher Quotes, Teaching Sayings, Quotations about Teachers. Related Quotes Back to School Teacher Appreciation Children Education Learning I like a teacher who gives you something to take home to think about besides homework.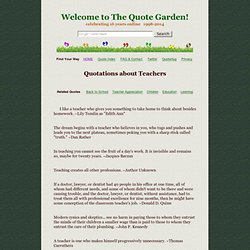 ~Lily Tomlin as "Edith Ann" The dream begins with a teacher who believes in you, who tugs and pushes and leads you to the next plateau, sometimes poking you with a sharp stick called "truth. " ~Dan Rather. The definition of learning: Can mobile devices help us reach learning on a different level? - Mr. Self Development.com. 7 Fun Ways to Get Participation and Collaboration Going in Classrooms. Yes, I hear you.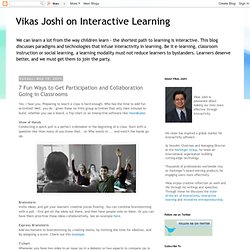 Preparing to teach a class is hard enough. Who has the time to add fun activities? Well, you do - given these no-frills group activities that only take minutes to build, whether you use a board, a flip chart or an interactive software like YawnBuster. Social Learning: to be or not to be?
---