Blogs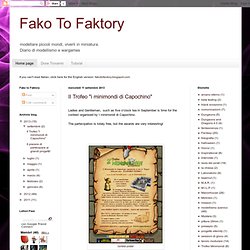 The pleasure to participate in big projects! Hello everyone! The pleasure to participate in great projects!
Fako To Faktory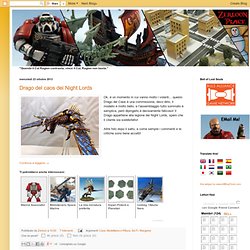 Ed eccoci qui, di ritorno dalle ferie, decisamente ristorato e pronto a ricominciare a scrivere sul blog! Da un po di tempo a questa parte una sezione dell'immagine a fianco compare sul mio Header. Perché?
Zerloon Place
Salve a tutti, prima di tutto mi volevo scusare con tutti voi poiché, per un motivo a me ignoto, non riesco più a commentare su blogger, sia sul mio blog che su quelli che seguo... Sappiate che vi seguo e vi leggo sempre però!! ;) Detto questo, sappiate che nell'ultimo mese non sono affatto rimasto inattivo, tra le varie cose che ho fatto (e che vi mostrerò a tempo debito), ho dedicato particolare cura alla mia Guardia Imperiale... In realtà sono un pittore non particolarmente lento ma, sicuramente, molto incostante. Non è infatti raro per me avere modelli in attesa sulla mia paint station per mesi (a volte anni) per poi impazzire all'improvviso e completare squadre intere in breve tempo.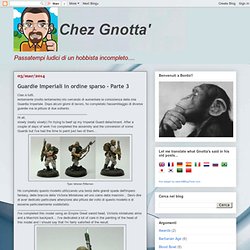 Chez Gnotta'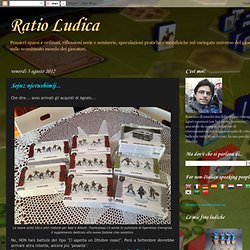 Le riviste di settore, siano esse cartacee oppure online, rappresentano uno dei pilastri del mondo ludico. Pare strano, ma i giocatori sembrano tanto attirati dal desiderio di parlare di giochi quanto da quello di giocarli... e questo lo so bene, visto che da anni collaboro ad una di queste riviste, Gioconomicon. Il fatto è che per un appassionato l'atto stesso di giocare può non essere sufficiente. Ci piace analizzare i giochi, comprenderne i meccanismi, avere notizie sulle prossime uscite, leggere di varianti mai provate, perderci in appassionanti resoconti di interminabili partite o anche curiosare nelle vite dei game designer più famosi cercando di capire cosa li ha spinti a scegliere quella strada.
Ratio Ludica
No Guts, No Glory!
Hello all, It's been some time since my last post as real life keeps sucking all my hobby time... With the help of my little daughter Sarah I finished some new additions to my 15mm's which I like to share with you. An assassin and his prey. The killer is from RebelMinis. Those firefly crew members are from GZG.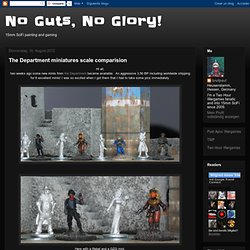 ALTERNATIVE WORLDS - WARGAME & REENACTEMENT
Ed ecco appena ultimata la squadra di Carabinieri ISAF , partendo dai pezzi della VENEXIA , ho modificato divisa e teste per dargli l'aspetto delle unità in divisa da istruttore/presidio .Al momento ho lasciato il basco blu scuro, anche se penso di trasformarli in TUSCANIA , anche perché non mi risultano unità operative con questa colorazione.Lascerò il jacket nero con la scritta gialla sulla schiena che ho visto diverse volte nelle missioni in città e durante l'addestramento delle forze afghanistane. A breve le foto dell'unità terminata ! ... e sullo sfondo ... specialisti RAO e un PILOTA ... e si va avanti !!!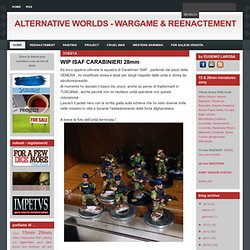 "The Algedi's Protectorate Gamma-class hull is a common sight in the quadrant, very appreciated for its robustness and ease of customisation. It's a rugged and reliable design, albeit rather dated after over two centuries of service. While it makes for a formidable battlecruiser platform, its weight and dated ion engine limits the manoeuvrability of the ship. This and the lack of point defence ports on the standard hull makes it a rather specialised combat ship, relying on escorts for figher defence or patrolling." Terran Ship Identification Guide
Lead and Plastic Blog
Irregular Magazine
Courtyards inside the Grassburg city
The Lazy Forger
I migliori Store Italiani: Tutte le novità per i nostri utenti!!! Ultimi Eventi e Notizie Endless Dungeons: primo Add-On gratuito Pubblicato - 30-12-2013 È online il primo add-on gratuito per Endless Dungeons: si chiama Temple Ruins e potete scaricarlo da http://www.rpgnow.com/product/124414/Endless-Dungeons---FREE-Add-On-1-Temple-Ruins.All'interno troverete:1 Tile Tempio in Rovina, 2 Tiles Stanze Vuote (3x4 e 3x5 caselle), 1 Pentacolo, 1...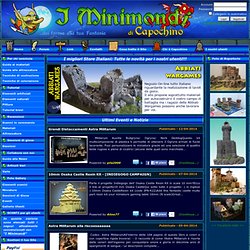 I Minimondi di Capochino
Modellismo Più
Ultramini Custom!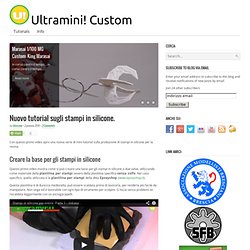 Novità in arrivo: da oggi Ultramini! e Custom Ultramini! diventano due cose separate, perchè qualcosa bolle in pentola.
il sito dei soldatinari italiani
Modeling Time | Il punto di riferimento per il modellismo statico.
Hello dear MV readers, during MV's last Tutorial vote you skipped the Step by Step of the Pirate bust again and decided to see the birth of "The Nightwatch". "The Nightwatch" diorama that took Roman a long time to be finished due several reasons. This is article will not be a detailed step by step of which colour was used on the different figures. The reason to call this still a step by step is the following explanation that tries to show you how such a project grows from an early start, how it gets stuck, how it grows again, how it comes to an end.