Blogs
Baixaki Jogos
MTV Geek | MTV.com - Comic Books News, Toy News, Tech News, Animation, Video Interviews, Reviews
Preguicosamente Blogueiro
Insoonia - Em pé sem cair deitado sem dormir!
DrPepper.com.br
Vida de Merda - Minha vida é uma merda, mas eu não dou a mínima #VDM
R i s s a . c o m . b r
Gargalhando.com – Já deu gargalhada hoje?
nightmares of dreams
by Gina Trapani Click to view I have a terrible memory, especially when it comes to when things happened. Significant life events - like graduating and 9/11 - are all landmarks that help me remember when events occurred relative to them (i.e., "that was before I moved to California.") But there are still long periods of my past that are just a big amorphous blur - especially before I started using a computer every day. As a result, I've always been fascinated with digital timelines as a memory aid and reference: the ones that occur as artifacts of other activities (like our sent email folder and digital photo collection), and the ones we can purposefully construct for historical documentation.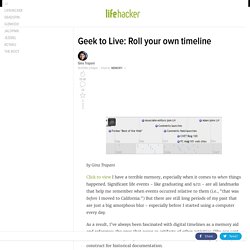 Geek to Live: Roll your own timeline