Blogs
Jovem Nerd
AmazingSuperPowers: Webcomic at the Speed of Light
Baixaki Jogos
MTV Geek | MTV.com - Comic Books News, Toy News, Tech News, Animation, Video Interviews, Reviews
OCIOSO - Links interessantes para seus momentos de ócio
Preguicosamente Blogueiro
Testosterona
Insoonia - Em pé sem cair deitado sem dormir!
Não Salvo
DrPepper.com.br
R i s s a . c o m . b r
Ah Neg?o!
Gargalhando.com – Já deu gargalhada hoje?
[Ñ.Intendo]
Shit Brix - Mindfuck Pictures, When You See It You'll Shit Bricks
nightmares of dreams
SExpand by Gina Trapani Click to view I have a terrible memory, especially when it comes to when things happened. Significant life events - like graduating and 9/11 - are all landmarks that help me remember when events occurred relative to them (i.e., "that was before I moved to California.") But there are still long periods of my past that are just a big amorphous blur - especially before I started using a computer every day.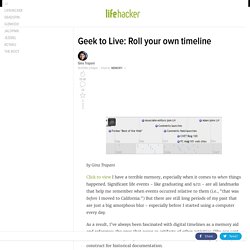 Geek to Live: Roll your own timeline