Blogs
Jovem Nerd
That logic doesn't bode well for Life Coaches. Do you know my favorite sign around airport security? It's the one that says something along the lines of "Making jokes about bombs will be taken seriously, and will come with severe criminal charges." That's right, there are places in the US where jokes are actually illegal. Someday I'm going to come up with a few one-liners about bombs ("What's the deal with atom bombs!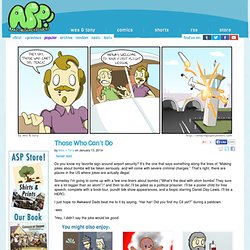 AmazingSuperPowers: Webcomic at the Speed of Light
Baixaki Jogos
Friends and fellow geeks — We're shutting up shop and heading to the great arcade in the sky. Our friends over at MTV News will provide continued coverage of ComicCon, your favorite geek movies, video games and more. Thanks to everyone for the great run. So long, and thanks for all the fish.
MTV Geek | MTV.com - Comic Books News, Toy News, Tech News, Animation, Video Interviews, Reviews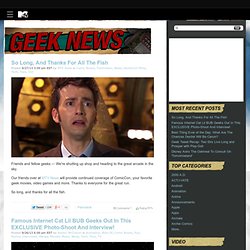 OCIOSO - Links interessantes para seus momentos de ócio
Preguicosamente Blogueiro
"Boa noite pessoá, viva São João, viva São Pedro, quadrilha é:" Oi gente, festas juninas são tão legais né? Bom, pelo menos pra mim são, e eu esse ano particularmente me diverti bastante, cheguei tem algum tempo só, tava viajando e foi bem legal, espero que vocês também tenham se divertido, bom, não se esqueçam de ler o blog, dá uma vasculhada aê que tem muito post antigo que continua bom tá? ;P Quem for à farra, não se esquece do juízo de não se meter em brigas, ter cuidado com os fogos e ainda se for se dar bem usar sempre camisinha tá? Depois desse sermão (risos), boas festas juninas, divirtam-se e um grande abraço desse que vos fala em nome da equipe PB!
Testosterona
Insoonia - Em pé sem cair deitado sem dormir!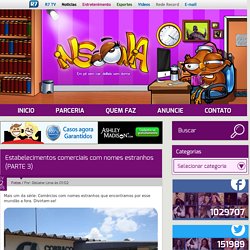 Quem ainda não sabe cantar o Hino, a hora de aprender é agora! Prestenção: "Ouviram dum piranga a magem paaacinda do filho inu inu inu retumbanto, até agora mais aindaaa terra dourada em tu jadim o meu reão o meu deitado, do filho nannanna te gentil, dourado Jesus é gentil … Deitado amaizamente a mesa esstendida no quanto menumino retambanto, por que agora, maisgaindaaa terra dorada em tu jadim é meu jesus uM prata amadaa do filho menananaixnt gentil … PATRIA AMADO JESUS!"" Cantou melhor que a Vanusa. Eu achei
Nada de frango clicando nesse post não, rapá! PARAAAA PARAAA PARA!!! Marcos Oliver, a lenda viva, o Rei da Infidelidade, o homem que mais destruiu casamentos está preso por dever 50 mil reais de pensão alimentícia… éééé, no Brasil marcou com a pensão vai pra cadeia, não tem desculpa. Mas blz, acontece q ele gravou um vídeo lá na cadeia: Foda passar por isso… Como se isso não fosse o bastante, o R7 vai lá e apronta uma dessas:
Não Salvo
DrPepper.com.br
R i s s a . c o m . b r
Ah Neg?o!
Gargalhando.com – Já deu gargalhada hoje?
E aí pessoal, vocês sabiam que amanhã, o Hao123 vai fazer 2 anos de operação no Brasil? Não? Então conheça o Hao123
[Ñ.Intendo]
Shit Brix - Mindfuck Pictures, When You See It You'll Shit Bricks
nightmares of dreams
SExpand by Gina Trapani Click to view I have a terrible memory, especially when it comes to when things happened. Significant life events - like graduating and 9/11 - are all landmarks that help me remember when events occurred relative to them (i.e., "that was before I moved to California.") But there are still long periods of my past that are just a big amorphous blur - especially before I started using a computer every day.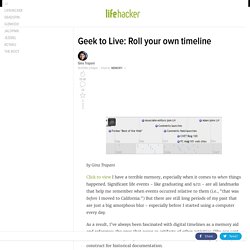 Geek to Live: Roll your own timeline