Blogs With Design Resources
John Allsopp: My life online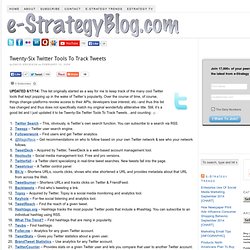 Twenty-Six Twitter Tools To Track Tweets
I've been finding so many Twitter tools and passing them along that it's hard to keep track of them all. The Twitter tools I want to keep track of are those that monitor, measure, and analyze Twitterers and their traffic. I figured I'd compile them here for your benefit. Twitter Search – This, obviously, is Twitter's own search function. You can subscribe to a search via RSS.
PageResource.com - The Web Design Resource
1image.eu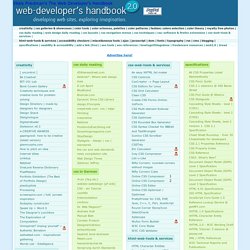 Vitaly Friedman's The Web Developer's Handbook creativity | css galleries & showcases | color tools | color schemes, palettes | color patterns | fashion: colors selection | color theory | royalty free photos | css daily reading | web design daily reading | css layouts | css navigation menus | css techniques | css: software & Firefox Extensions | css-web-tools & services | html-web-tools & services | accessibility checkers | miscellaneous tools | ajax | javascript | DOM | fonts | typography | RSS | CMS | blogging | specifications | usability & accessibility | add a link (free) | seo tools | seo references | howtogetthingsdone | freelancers resources | web2.0 | 2read Advertise here!
Web design blog
Scott Jehl, Web Designer/Developer, Boston, MA | Website, Web Application, and User Interface Design and Development
What we're thinking
Style Guide
Fuel Brand Network
Controlling Body Margins with CSS
The site conforms all web accessibility guidelines. The major features are summarized below. Access keys
Dr. Leslie Sikos Computer Scientist - Developers corner (HTML5 and CSS tutorials)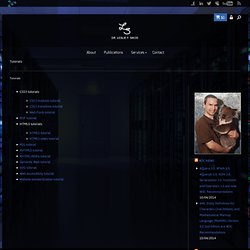 Design Tips, Tutorials and Inspiration - Hongkiat.com
Premium Web Element: Simple Dividers
FanExtra Membership: Sign up today for a FanExtra membership, and get access to hundreds of PSDFAN tutorial source files, weekly members-only tutorials, vectors, icons and design-related discounts. >> Sign up to FanExtra Today Promote this Post: We'd really appreciate it if you took a moment to help promote this post.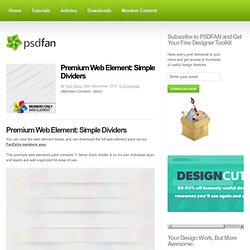 hry.rbrts.me—Harry Roberts; web designer and developer, type nerd and trials rider.