Blogs With Design Resources
John Allsopp: My life online
Working on the first book for Web Directions Press, on Offline Web Apps with HTML5, covering AppCache, File API, File System API, webStorage, IndexedDB, and HTTP Caching. Finalising Web Directions South 2013, our web design & development conference A short bio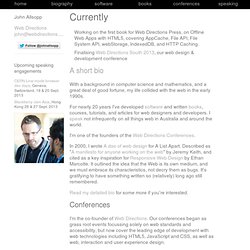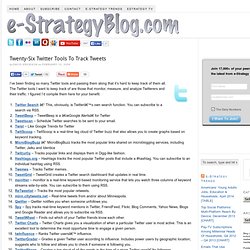 Twenty-Six Twitter Tools To Track Tweets
I've been finding so many Twitter tools and passing them along that it's hard to keep track of them all. The Twitter tools I want to keep track of are those that monitor, measure, and analyze Twitterers and their traffic. I figured I'd compile them here for your benefit. Twitter Search – This, obviously, is Twitter's own search function. You can subscribe to a search via RSS.TweetBeep – TweetBeep is a "Google Alerts" for TwitterTweetscan – Schedule Twitter searches to be sent to your email.Twist – Like Google Trends for TwitterTwitScoop – TwitScoop is a real-time tag cloud of Twitter buzz that also allows you to create graphs based on keyword tracking.MicroBlogBuzz – MicroBlogBuzz tracks the most popular links shared on microblogging services, including Twitter, Jaiku and IdenticaTwit(url)y – Tracks popular links and displays them in Digg-like fashion.Hashtags.org – Hashtags tracks the most popular Twitter posts that include a #hashtag.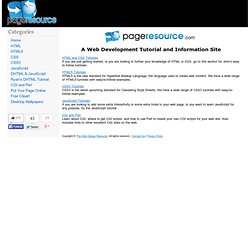 PageResource.com - The Web Design Resource
HTML and CSS Tutorials If you are just getting started, or you are looking to further your knowledge of HTML or CSS, go to this section for John's easy to follow tutorials. HTML5 Tutorials HTML5 is the new standard for Hypertext Markup Language, the language used to create web content. We have a wide range of HTML5 turorials with easy-to-follow examples. CSS3 Tutorials CSS3 is the latest upcoming standard for Cascading Style Sheets. We have a wide range of CSS3 turorials with easy-to-follow examples. JavaScript Tutorials If you are looking to add some extra interactivity or some extra tricks to your web page, or you want to learn JavaScript for any purpose, try the JavaScript tutorial.
Follow 1image.eu via Twitter Follow 1image.eu via Facebook Follow 1image.eu via RSS RSS Feed
1image.eu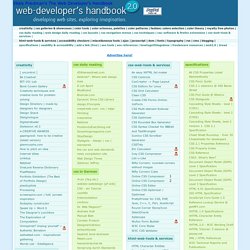 Vitaly Friedman's The Web Developer's Handbook creativity | css galleries & showcases | color tools | color schemes, palettes | color patterns | fashion: colors selection | color theory | royalty free photos | css daily reading | web design daily reading | css layouts | css navigation menus | css techniques | css: software & Firefox Extensions | css-web-tools & services | html-web-tools & services | accessibility checkers | miscellaneous tools | ajax | javascript | DOM | fonts | typography | RSS | CMS | blogging | specifications | usability & accessibility | add a link (free) | seo tools | seo references | howtogetthingsdone | freelancers resources | web2.0 | 2read Advertise here!
Web design blog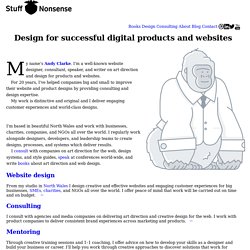 Special guest Jeffrey Zeldman joins me on Unfinished Business this week to talk about how important is it today for designers to be able to tell stories and sell ideas to clients. We talk about whether designers need empathy or strength of character and conviction in their ideas, whether the web needs 'account' menpeople and what it feels like when people you've mentored go their own way. It's a packed show and as we both love advertising and Mad Men, we end by talking about my Don Draper depersonalisation disorder theory and what we expect and hope from the final season which starts next week. Even if you've not seen Mad Men, I think you're going to like this episode.
Need Beautiful Fonts? Try Font Town Fonts are important.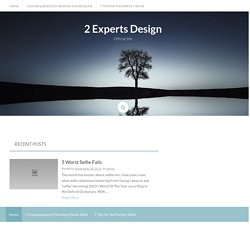 Selected Projects Responsible Responsive Design, A Book Apart, 2014 Writing Boston Globe Front-end design-velopment. Built at Filament Group. jQuery Mobile Project Team dev lead. Designing with Progressive EnhancementBook and book website. Written and built by Filament Group EnergyRaceWeb application design and development.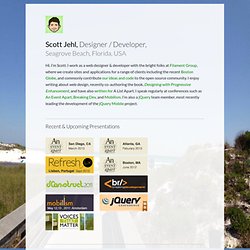 Scott Jehl, Web Designer/Developer, Boston, MA | Website, Web Application, and User Interface Design and Development
What we're thinking
For our first inspirational list of 2014 we decided to gather examples of white type in web design. I'm always browsing css galleries and other sites to find nice things to show here, and I noticed that a lot of sites use the dark/colorful background white type combo. This is why I decided to dedicate a list to it. Whether you are using a beautiful background image, a texture, or even a big video, overlaying white type can create a very dramatic effect. Fuel Brand Network
The Future of WordPress Starting with just a simple line of code 11 years ago, WordPress has evolved to become the platform of more than 74 million websites. Even with a vast array of competitors offering similar functionality, WordPress still dominates the CMS market with a 21.9% market share.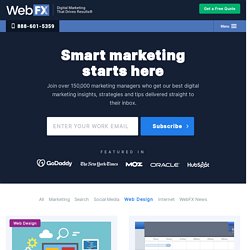 Controlling Body Margins with CSS
Premium Web Element: Simple Dividers
You can view the web element below, and can download the full web element pack via our FanExtra members area. This premium web elements pack contains 11 items. Each divider is on it's own individual layer, and layers are well organized for ease of use. Members-Only Download: You can download this web elements pack via our FanExtra members area, along with hundreds of other design files.
Insider secrets for getting help at the Apple Store Insider secrets for getting help at the Apple Store Whether you broke your iPhone or you need to learn how to edit video on your Mac, the Apple Store has services to assist. Here are tips to navigate it from a former employee. Read more →
hry.rbrts.me—Harry Roberts; web designer and developer, type nerd and trials rider.