Blogs With Design Resources
John Allsopp: My life online
Working on the first book for Web Directions Press, on Offline Web Apps with HTML5, covering AppCache, File API, File System API, webStorage, IndexedDB, and HTTP Caching. Finalising Web Directions South 2013, our web design & development conference A short bio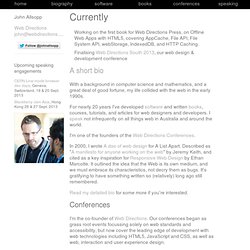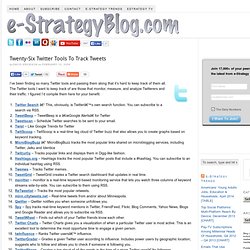 Twenty-Six Twitter Tools To Track Tweets
I've been finding so many Twitter tools and passing them along that it's hard to keep track of them all. The Twitter tools I want to keep track of are those that monitor, measure, and analyze Twitterers and their traffic. I figured I'd compile them here for your benefit. Twitter Search – This, obviously, is Twitter's own search function. You can subscribe to a search via RSS.TweetBeep – TweetBeep is a "Google Alerts" for TwitterTweetscan – Schedule Twitter searches to be sent to your email.Twist – Like Google Trends for TwitterTwitScoop – TwitScoop is a real-time tag cloud of Twitter buzz that also allows you to create graphs based on keyword tracking.MicroBlogBuzz – MicroBlogBuzz tracks the most popular links shared on microblogging services, including Twitter, Jaiku and IdenticaTwit(url)y – Tracks popular links and displays them in Digg-like fashion.Hashtags.org – Hashtags tracks the most popular Twitter posts that include a #hashtag.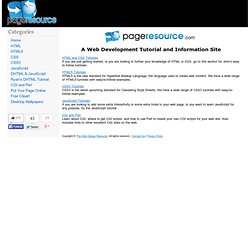 PageResource.com - The Web Design Resource
HTML and CSS Tutorials If you are just getting started, or you are looking to further your knowledge of HTML or CSS, go to this section for John's easy to follow tutorials. HTML5 Tutorials HTML5 is the new standard for Hypertext Markup Language, the language used to create web content. We have a wide range of HTML5 turorials with easy-to-follow examples. CSS3 Tutorials CSS3 is the latest upcoming standard for Cascading Style Sheets. We have a wide range of CSS3 turorials with easy-to-follow examples. JavaScript Tutorials If you are looking to add some extra interactivity or some extra tricks to your web page, or you want to learn JavaScript for any purpose, try the JavaScript tutorial.
Follow 1image.eu via Twitter Follow 1image.eu via Facebook Follow 1image.eu via RSS RSS Feed
1image.eu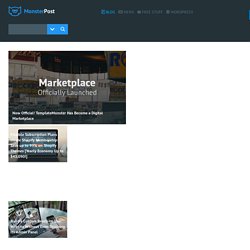 When starting a store/blog/website (select the appropriate) there appears a dilemma whether to choose SAAS or a licensed software for your site. You choice will depend on your personal needs. If you don't want be bothered with backend functionality improvements, coding issues or other things that make you break out in a cold sweat, than it's definitely SAAS. But if you're like a fish in a sea, when it comes to finding and fixing bugs – licensed software is exactly what you need…in case you got enough money to buy one.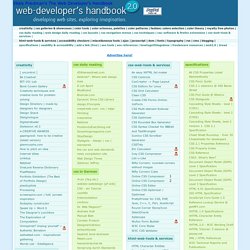 Vitaly Friedman's The Web Developer's Handbook creativity | css galleries & showcases | color tools | color schemes, palettes | color patterns | fashion: colors selection | color theory | royalty free photos | css daily reading | web design daily reading | css layouts | css navigation menus | css techniques | css: software & Firefox Extensions | css-web-tools & services | html-web-tools & services | accessibility checkers | miscellaneous tools | ajax | javascript | DOM | fonts | typography | RSS | CMS | blogging | specifications | usability & accessibility | add a link (free) | seo tools | seo references | howtogetthingsdone | freelancers resources | web2.0 | 2read Advertise here!
Web design blog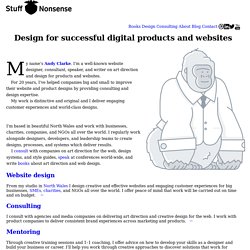 For this, the fiftieth episode of Unfinished Business, I'm joined by regular guest Laura Kalbag. We talk about ethical statements and whether we, and the companies that people work for, should set out what they will and won't work on our websites. I would like to say an enormous thank-you to Anna Debenham for helping me get started with this podcast. To all our guests and sponsors for making the show possible and to you, our listeners for being lovely people. I'd like to wish you all a very happy Christmas holiday.
30 Best Examples of CMS Websites CMS or Content Management Systems is web application software that is used for hosting websites in the easiest way. Developers with little knowhow and understanding about coding and programming language can use the CMS for launching attractive looking website with advanced features.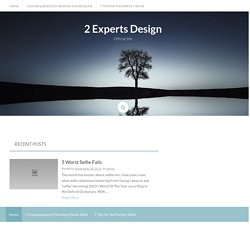 Selected Projects Responsible Responsive Design, A Book Apart, 2014 Writing Boston Globe Front-end design-velopment. Built at Filament Group. jQuery Mobile Project Team dev lead. Designing with Progressive EnhancementBook and book website. Written and built by Filament Group EnergyRaceWeb application design and development.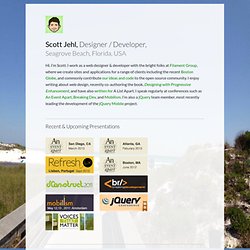 Scott Jehl, Web Designer/Developer, Boston, MA | Website, Web Application, and User Interface Design and Development
What we're thinking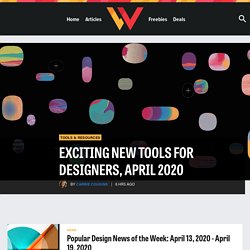 Every week we feature a set of comics created exclusively for WDD. The content revolves around web design, blogging and funny situations that we encounter in our daily lives as designers. These great cartoons are created by Jerry King, an award-winning cartoonist who's one of the most published, prolific and versatile cartoonists in the world today. So for a few moments,... Every week we feature a set of comics created exclusively for WDD. The content revolves around web design, blogging and funny situations that we encounter in our daily lives as designers.
For our first inspirational list of 2014 we decided to gather examples of white type in web design. I'm always browsing css galleries and other sites to find nice things to show here, and I noticed that a lot of sites use the dark/colorful background white type combo. This is why I decided to dedicate a list to it. Whether you are using a beautiful background image, a texture, or even a big video, overlaying white type can create a very dramatic effect.
Fuel Brand Network
10 Free Blank WordPress Themes This is a review of the top blank WordPress theme choices. continue reading »
Controlling Body Margins with CSS
Premium Web Element: Simple Dividers
You can view the web element below, and can download the full web element pack via our FanExtra members area. This premium web elements pack contains 11 items. Each divider is on it's own individual layer, and layers are well organized for ease of use. Members-Only Download: You can download this web elements pack via our FanExtra members area, along with hundreds of other design files.
hry.rbrts.me—Harry Roberts; web designer and developer, type nerd and trials rider.