Blogs With Design Resources
John Allsopp: My life online. Twenty-Six Twitter Tools To Track Tweets. I've been finding so many Twitter tools and passing them along that it's hard to keep track of them all.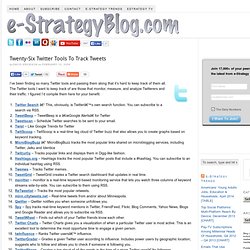 The Twitter tools I want to keep track of are those that monitor, measure, and analyze Twitterers and their traffic. I figured I'd compile them here for your benefit. Twitter Search – This, obviously, is Twitter's own search function. You can subscribe to a search via RSS.TweetBeep – TweetBeep is a "Google Alerts" for TwitterTweetscan – Schedule Twitter searches to be sent to your email.Twist – Like Google Trends for TwitterTwitScoop – TwitScoop is a real-time tag cloud of Twitter buzz that also allows you to create graphs based on keyword tracking.MicroBlogBuzz – MicroBlogBuzz tracks the most popular links shared on microblogging services, including Twitter, Jaiku and IdenticaTwit(url)y – Tracks popular links and displays them in Digg-like fashion.Hashtags.org – Hashtags tracks the most popular Twitter posts that include a #hashtag.
PageResource.com - The Web Design Resource. 1image.eu. Template Monster Blog. Web Developer's Handbook | CSS, Web Development, Color Tools, SEO, Usability etc. Vitaly Friedman's The Web Developer's Handbook creativity | css galleries & showcases | color tools | color schemes, palettes | color patterns | fashion: colors selection | color theory | royalty free photos | css daily reading | web design daily reading | css layouts | css navigation menus | css techniques | css: software & Firefox Extensions | css-web-tools & services | html-web-tools & services | accessibility checkers | miscellaneous tools | ajax | javascript | DOM | fonts | typography | RSS | CMS | blogging | specifications | usability & accessibility | add a link (free) | seo tools | seo references | howtogetthingsdone | freelancers resources | web2.0 | 2read Advertise here!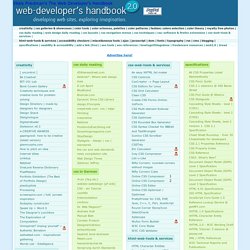 Web design blog. 320 and up. Web Design Blog, Web Designer Resources | 2experts Design. Web Design and Development Tips, Tutorials and Related Resources - [Re]Encoded.com. Scott Jehl, Web Designer/Developer, Boston, MA | Website, Web Application, and User Interface Design and Development. What we're thinking. A List Apart. Web Design Blog - Webdesigner Depot. Web Design Blog, Tutorials and Inspiration | Web Design Ledger. Fuel Brand Network. Six Revisions - Web Design Articles, News, Tutorials.
Controlling Body Margins with CSS. Design Tips, Tutorials and Inspiration - Hongkiat.com. Premium Web Element: Simple Dividers. You can view the web element below, and can download the full web element pack via our FanExtra members area.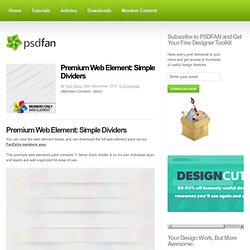 This premium web elements pack contains 11 items. Each divider is on it's own individual layer, and layers are well organized for ease of use. Members-Only Download: You can download this web elements pack via our FanExtra members area, along with hundreds of other design files. TechRepublic - A Resource for IT Professionals. Lifehacker, tips and downloads for getting things done. Hry.rbrts.me—Harry Roberts; web designer and developer, type nerd and trials rider.
---