Furniture & Decoration
Idées Déco | whataniceplace
Le blog du design et de la décoration /  WoDesign
{MO12} Zuiver | Cocon de décoration: le blog
J'avais laissé de côté le salon Maison et Objets parce que j'attendais les dossiers de presse qui devaient arriver par la poste ou par mail. Samedi, j'ai reçu dans ma boite deux CDs de Zuiver . Le stand de cette enseigne hollandaise m'a très vite tapé dans l'œil lors du salon.
Ushanki Ushanki c'est le nom qu'a choisi le bureau de design Ukrainien decorkuznetsov (heureusement que je n'ai pas à le prononcer).
Une étagère design et un peu rétro | Décoration d' Intérieur
Sophie Levitte - Décoratrice, Styliste photo
Déco tendency - Le blog deco de toutes les tendances design - Intérieur, Meuble, Luminaire, objet déco
Drawer le Blog |
Une Chaise nommée Désir.
Décology (Blog de Homology)
le blog de made in design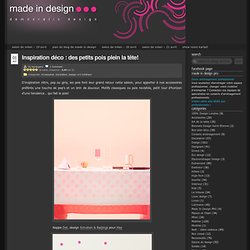 Si vous êtes lassés des boutique hôtels au luxe standardisé et impersonnel, vous allez aimer Das Stue, le nouvel hôtel berlinois au décor signé Patricia Urquiola . Particulièrement soignée, l'atmosphère de ce lieu mêle inspirations contemporaines et touches cosy, pour un dépaysement total. Installé dans un immeuble de 1930, à l'origine l'ambassade du Danemark, Das Stue possède un héritage unique. L'hôtel se distingue par sa façade exceptionnelle, et son emplacement privilégié, à quelques encablures de la Nationalgalerie, du Berlin Philharmonie, ou encore de la Postdamer Platz.
mcmgallery.com
Quartier Maison, le blog deco But, tendances et decoration maison, jeu concours deco. Quartier-Maison
Incredible Furniture Designs 2009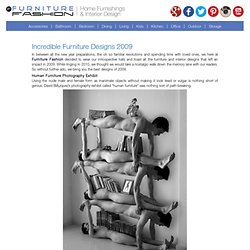 In between all the new year preparations, the oh so familiar resolutions and spending time with loved ones, we here at Furniture Fashion decided to wear our introspective hats and toast all the furniture and interior designs that left an impact in 2009. While ringing in 2010, we thought we would take a nostalgic walk down the memory lane with our readers. So without further ado, we bring you the best designs of 2009.
We scoured the web looking for the best interior design and furniture blogs, and below is what we found. From large multi-writer blogs like Moco Loco to more personal fare like Gaile Guevara , the below 25 blogs (plus 5 honorable mentions) are the cream of the design crop. 1.