Furniture & Decoration
Idées Déco | whataniceplace
Le blog du design et de la décoration /  WoDesign
{MO12} Zuiver | Cocon de décoration: le blog
J'avais laissé de côté le salon Maison et Objets parce que j'attendais les dossiers de presse qui devaient arriver par la poste ou par mail. Samedi, j'ai reçu dans ma boite deux CDs de Zuiver. Le stand de cette enseigne hollandaise m'a très vite tapé dans l'œil lors du salon.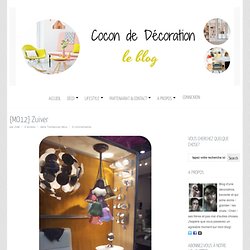 Ushanki Ushanki c'est le nom qu'a choisi le bureau de design Ukrainien decorkuznetsov (heureusement que je n'ai pas à le prononcer).
Une étagère design et un peu rétro | Décoration d' Intérieur
Sophie Levitte - Décoratrice, Styliste photo
Déco tendency - Le blog deco de toutes les tendances design - Intérieur, Meuble, Luminaire, objet déco
Drawer le Blog |
Une Chaise nommée Désir.
Décology (Blog de Homology)
le blog de made in design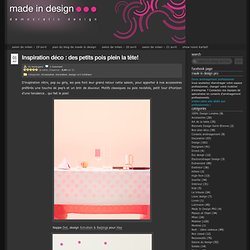 Après un suspense insoutenable, des délibérations sans fin et des semaines d'attente, c'est finalement le blog Moody's Home qui a été élu blog de l'année 2012-2013 par Made In Design et Marie Claire Maison ! Son auteure, la pétillante Pauline, a accepté de nous parler en quelques mots de son activité de blogueuse, de sa passion pour la déco, et de sa joie d'avoir remporté ce prix si convoité. « Moody's Home, c'est un jeune blog déco conçu à la manière d'un webzine mais avant tout un blog sans prise de tête, où l'on vient le matin se faire du bien en faisant le plein de joie de et de bonne humeur pour bien commencer la journée ! On y découvre chaque jour (ou presque !)
mcmgallery.com
Quartier Maison, le blog deco But, tendances et decoration maison, jeu concours deco. Quartier-Maison
Incredible Furniture Designs 2009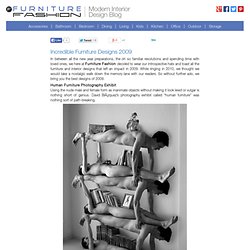 In between all the new year preparations, the oh so familiar resolutions and spending time with loved ones, we here at Furniture Fashion decided to wear our introspective hats and toast all the furniture and interior designs that left an impact in 2009.
We scoured the web looking for the best interior design and furniture blogs, and below is what we found. From large multi-writer blogs like Moco Loco to more personal fare like Gaile Guevara, the below 25 blogs (plus 5 honorable mentions) are the cream of the design crop. 1.