Blogs de bib (et autres) GB et EU ..
Biblioblogs. Liste des blogs francophones de bibliothécaires, documentalistes et archivistes.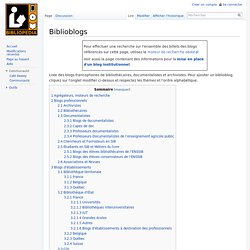 Pour ajouter un biblioblog, cliquez sur l'onglet modifier ci-dessus et respectez les thèmes et l'ordre alphabétique. [modifier] Agrégateurs, moteurs de recherche Liste de sites et outils agrégeant le contenu de plusieurs des blogs de cette page, de manière thématique. Library News for MCT. Lemontree - University of Huddersfield. How it works Lemontree automatically gathers information about your activities within the library when you link it to your library card.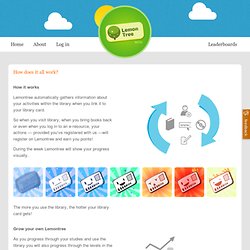 So when you visit library, when you bring books back or even when you log in to an e-resource, your actions — provided you've registered with us —will register on Lemontree and earn you points! During the week Lemontree will show your progress visually. Libraries and Cloud Computing. There has been much written about Cloud Computing in recent months, and this presentation is a good resource to add to the mix; looking at what advantages, or disadvantages, can be expected for a library in the Cloud (I tweeted this presentation over the weekend but, after re-reading it, thought it worthy of a post here); Libraries and the Cloud I found the following statements struck a chord that I've already emailed them to a colleague who works in a library, along with the presentation;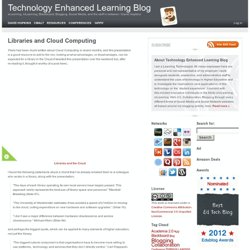 Computing news « Griffith Library Blog. SPSS software is now available for Griffith students at a special discounted rate.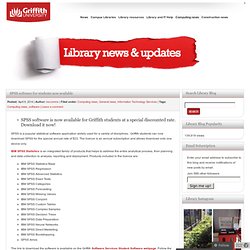 Download it now! SPSS is a popular statistical software application widely used for a variety of disciplines. Griffith students can now download SPSS for the special annual rate of $22. The licence is an annual subscription and allows download onto one device only. Born to Learn. Well, that's what I've been told – mostly, I'm chasing down every minute of the day just to complete stuff: work, get to work, drive home, spend quality time with my family, go to the gym, work some more, watch one or five of the 18 TV shows I DVR, sleep when I can… repeat.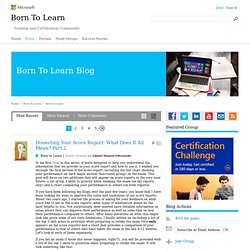 And if anything varies outside that routine, it better be interesting, or frankly, I forget I'm even doing it. Sometimes, I have a small break where I go to the store in the middle of the day for something specific and there's loads of people just leisurely strolling around, simply window shopping, and I think – what I wouldn't give to have that kind of time.
Computer Science | University Library Blog. Alex Zelikovsky named as a Distinguished University Professor Congratulations Alex Zelikovsky of the Department of Computer Science named Distinguished University Professor in recognition of his outstanding work in research, teaching, and mentoring students in research.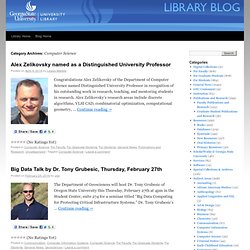 Alex Zelikovsky's research areas include discrete algorithms, VLSI CAD, combinatorial optimization, computational geometry, … Continue reading. Library news for Science and Engineering » Blog Archive » New Books for Computer Science in November. By Martine J Painter, on 13 December 2011 New books added to the collection were: Interdisciplinary research journeys : practical strategies for capturing creativity / Catherine Lyal London : Bloomsbury Academic, 2011.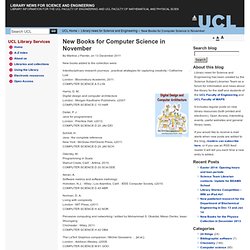 COMPUTER SCIENCE A 5 LYA Harris, D. M. Confessions of a Science Librarian. About. The Intellogist blog is produced by a team of patent information professionals who work for Landon IP and have years of prior art searching experience.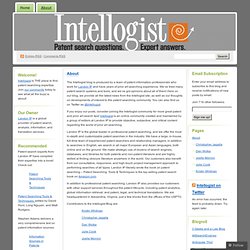 We've tried many patent search systems and tools, and we've got opinions about all of them! Here on our blog, we provide all the latest news from the Intellogist site, as well as our thoughts on developments of interest to the patent searching community. You can also find us on Twitter as @Intellogist. If you enjoy our posts, consider joining the Intellogist community for more great patent and prior art search tips! Intellogist is an online community created and maintained by a group of editors at Landon IP to provide objective, subjective, and critical content regarding the world of prior art searching.
Library of Congress Blog. March news headlines included a variety of stories about the Library of Congress.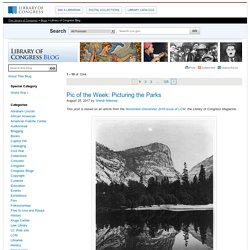 Of particular interest was a 10,000-item milestone – with the addition of a set of priceless manuscripts from the Walters Art Museum of Baltimore to the online Library-cosponsored World Digital Library, which now holds more than 10,000 items following its 2009 launch. The Baltimore Sun and the Associated Press ran stories. Information Literacy Weblog. 100 Best Blogs for Library Science Students. By Rose Jensen If you're studying library science online, you're in luck.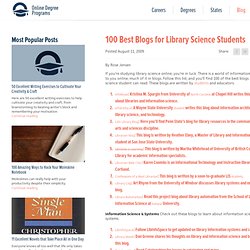 There is a world of information available to you online, much of it in blogs. Follow this list, and you'll find 100 of the best blogs a library science student can read. These blogs are written by students and educators.
---