Blogs de bib (et autres) GB et EU ..
Pour effectuer une recherche sur l'ensemble des billets des blogs référencés sur cette page, utilisez le moteur de recherche dédié .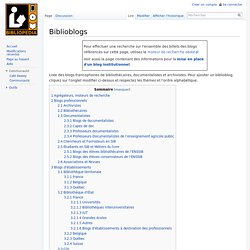 Library News for MCT
Lemontree - University of Huddersfield
How it works Lemontree automatically gathers information about your activities within the library when you link it to your library card. So when you visit library, when you bring books back or even when you log in to an e-resource, your actions — provided you've registered with us —will register on Lemontree and earn you points! During the week Lemontree will show your progress visually.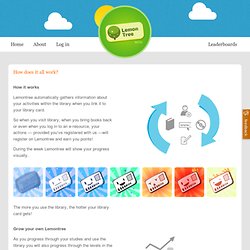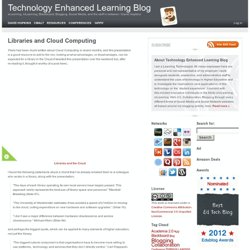 There has been much written about Cloud Computing in recent months, and this presentation is a good resource to add to the mix; looking at what advantages, or disadvantages, can be expected for a library in the Cloud (I tweeted this presentation over the weekend but, after re-reading it, thought it worthy of a post here); Libraries and the Cloud I found the following statements struck a chord that I've already emailed them to a colleague who works in a library, along with the presentation;
Libraries and Cloud Computing
Computers Can Be Your Friend
Computing news « Griffith Library Blog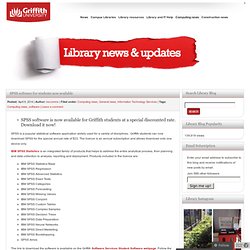 Our campus libraries have a few changes to opening hours for Easter this weekend. Easter is this weekend with the semester break following next week! Have you seen the slight changes to library opening hours ? Over the weekend, campus library opening hours are as follows: We hope you all have a fantastic Easter break!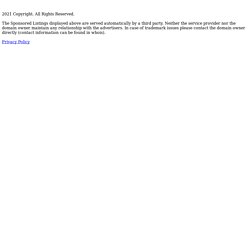 Born to Learn
Guest post by MCP community member Jared Shockley, Director of IT Services @ Radia "Compliance" is often perceived as such a dirty word to IT professionals that it might as well be censored. The mere mention of "compliance" brings about visions of paperwork and processes that slow down everyday tasks and project schedules for many IT pros. With newer regulations, be them federal laws such as Sarbanes-Oxley Act of 2002 (SOX or SOX404) or Health Information Portability and Accountability Act of 1996 (HIPAA); association or vendor regulations like Payment Card Industry Data Security Standard (PCI DSS) [3]; or internal standards created by management, IT teams in both engineering and operations have to work to meet these regulations and standards as a part of their project and daily work. This was a great discussion topic for Denny Cherry and me on his People Talking Tech Podcast . Want to make an IT team squirm?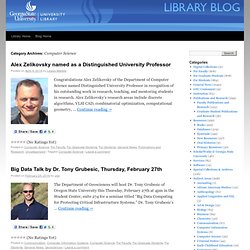 Computer Science | University Library Blog
GIS and Demographic Data Workshops Are you interested in learning more about new GIS and demographic data resources and applications that are available for research and teaching? Would you like to create maps or visualize demographic data with easy to use web-based resources?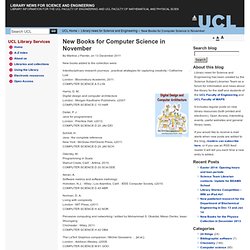 By Martine J Painter, on 13 December 2011 New books added to the collection were: Interdisciplinary research journeys : practical strategies for capturing creativity / Catherine Lyal London : Bloomsbury Academic, 2011. COMPUTER SCIENCE A 5 LYA Harris, D. M.
Library news for Science and Engineering » Blog Archive » New Books for Computer Science in November
Confessions of a Science Librarian
About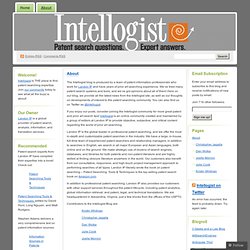 The Intellogist blog is produced by a team of patent information professionals who work for Landon IP and have years of prior art searching experience. We've tried many patent search systems and tools, and we've got opinions about all of them! Here on our blog, we provide all the latest news from the Intellogist site, as well as our thoughts on developments of interest to the patent searching community. You can also find us on Twitter as @Intellogist . If you enjoy our posts, consider joining the Intellogist community for more great patent and prior art search tips! Intellogist is an online community created and maintained by a group of editors at Landon IP to provide objective, subjective, and critical content regarding the world of prior art searching.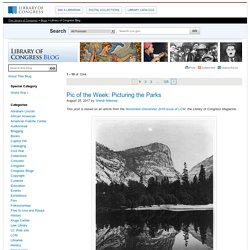 Country music singer-songwriters, Bob DiPiero, Ronnie Milsap, Lorrie Morgan and Jim Beavers perform on the Coolidge stage during the 2013 Country Music Association's Songwriters Series Concert. Photos by Abby Brack Lewis The Library of Congress Coolidge Auditorium turned Grand Ole Opry for a night last Wednesday, as members of the Country Music Association (CMA) took to the stage to sing their hits.
Library of Congress Blog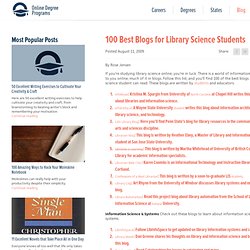 By Rose Jensen If you're studying library science online, you're in luck. There is a world of information available to you online, much of it in blogs. Follow this list, and you'll find 100 of the best blogs a library science student can read. These blogs are written by students and educators.
100 Best Blogs for Library Science Students