Blogging
ServInt Dedicated Servers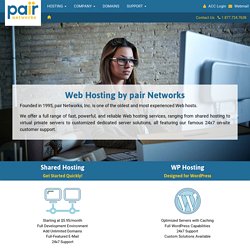 Pair Hosting
First conceived of in August 1995, pair Networks opened for business on January 11, 1996. pair Networks provides a full range of Web site hosting services for businesses, bloggers, artists, musicians, educational institutions, and non-profit organizations around the World. Over the last 18 years, pair Networks has hosted hundreds of thousands of Web sites, in its custom-built data centers in Pittsburgh, PA, for customers from over 150 countries. The thousands of servers in pair Networks' data centers serve billions of Web hits per day. pair Networks' customer base includes a remarkable number of high-profile, high-volume sites, some of whom have been featured in our Customer Spotlight.
Earn revenue on your website, blog or app with local, mobile and search targeted ads by Chitika | Publisher Program Overview | Chitika
Categories and Tags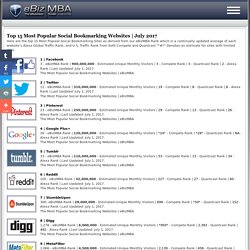 Here are the 15 Most Popular Social Bookmarking Websites as derived from our eBizMBA Rank which is a constantly updated average of each website's Alexa Global Traffic Rank, and U.S. Traffic Rank from both Compete and Quantcast."*#*" Denotes an estimate for sites with limited data. 1 | Facebook3 - eBizMBA Rank | 900,000,000 - Estimated Unique Monthly Visitors | 3 - Compete Rank | 3 - Quantcast Rank | 2 - Alexa Rank | Updated: April 1, 2014. The Most Popular Social Bookmarking Sites | eBizMBA 2 | Twitter14 - eBizMBA Rank | 310,000,000 - Estimated Unique Monthly Visitors | 25 - Compete Rank | 5 - Quantcast Rank | 11 - Alexa Rank | Updated: April 1, 2014.
StevePavlina.com was launched on Oct 1st, 2004. By April 2005 it was averaging $4.12/day in income. Now it brings in over $200/day $1000/day (updated as of 10/29/06). I didn't spend a dime on marketing or promotion. In fact, I started this site with just $9 to register the domain name, and everything was bootstrapped from there.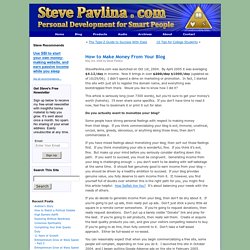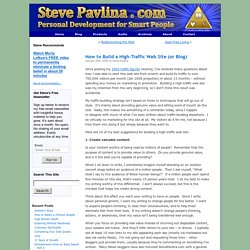 How to Build a High-Traffic Web Blog
Since posting my 2005 traffic figures recently, I've received many questions about how I was able to start this web site from scratch and build its traffic to over 700,000 visitors per month (Jan 2006 projection) in about 15 months – without spending any money on marketing or promotion. Building a high-traffic web site was my intention from the very beginning, so I don't think this result was accidental. My traffic-building strategy isn't based on tricks or techniques that will go out of style.
A premium subscription allows you to store your URLs in your account. Your URLs will be automatically pinged daily (level of subscriptions apply). A premium account not only saves you the hassle of having to ping each of your URLs manually, it also ensures that pinging is performed frequently and in a timely manner. Premium accounts are pinged daily and to an exclusive list of ping resources, ensuring maximum exposure to search engines. You can also benefit from the many tools and plugins that we offer.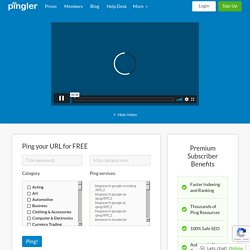 How Trackback Works
Blog Carnival
SEO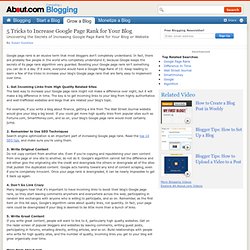 Increase Google Page Rank
Google page rank is an elusive term that most bloggers don't completely understand. In fact, there are probably few people in the world who completely understand it, because Google keeps the secrets of its page rank algorithm very guarded. Boosting your Google page rank isn't something you can do in a day. If it were, everyone would have a Google Page Rank of 10.