Blog Promotion / Triberr etc.
Just about everything you'd need to know about Triberr to decide if its for you, and how to join (smartly):
1/3: http://osakabentures.com/2011/08/ranking-reaching-blog-cross-promotion/
2/3: http://osakabentures.com/2011/08/ranking-reaching-ideal-tribe/
3/3: http://osakabentures.com/2011/08/ranking-reaching-about-my-tribes/ osakasaul Oct 8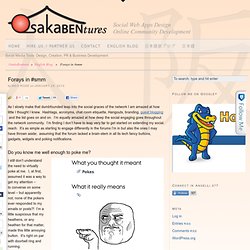 Forays in social media marketing
As I slowly make that dumbfounded leap into the social graces of the network I am amazed at how little I thought I knew.
With information from Laura Holmes , Product Manager, Google Tag Manager Over the past few years, we've seen various attempts to streamline digital marketing capabilities with content tags. Today there are numerous tools that aid content producers with better insights, audience-reach through smart-tagging , and marketing campaign-launch.
Google Tag Manager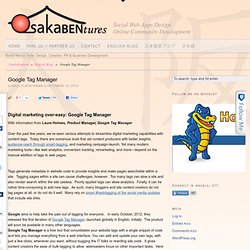 The Triberr brass ring: Tribing down with members who check in daily.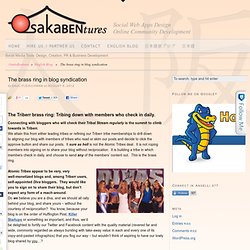 The brass ring in blog syndication
Privnote: When you don't want a reply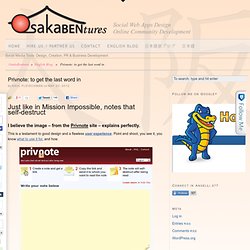 I believe the image – from the Privnote site – explains perfectly.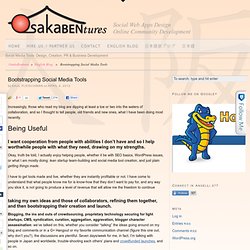 Bootstrapping Social Media Tools
Increasingly, those who read my blog are dipping at least a toe or two into the waters of collaboration, and so I thought to tell people, old friends and new ones, what I have been doing most recently. I want cooperation from people with abilities I don't have and so I help worthwhile people with what they need, drawing on my strengths.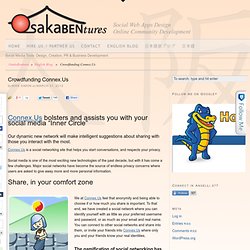 Our dynamic new network will make intelligent suggestions about sharing with those you interact with the most.
Crowdfunding Connex.Us
Shouldn't the rewards for doing so be scaled?
Scaled Rewards for Growing Empire Avenue #SMRocketFuel
Unleashing Crowd Power, Part 4
Part four of a five part guest posts series, "Unleashing Crowd Power" , by Michal Hudecek . Motivation wheel concept as a framework for attracting contributors to your crowdsourcing projects has been described in the previous article. We will use it to show you how famous crowdsourcing projects gained their contributors.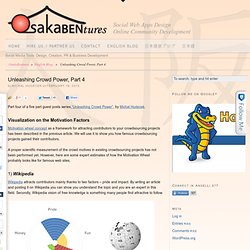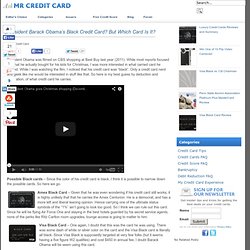 President Barack Obama's Black Credit Card? But Which Card Is It?
President Obama was filmed on CBS shopping at Best Buy last year (2011).
Complete your profile, include links, see mine for an example.
StumbleUpon Primer for Bloggers, Part 1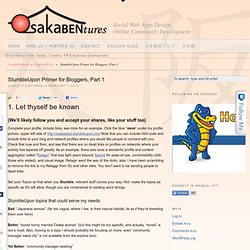 I went looking for my mom in Google – by searching "funny regifting stories." You can imagine my dismay in discovering not one of you has nominated my mother for the regifting buffoon of the year (dis)honor, despite her years of giving clearly the wrong thing to the wrong person.
Regifting VS Repurposing
Asked in Quora: Is a local office in Japan necessary?
Bare-bones Japan Site Localization - OsakaBentures
KdL Web2.0 Social Media
To The Crowd
My inspiration comes from a Facebook update of Jada Smith, by way of Anise Smith (yeah, I'm from Philly too, now in Osaka, Japan) and thus, I'll add…
How to Talk, Eat, Know Philly
Starting Up: Costly Lessons
My choices for best advice in LinkedIn Answers : "…not spending money on administrative help.
Redirect Wordpress to New Domain: What About Google Ranking
Assuming you continue to use WordPress.org , if you keep the permalink structure intact (all URLs should remain the same) on your self-hosted blog, nothing should change for you in regards to your Google ranking. One detail: the wordpress.com blog location of your servers matters for Google, so if the new host you use is not based in the US, your rankings may likely change.
The Klout Perk Effect: What You Get, Three Levels
5 Types of Mommy Bloggers I Hate That Most Likely Hate Me Too
Why Does Connect.Me Need Trust Anchors?
Patent Attack on a Pre-Seed Startup: Modista
Attracting Value-Adding Interaction on a Website
Facebook Buttons To Die For
!blether
Pearltrees | Blog Promotion
The Last Of The Real Hustlahz: " Loced-Out Recordz: The Open-Source Record Label "
Manipulating Influence Scores Makes No Sense at All | Social Media Era Of Poking | Blog Promotion
TEDxDesMoines - Angela Maiers - You Matter
How Triberr Changes The Competitive Landscape
OsakaBentures 激安海外部