Blog sur le bricolage
Patchwork - Une petite bourse… - Le coussin pour les… - Une jolie… - Exposition à… - avec les restes… - virunga. Lundi 16 décembre 2013 1 16 /12 /Déc /2013 19:51 Une très belle exposition qui a eu beaucoup de succès grâce à la diversité et la richesse des ouvrages exposés, les visiteurs ont été ravis et ont aussi apprécié les démonstrations d'aquarelle et de patchwork Rendez-vous l'année prochaine !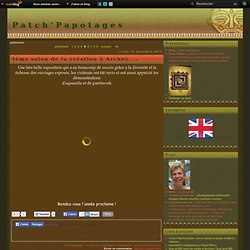 Par nanoupatch - Publié dans : patchwork -Communauté : patchwork bricolo et cie 5. Galerie de Embroiderist. Vintage embroidery transfers : un album. Le pool Vintage Embroidery Patterns. Embroiderist's Photostream.
Couture
Tricoter. Embroidery. Hey, I'll bet you thought we were all done with measuring and pins, right?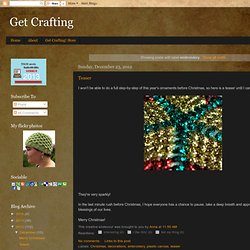 Not quite. To recap: we've wrapped a core, measured and pinned it, then placed the guide lines. In this next series of photos, we will start working on an 8 point star (kiku) pattern from two centres - the North and South poles. For this you'll need to choose at least 2 colours (I'm using three) of thread, plus a contrasting metallic thread. Stitch School. Mollie Makes. Fabriquer un tapis à conter ou un raconte-tapis - les créations enfantines. Mercredi 22 septembre 3 22 /09 /Sep 21:01 Le tapis à conter, appelé aussi raconte tapis est un support différent du livre pour raconter des histoires aux jeunes enfants.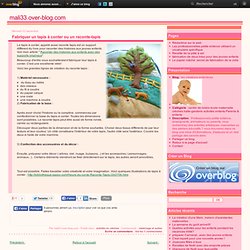 Voir mon article " Raconter des histoires aux enfants avec des supports originaux". Beaucoup d'entre vous souhaiteraient fabriquer leur tapis à conter. C'est une excellente idée! Voici les grandes lignes de création du raconte tapis :
---
madelly Jan 31 2012

Quel beau site de patrons et autres nombreuses choses. Je te l'ai piqué. Merci
---