Blended Learning
The rise of K12 blended learning. Www.passged.com/media/pdf/blended-learning/teachers-guide.pdf. Beyond blended learning: Reaching every student. At the 2010 NCTIES conference in Raleigh, LEARN NC's Bobby Hobgood delivered a presentation about blended learning.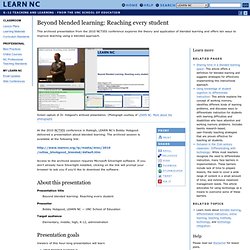 The archived session is available at the following link: Sharing time in a blended learning space. Joseph is a typical student who is reading a novel about the internment of Japanese-American citizens during the aftermath of World War II.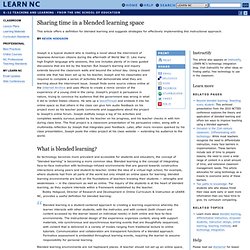 Like many high English language arts sessions, this one includes plenty of in-class guided discussions that are led by the teacher. But Joseph's learning and inquiry extends beyond the classroom walls and beyond the school day. Using a closed online site that has been set up by his teacher, Joseph and his classmates are required to complete a series of activities that demonstrate what they are learning about the internment issue. Blended Learning.
Blended Learning. The Difference Between K-5 and 6-12 Blended Learning. I've been doing a lot of thinking about blended learning in a k-5 setting lately.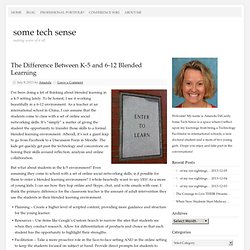 To be honest, I see it working beautifully in a 6-12 environment. As a teacher at an international school in China, I can assume that the students come to class with a set of online social networking skills. It's "simply" a matter of giving the student the opportunity to transfer those skills to a formal blended learning environment. Afterall, it's not a giant leap to go from Facebook to a Discussion Form in Moodle. Blended Learning. What is Blended Learning? — Web Learning @ Penn State. Blended Learning Resources. The term blended learning has been coined to describe a learning environment constructed through a combination of e-learning and face-to-face classes.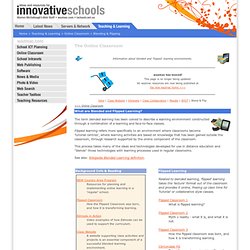 Flipped learning refers more specifically to an environment where classrooms become 'tutorial centres', where learning activities are based on knowledge that has been gained outside the classroom, through research supported by the online component of the classroom. This process takes many of the ideas and technologies developed for use in distance education and "blends" those technologies with learning processes used in regular classrooms. See also: Wikipedia Blended Learning definition. 7 Reasons Why Blended Learning Makes Sense. SMARTER SCHOOLS | by Michael Spencer Education no longer comes in rows and textbooks, but from a combination of sources.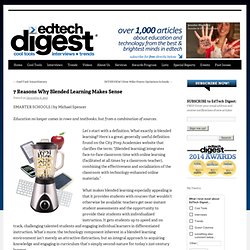 Let's start with a definition. What exactly is blended learning? Here's a great, generally useful definition found on the City Prep Academies website that clarifies the term: "[Blended learning] integrates face-to-face classroom time with online learning (facilitated at all times by a classroom teacher), combining the effectiveness and socialization of the classroom with technology-enhanced online materials." What makes blended learning especially appealing is that it provides students with courses that wouldn't otherwise be available; teachers get near-instant student assessments and the opportunity to provide their students with individualized instruction. Blended Learning at GrayHarriman.com.
What is Blended LearningWhy use Blended Learning?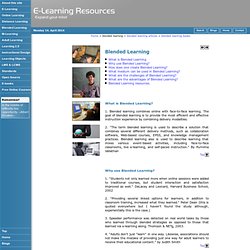 How does one create Blended Learning? What medium can be used in Blended Learning? Blended Learning: A Disruptive Innovation [INFOGRAPHIC] #edtech #edutech. Classifying k-12 blended learning. Redirecting. PBL on The Block. The rise of K-12 blended learning.
Blended Learning: Combining Face-to-Face and Online Education. There's this myth in the brick and mortar schools that somehow the onset of online K-12 learning will be the death of face-to-face (F2F) interaction.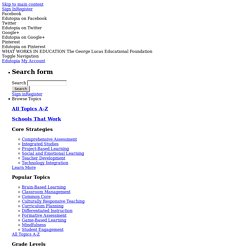 However this isn't so -- or at least in the interest of the future of rigor in education, it shouldn't be. In fact, without a heaping dose of F2F time plus real-time communication, online learning would become a desolate road for the educational system to travel. The fact is that there is a purpose in protecting a level of F2F and real-time interaction even in an online program.
In education, the components of online and F2F are stronger together than apart. The power is in a Blended Learning equation: How Blogs, Social Media, and Video Games Improve Education. I've just been reading this interesting publication from the Brookings institution titled How Blogs, Social Media, and Video Games Improve Education.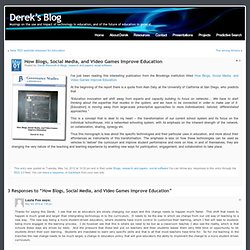 At the beginning of the report there is a quote from Alan Daly, at the University of California at San Diego, who predicts that "Education innovation will shift away from experts and capacity building to focus on networks… We have to start thinking about the expertise that resides in the system, and we have to be connected in order to make use of it. [Education] is moving away from large-scale prescriptive approaches to more individualized, tailored, differentiated approaches." Galleries on Education. Top 10 Reasons that Blended Learning is Worth the Hype! This is a partial re-post of an article by Catlin Tucker from her blog at CatlinTucker.com Image from learningonlineinfo.org Using an online learning platform, online discussions, and/or work online to complement your class can: 1.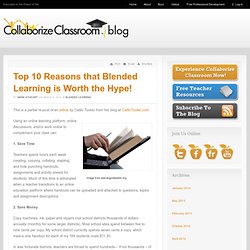 Save Time. Training Teachers to Integrate Technology. Stacey Davis, Ron Beazer and Mike Smith used to do a lot of "drive-by training.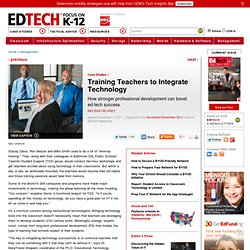 " They, along with their colleagues in Baltimore City Public Schools' Teacher Student Support (TSS) group, would conduct two-hour workshops and get teachers excited about using technology in their classrooms. But within a day or two, as workloads mounted, the teachers would resume their old habits and those training sessions would fade from memory. Some of the district's 204 campuses and programs have made major investments in technology, making the wheel-spinning all the more troubling. Bobby Hobgood's Wiki. The rise of K-12 blended learning: Profiles of emerging models.
Paperless – How I Teach From The Cloud « Mister Norris. This school year, I made a conscious decision to go paperless. Last year I carried around my computer to every class, a planner and a pen. I constantly lost the pen or the planner. Blended learning. Blended learning is a student-centered approach to creating a learning experience whereby the learner interacts with other students, with the instructor, and with content through thoughtful integration of online and face-to-face environments. A well-designed blended learning experience thoughtfully organizes content, support materials, and activities via synchronous and asynchronous learning events, all of which are delivered in a variety of modes ranging from traditional lecture to online tutorials. Communication and collaboration are necessary functions of a blended approach.
Because formative assessment is embedded throughout learning events, the learner assumes responsibility for his or her learning.
---