Blended Learning
The rise of K12 blended learning
www.passged.com/media/pdf/blended-learning/teachers-guide.pdf
Beyond blended learning: Reaching every student
At the 2010 NCTIES conference in Raleigh, LEARN NC's Bobby Hobgood delivered a presentation about blended learning. The archived session is available at the following link: http://www.learnnc.org/lp/media/misc/2010/ncties_bhobgood_blended/default.htm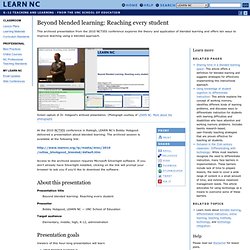 Joseph is a typical student who is reading a novel about the internment of Japanese-American citizens during the aftermath of World War II.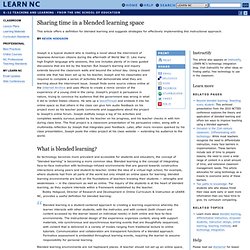 Sharing time in a blended learning space
Blended Learning
Blended Learning
I've been doing a lot of thinking about blended learning in a k-5 setting lately.
The Difference Between K-5 and 6-12 Blended Learning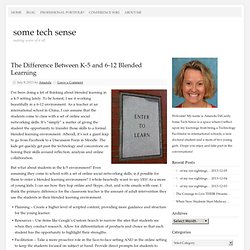 Blended Learning
Blended Learning Resources
The term blended learning has been coined to describe a learning environment constructed through a combination of e-learning and face-to-face classes.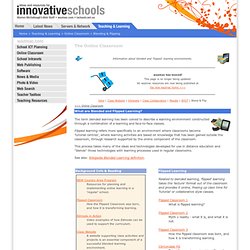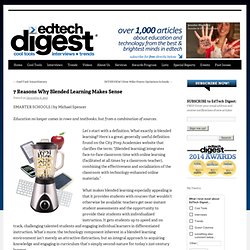 SMARTER SCHOOLS | by Michael Spencer Education no longer comes in rows and textbooks, but from a combination of sources.
7 Reasons Why Blended Learning Makes Sense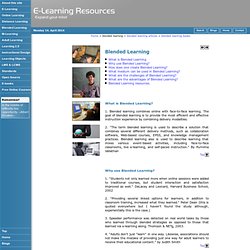 What is Blended LearningWhy use Blended Learning?How does one create Blended Learning?What medium can be used in Blended Learning?
Blended Learning at GrayHarriman.com
Redirecting
PBL on The Block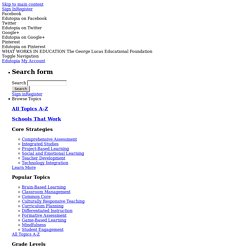 Blended Learning: Combining Face-to-Face and Online Education
There's this myth in the brick and mortar schools that somehow the onset of online K-12 learning will be the death of face-to-face (F2F) interaction. However this isn't so -- or at least in the interest of the future of rigor in education, it shouldn't be.
I've just been reading this interesting publication from the Brookings institution titled How Blogs, Social Media, and Video Games Improve Education.
How Blogs, Social Media, and Video Games Improve Education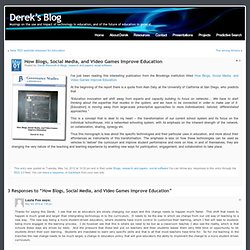 Galleries on Education
This is a partial re-post of an article by Catlin Tucker from her blog at CatlinTucker.com
Top 10 Reasons that Blended Learning is Worth the Hype!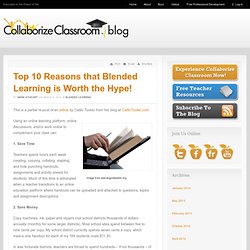 Stacey Davis, Ron Beazer and Mike Smith used to do a lot of "drive-by training."
Training Teachers to Integrate Technology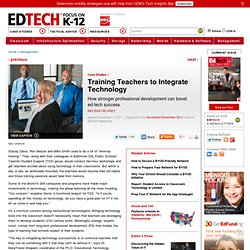 Bobby Hobgood's Wiki
Paperless – How I Teach From The Cloud « Mister Norris
This school year, I made a conscious decision to go paperless. Last year I carried around my computer to every class, a planner and a pen. I constantly lost the pen or the planner.
Blended learning is a student-centered approach to creating a learning experience whereby the learner interacts with other students, with the instructor, and with content through thoughtful integration of online and face-to-face environments.
Blended learning