Bioplastics
Cheap Abs Plastic Prototype-Cheap Abs Plastic Prototype Manufacturers, Suppliers and Exporters on Alibaba
New Conference Explores Bioplastics in Packaging & Durables : Plastics Technology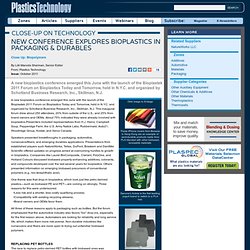 A new bioplastics conference emerged this June with the launch of the Bioplastek 2011 Forum on Bioplastics Today and Tomorrow, held in N.Y.C. and organized by Schotland Business Research, Inc., Skillman, N.J. Click Image to Enlarge These iPhone covers from Bioserie in Hong Kong are an example of semi-durable products made from PLA blended with other biobased, renewable materials.
Abbigliamento Monouso Biodegradabile Wear&Toss™ significa abbigliamento economico ed ecologico, da indossare e smaltire nell'immediato . Un'autentica rivoluzione nel life style: indosso-consumo-riciclo . Wear the Sostainability
Wear & Toss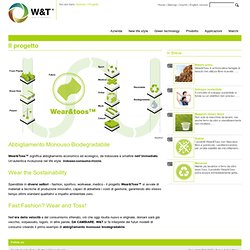 Dalle multinazionali agli stilisti i primi tenttativi. E l'idea di un otaliano Scarpe e t-shirt saranno «biodegradabili» Fibre da latte e cereali: progetti per capi «compostabili» quando non servono più, si possono perfino sotterrare L'italiano Filippo De Martin che ha progettato "tessuto non tessuto" ricavato da oli di mais o barbabietola MILANO - Scarpe e t-shirt usate biodegradabili per uno sport ecosostenibile.
Scarpe e t-shirt saranno «biodegradabili»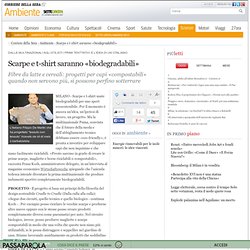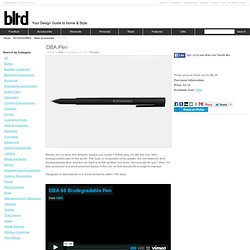 Written by Katie on September 10, 2010. Permalink Maybe you've seen this already, maybe you haven't. Either way, it's still the only 98% biodegradable pen in the world.
DBA Pen
Written by Katie on June 27, 2011. Permalink As we are now officially in the summer picnic season, take note of Veneerware® by Bambu. Fully biodegradable, these single use bamboo plates and accessories are the ecological alternative to the paper plate. And, for those of you that prefer ready made picnic kits, there's a Veneerware Picnic Kit with Navy Tote from Branch Home available for $68.00 (see below). Made from 100% bamboo and Certified Organic.
Bambu Veneerware®
01M OneMoment. A New Biodegradable Shoe Concept
© 01M OneMoment In the Amazon , the indigenous inhabitants used to paint the soles of their feet with natural latex to make walking through the jungle easier during the rainy season. Inspired by this ancient cradle to cradle design, the 01M OneMoment shoe line was born in Spain this year. 01M is a multi-functional shoe, or rubber sock more like it, made from 100% biodegradable raw materials. I tried it out and the 01M is really quite comfortable although I wouldn't wear it out in the city I guess. I can imagine wearing them at the beach or to do watersports, and find them useful when travelling due to their little weight (the lightest shoe in the world so the company claims) and compactness. In the space of the size of a standard pair of shoes fit over 30 pairs of 01Ms.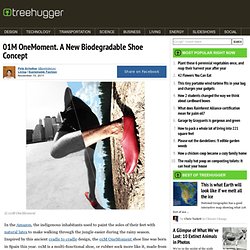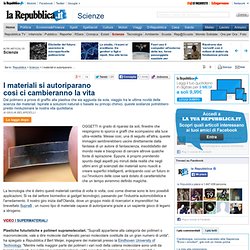 I materiali si autoriparano così ci cambieranno la vita
Dal polimero a prova di graffio alla plastica che sia aggiusta da sola, viaggio tra le ultime novità della scienza dei materiali. Ispirate a soluzioni naturali o basate su principi chimici, queste sostanze potrebbero presto rivoluzionare la nostra vita quotidiana di GIULIA BELARDELLI OGGETTI in grado di riparasi da soli, finestre che respingono lo sporco e graffi che scompaiono alla luce ultra-violetta. Messe così, una di seguito all'altra, queste immagini sembrerebbero uscire direttamente dalla fantasia di un autore di fantascienza, insoddisfatto del mondo reale e bisognoso di cercare altrove qualche fonte di ispirazione. Eppure, è proprio prendendo spunto dagli aspetti più minuti della realtà che negli ultimi anni gli scienziati dei materiali sono riusciti a creare superfici intelligenti, anticipando così un futuro in cui l'involucro delle cose sarà dotato di caratteristiche che un tempo avremmo definito magiche.
UPM Raflatac – Manufacturer of pressure sensitive labelstock
Natural Plastics
giovanni
Wasara, il design per i piatti di carta biodegradabili
giugno 3rd, 2011 by admin Wasara : dal Giappone i piatti biodegradabili design-oriented . Per la prima volta una collezione bella e attenta all'ambiente interamente realizzata dagli scarti di produzione di fibre di canna da zucchero e bagassa
Life - Sustainable Water Container Concept by Andrea Ponti
Paper Holds Water The Life is a recycled paper-made water container designed for Milano Expo 2015. The idea is to dissuade people from using plastic bottles and use this one-day-use bottle instead. It's crafted from natural cotton and recycled paper layer and it doesn't use any chemical ink or adhesives that are tough to recycle.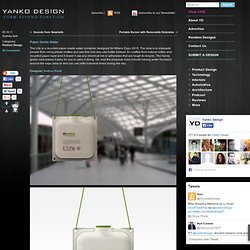 TU Delta - Article: Eye of the eco-storm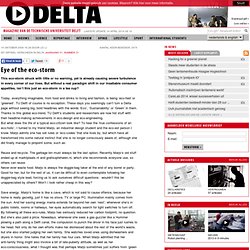 14 oktober 2009 16.28 door Lei Li Aantal keer bekeken: 2133 Dit artikel verscheen in Delta jaargang 41, nummer 31 This eco-storm struck with little or no warning, yet is already causing severe turbulence in every corner of our lives. But without a real paradigm shift in our insatiable consumer appetites, isn't this just an eco-storm in a tea cup?
Brasile: la plastica ecologica si fa con la frutta - Video - Repubblica Tv - la Repubblica.it
www.minerv.it
Bio-on è stata scelta per rappresentare il futuro nella bio chimica Italiana. La mostra è un viaggio che prende avvio nel presente e che conduce a guardare l'Italia di domani, quella che saremo, e anche quella che vorremmo, attraverso le idee che già oggi sono sul territorio e che entreranno a far parte della nostra vita nei prossimi dieci anni. Perché il futuro non è utopia, idealismo o fantascienza, ma è fatto dalle tante piccole e grandi storie di chi lavora ogni giorno.
www.bio-on.it/video.php
di maggio: la bioplastica che cambierà il mondo
FKuR® Plastics - made by nature!: Home
Safety 1st | Nature Next™ Bio-Plastic Step Stool
Safety 1st | Nature Next™ Bio-Plastic Bathtub
Bioplastic
Bioplastics are a form of plastics derived from renewable biomass sources, such as vegetable fats and oils , corn starch , pea starch , [ 1 ] or microbiota , [ 2 ] Common plastics, such as fossil-fuel plastics , are derived from petroleum . These plastics rely more on fossil fuel imports and produce more greenhouse gas . Bioplastics are more sustainable because they can break down in the environment faster than fossil-fuel plastics, which can take more than 100 years. Some, but not all, bioplastics are designed to biodegrade .
The Future is Green--PapCorn, Made from Compostable Bioplastic
U.S. biotechnology company developing bio-plastic non-woven products -
NatureWorks PLA to double capacity HC plastic mesh News: Recently, the United States in 2009, NatureWorks International Nonwovens Technical Conference (INTC) announced two new low-carbon footprint of the company's Ingeo tablets biological Quich formal commercial production, these two levels of sections can be used to produce meltblown nonwoven products, widely used in the field of tissue and filtration products. NatureWorks fibers and nonwoven products company director Robert? Mr. Green (RobertGreen) said: "As the market for manufactured using renewable resources, concern polymer, machinery and equipment manufacturers and the production process R & D staff has been exploring How to make melt-blown non-woven fabrics while maintaining the functionality is superior, but also in carbon emissions than the existing Oil Based materials.
News
The European Bioplastics industry association has released results of a market forecast published yearly in cooperation with the University of Hanover Institute for Bioplastics and Biocomposites that predicts that the production values within the industry are set to increase by a factor of five by 2016. The study shows that around 1.2 million tons of bioplastic production capacity was online last year and that this figure is likely to swell to 5.8 million tons within the next four years. With global awareness of other environmental issues, such as reducing carbon footprints and the need for more sustainable energy , growing rapidly, it is little wonder that more and more companies are turning to bioplastics as a greener alternative to conventional plastics.
Indiana Government Cafeterias Switch to Bio-Plastic Containers
Bioplastics Magazine
01M One moment
Il monouso secondo natura
Emulsio ilSalvambiente: meno rifiuti per pulire i pavimenti
Sutter
Eco-Friendly Rigid Packaging
Water-Soluble Plastic
Biodegradable Disposables
Innovations in Computer Packaging Design
Bamboo — Nature's Eco-Friendly Packaging Solution
Eben Bayer: Are mushrooms the new plastic?
EcoCradle: in the future our gadgets will come packaged in mushrooms – New Tech Gadgets & Electronic Devices
Biodegradable Potty made from rice husks
Good News from Finland - "Wood cast" on demand
Greening Our Schools' Cafeterias
Products
BIODEGRADABLE PLASTIC
BioPolymers < Design < TWiki
Sustain Ability NH LLC
Enviropack | Reusable Bags/Eco Bags, Ecofriendly Disposables, Cups & Cutlery
next promotions
Researchers Find a Way to Recycle 100% of Wrapping Paper
Natural Plastic;Alternative Plastic:Renewable Plastic, Bio-based Plastic, Biodegradable Cutlery, Biodegradable Bags, Biodegradable Utensils, Biodegradable Food Service Ware, Biodegradable Packaging, Compostable Food Service Ware, Environmentally Friendly
EATWARE COMPOSTABLE FOOD CONTAINERS
Chemical Plastic
The development of biodegradable and biobased plastics goes on
Global Package Gallery
Moment Garden