Leonardo Da Vinci
Leonardo da Vinci. Leonardo di ser Piero da Vinci (Italian pronunciation: [leoˈnardo da vˈvintʃi] Leonardo is revered for his technological ingenuity.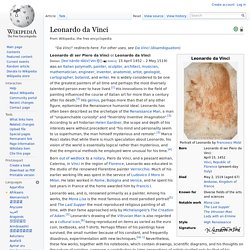 He conceptualised flying machines, a tank, concentrated solar power, an adding machine,[6] and the double hull, also outlining a rudimentary theory of plate tectonics. Relatively few of his designs were constructed or were even feasible during his lifetime,[nb 2] but some of his smaller inventions, such as an automated bobbin winder and a machine for testing the tensile strength of wire, entered the world of manufacturing unheralded. [nb 3] He made important discoveries in anatomy, civil engineering, optics, and hydrodynamics, but he did not publish his findings and they had no direct influence on later science.[7] Last Supper. The First Epistle to the Corinthians is the earliest known mention of the Last Supper.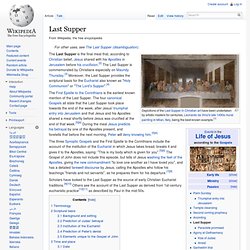 The four canonical Gospels all state that the Last Supper took place towards the end of the week, after Jesus' triumphal entry into Jerusalem and that Jesus and his Apostles shared a meal shortly before Jesus was crucified at the end of that week.[5][6] During the meal Jesus predicts his betrayal by one of the Apostles present, and foretells that before the next morning, Peter will deny knowing him.[5][6] Mona Lisa. The Mona Lisa (Monna Lisa or La Gioconda in Italian; La Joconde in French) is a half-length portrait of a woman by the Italian artist Leonardo da Vinci, which has been acclaimed as "the best known, the most visited, the most written about, the most sung about, the most parodied work of art in the world.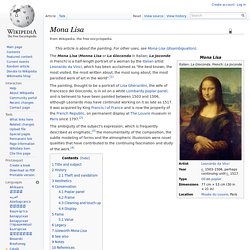 "[1] The painting, thought to be a portrait of Lisa Gherardini, the wife of Francesco del Giocondo, is in oil on a white Lombardy poplar panel, and is believed to have been painted between 1503 and 1506, although Leonardo may have continued working on it as late as 1517. Leonardo da Vinci.
---