Bike
Bicycle Set Up - How To Information
Road bikes: riding, training, equipment...
.citycycling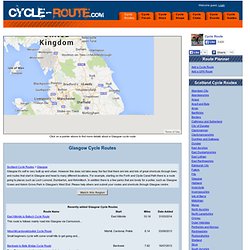 Glasgow Cycle routes - Cycle Route Planner
Map Data Click on a pointer above to find more details about a Glasgow cycle route Scotland Cycle Routes > GlasgowGlasgow it's self is very built up and urban. However this does not take away the fact that there are lots and lots of great shortcuts through town, and routes that start in Glasgow and head to many different locations.
Creaks, Clicks & Clunks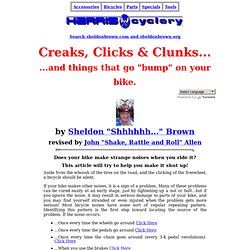 Search sheldonbrown.com and sheldonbrown.org Creaks, Clicks & Clunks... ...and things that go "bump" on your bike. Does your bike make strange noises when you ride it? This article will try to help you make it shut up! Aside from the whoosh of the tires on the road, and the clicking of the freewheel, a bicycle should be silent.
Bicycle Maintenance: How To Adjust a Rear Derailleur
The Bike Station - Welcome to the Glasgow Bike Station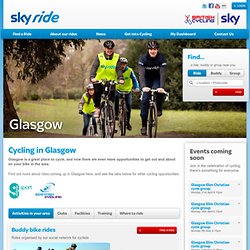 Glasgow - Sky Ride
Glasgow is a great place to cycle, and now there are even more opportunities to get out and about on your bike in the area. Find out more about rides coming up in Glasgow here, and see the tabs below for other cycling opportunities. Buddy bike rides Rides organised by our social network for cyclists Steven has created the group "Glasgow Elim Cycle Group" Find a group now76 days ago
freshnlo Pedal for Scotland
Go Bike! Strathclyde Cycle Campaign - Home Page