Bags ideas
I'm fascinated with bag design especially making tote bags interesting through designs, materials & embelishments. Please feel free to join us. X mariebutcher Apr 6
Creative DIY Tips & Project Ideas For Homemakers
I promised you this free downloadable bag pattern when we offered up the Simplicity Bias Tape Maker Giveaway as a great first project for your Homemade Bias Tape, so here goes… I've made a couple so far, and I usually don't like fabric bags (i'm a leather lover) but I actually adore these for summer. They are super quick to whip up (under an hour) and are also reversible, so you can get a couple different looks in one swoop.
Beginner's Bias Tape Bag with Free Downloadable Pattern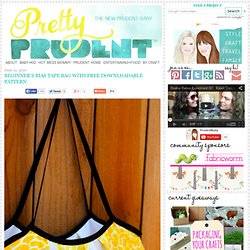 New Green Mama: Reversible Messenger Bag Tutorial
Here's what you will need: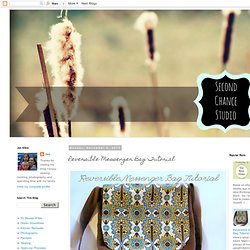 50 Things Everyone Should Know - StumbleUpon
the basic messenger bag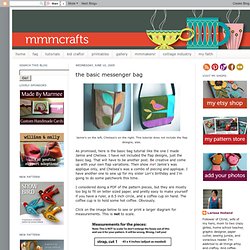 Jamie's on the left, Chelsea's on the right.
The Twenty Minute Tote
Updated September 2011 We have remade these awesome, simple bags for fall! This time around, I used a gorgeous new collection of upholstery weight cotton called Outside Oslo.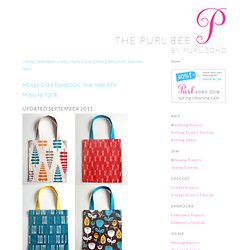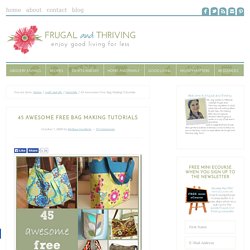 Posted on October 7 by Melissa Goodwin · 51 Comments
45 Awesome Free Bag Making Tutorials | frugalandthriving.com.au
How to make fabric storage baskets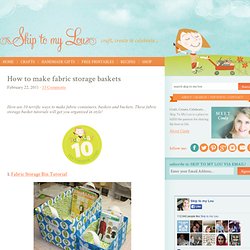 Here are 10 terrific ways to make fabric containers, baskets and buckets.
If you've already received the latest Quirky Kit: 'What's the Story?' then you'll know all about the packaging 'surprise' that Leo kept teasing everyone about.
Decorating your 'Quirky Kit' canvas bag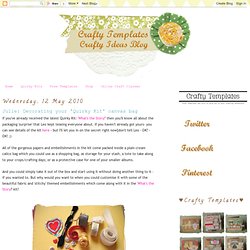 zart Art Easy Art Craft Activities | Primary School Activities | Textile Projects | Making Bags | activities for children/students/kids | Teacher Art Craft Lesson Plans | Australian School Teacher Education Resources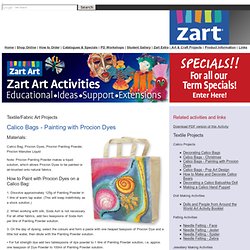 Textile/Fabric Art Projects Materials: Calico Bag, Procion Dyes, Procion Painting Powder, Procion Manutex Liquid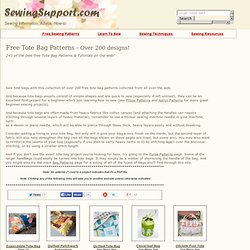 Sew tote bags with this collection of over 200 free tote bag patterns collected from all over the web. And because tote bags usually consist of simple shapes and are quick to sew (especially if left unlined), they can be an excellent first project for a beginner who's just learning how to sew (see Pillow Patterns and Apron Patterns for more great beginner sewing projects).
190 Free Tote Bag Sewing Patterns!
How To Sew A Reversible Tote Bag With Adjustable Strap | craftpassion.com
Having a reversible tote bag is like having 2 bags in one, now with the adjustable strap, you can have even more styling with it.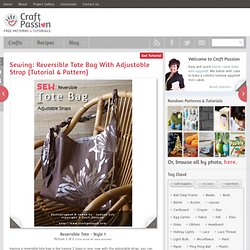 I made this bag out of some of the fabric my very nice grandmother gave me. The best part is that it converts into either a handbag or cross body bag. The best, best part is that this flower doesn't attract bugs handbag:
Tudor Rose Purse - PURSES, BAGS, WALLETS
12 free bag and purse tutorials
Get free patterns and instructions for all of these cute totes, purses, pouches and bags online right here (left to right):
Lazies, Tracy Chapman, owner of Sew Thankful, had a great time creating this Miranda Day Bag for herself. Tracy made two versatile alterations to her Miranda that I want to share with you today. Miranda Day Bag pattern from Lazy Girl Designs (LGD123). Alteration: Applique Instead of Piecing After The Fact The first alteration Tracy made was the vertical black strip at the center of the bag in the picture above. Tracy simply appliqued strips of fabric over the vertical seams on the center of the front and back covers of the bag. I love Tracy's creative addition to make the bag exactly what she wanted.
Lazy Girl | Blog » Simple Sewing Alterations You Can Make On Any Bag Project
Amy Butler
pleated_tote_pattern.pdf (application/pdf Object)
phoebe_bag.pdf (application/pdf Object)
The Keisha Bag Tutorial
***The Keisha Bag Tutorial*** Large Purse, Grocery Tote, Book Bag
Before we went away, I decided that a new bag for the beach was a must – something big and roomy to hold books, magazines, sunscreen, hats, and all that other good stuff.
Pleated tote (beach bag) tutorial
Runaround Bag Pattern
The Olivia Bag Tutorial | Dixie Mango
10 Free Tote Bag Patterns and Tutorials
Sell T shirt Designs | Sell Your Designs | Doodle-Bag
http://www.craftster.org/forum/index.php?topic=177482.0