Aussie bushrangers
Brianna it's me
Tanya
Early Australian bushrangers. McFarlane & Erskine, Gold escort attacked by bushrangers, 187-, print: lithograph.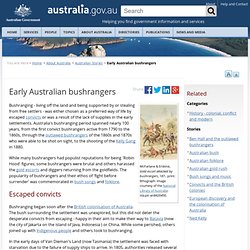 Image courtesy of the : nla.pic-an8420450. Bushranging - living off the land and being supported by or stealing from free settlers - was either chosen as a preferred way of life by escaped or was a result of the lack of supplies in the early settlements. Australia's bushranging period spanned nearly 100 years, from the first convict bushrangers active from 1790 to the 1860s, through the of the 1860s and 1870s who were able to be shot on sight, to the shooting of the in 1880.
While many bushrangers had populist reputations for being 'Robin Hood' figures; some bushrangers were brutal and others harassed the and diggers returning from the goldfields. The popularity of bushrangers and their ethos of 'fight before surrender' was commemorated in and . Black Mary. Michael Howe (bushranger) Untitled Document. Out of convenience, or to pursue a political agenda, the British colonisation of Australia is often termed a "white settlement" or a "white invasion.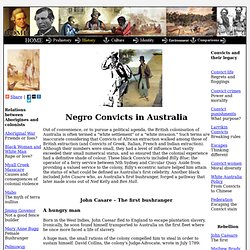 " Such terms are inaccurate considering that Convicts of African extraction walked among those of British extraction (and Convicts of Greek, Italian, French and Indian extraction). Although their numbers were small, they had a level of influence that vastly exceeded their small numerical status, and so ensured that the colonial experience had a definitive shade of colour. These black Convicts included Billy Blue; the operator of a ferry service between Nth Sydney and Circular Quay.
Aside from providing a valued service to the colony, Billy's eccentric nature helped him attain the status of what could be defined as Australia's first celebrity. Another black included John Casare who, as Australia's first bushranger, forged a pathway that later made icons out of Ned Kelly and Ben Hall. Australian Bushrangers. John Dunn (bushranger) Memorial to Nelson at Collector Inscription on memorial to Nelson John Dunn (14 December 1846 – 19 March 1866) was an Australian bushranger.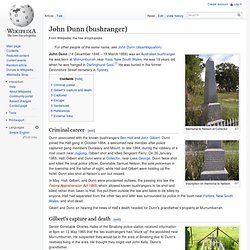 He was born at Murrumburrah near Yass, New South Wales. Img2.ranker.com/list_img/1/165850/full/famous-male-bushrangers.jpg%3Fversion%3D1307685636000. Webzoom.freewebs.com/taskerstreete/photos/null/still%2520215. Bushranger. History[edit] More than 2000 bushrangers are believed to have roamed the Australian countryside, beginning with the convict bolters and drawing to a close after Ned Kelly's last stand at Glenrowan.[3] 1850s: gold rush era[edit]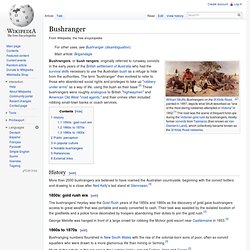 ---