Audiolibri
Adam Smith Academy - Education for your iPod Titles
American Folklore
Our online collection of Aesop's Fables includes a total of 655+ Fables, indexed in table format, with morals listed. There are many more on the way. Most were translated into English by Rev. George Fyler Townsend (1814-1900) and Ambrose Bierce (1842-1914) the rest are from Jean De La Fontaine in French and translated to English by several good internet souls. Included are Real Audio narrations, Classic Images, Random Images, Random Fables, Search Engine and much more on the way. Recently added are 127 Fairy Tales by Hans Christian Andersen.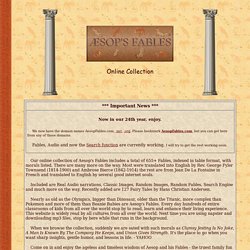 Listen LibriVox provides free audiobooks from the public domain . There are several options for listening. The first step is to get the mp3 or ogg files into your own computer: Read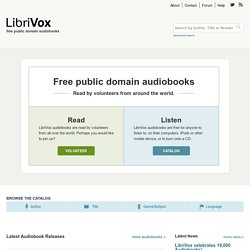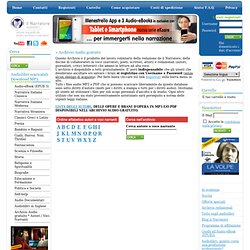 il Narratore audiolibri - Archivio audio gratuito
» Archivio Audio gratuito Questo Archivio è il prodotto del lavoro volontario della redazione de il Narratore, delle decine di collaboratori in voce (narratori, poeti, scrittori, attori) e redazionali (autori, giornalisti, critici letterari) che amano le letture ad alta voce. L'archivio è disponibile a tutti gratuitamente. E' però indispensabile che gli utenti che desiderano ascoltare e/o salvare i brani si registrino con Username e Password (senza alcun obbligo di acquisto).
Libri GRATIS ON LINE, Ebook, Manuali, Guide gratuite
Der Leipziger Hörspielsommer e. V. schreibt den 12. Internationalen Hörspielwettbewerb aus. Der Wettbewerb richtet sich an Hörspielnewcomer, die noch nicht professionell mit Radiosendern oder Verlagen zusammenarbeiten und bisher maximal drei [...]