Audiolibri
Adam Smith Academy - Education for your iPod Titles. American Folklore. Aesop's Fables. LibriVox. Il Narratore audiolibri - Archivio audio gratuito. » Archivio Audio gratuito Questo Archivio è il prodotto del lavoro volontario della redazione de il Narratore, delle decine di collaboratori in voce (narratori, poeti, scrittori, attori) e redazionali (autori, giornalisti, critici letterari) che amano le letture ad alta voce.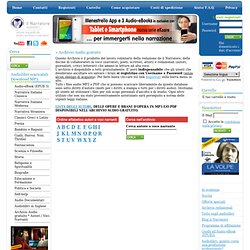 L'archivio è disponibile a tutti gratuitamente. E' però indispensabile che gli utenti che desiderano ascoltare e/o salvare i brani si registrino con Username e Password (senza alcun obbligo di acquisto). Turning the Pages™, the British Library. Welcome to the new-look audio and podcasts section. Libri GRATIS ON LINE, Ebook, Manuali, Guide gratuite.
Vorleser.net - kostenlos mp3-Hörbücher downloaden - Hörbuch zum mp3-Download - gratis!
---