Grundlagen der Musik / Theorie
Mar. 25, 2011 — Researchers at the Institute for Logic, Language and Computation (ILLC) of the University of Amsterdam have discovered a universal property of musical scales. Until now it was assumed that the only thing scales throughout the world have in common is the octave. The many hundreds of scales, however, seem to possess a deeper commonality: if their tones are compared in a two- or three-dimensional way by means of a coordinate system, they form convex or star-convex structures. Convex structures are patterns without indentations or holes, such as a circle, square or oval. Almost all music in the world is based on an underlying scale from which compositions are built. In Western music, the major scale ( do-re-mi-fa-sol-la-ti-do ) is the best known scale.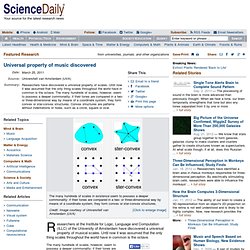 Home
Frequenzen der Instrumente und des Gesangs
Die einzelnen Frequenzbereiche und ihr Sound 40-60 Hz dröhnend. Hier wird viel Luft bewegt.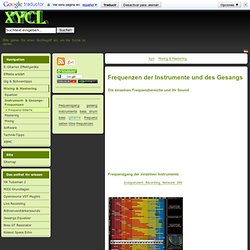 Gehörbildung ist ein Bereich der Musikbildung . Sie bezeichnet den Prozess, in dem das Gehör geschult wird, Intervalle , Tonhöhen und Rhythmen zu bestimmen. Die Gehörbildung ist notwendige Voraussetzung für Konzertmusiker, Musiklehrer, Dirigenten und Musikwissenschaftler. An Musikhochschulen werden die Melodiediktate zum Bestehen der Aufnahmeprüfung vorausgesetzt. Ein polyphoner Satz muss hierbei möglichst fehlerfrei nach dem Vorspielen auf dem Klavier notiert werden. Ebenso ist Gehörbildung ein fester Bestandteil der Abiturprüfung im Leistungskurs Musik einiger Bundesländer.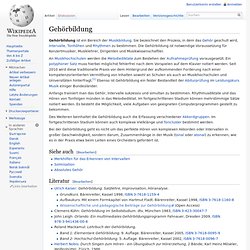 Gehörbildung
Category:Ear training
Ear training or aural skills is a skill by which musicians learn to identify, solely by hearing, pitches , intervals , melody , chords , rhythms , and other basic elements of music . The application of this skill is analogous to taking dictation in written/spoken language. Ear training may be contrasted with sight-singing , which is analogous to reading aloud in language. Ear-training is typically a component of formal musical training. [ edit ] Functional pitch recognition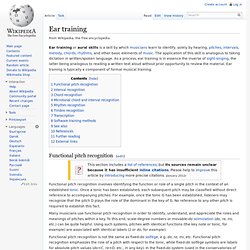 Ear training
Ear Training Software - EarMaster for Windows and Mac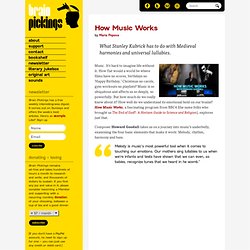 by Maria Popova What Stanley Kubrick has to do with Medieval harmonies and universal lullabies. Music. It's hard to imagine life without it. How flat would a world be where films have no scores, birthdays no 'Happy Birthday,' Christmas no carols, gym workouts no playlists? Music is so ubiquitous and affects us so deeply, so powerfully.
Category:Music-related lists
Index of music articles
Index of music articles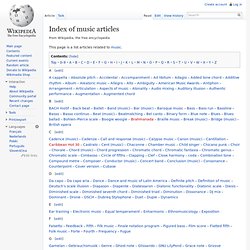 Outline of music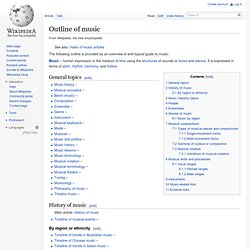 The following outline is provided as an overview of and topical guide to music: Music – human expression in the medium of time using the structures of sounds or tones and silence . It is expressed in terms of pitch , rhythm , harmony , and timbre . [ edit ] General topics [ edit ] History of music [ edit ] By region or ethnicity
The term Gypsy scale , (alternatively known as " Ciprian scale " [ citation needed ] ) refers to one of several musical scales named after their association with Gypsy music . [ citation needed ] [ edit ] Hungarian Gypsy scale Full octave minor Gypsy scale on C. Play The Hungarian Gypsy scale can be made by raising the fourth degree of the natural minor [ 1 ] or harmonic minor scale . [ 2 ] The sequence of steps forming the Hungarian Gypsy scale is: [ 3 ]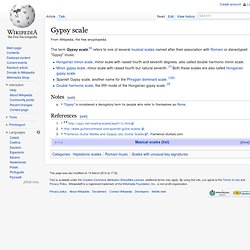 Schwisti's Musik Seite
Die Kategorie Musik ist eine Hauptkategorie und sollte nur Unterkategorien und Artikel, die nicht weiter klassifiziert werden können, enthalten. Unter Wikipedia:Kategorien/Musik gibt es einen Überblick über die Gliederung, um das gewünschte Thema schnell zu finden. Das verantwortliche Projekt ist Wikipedia:WikiProjekt Musik . Musik – lokale Sammlung von Bildern und/oder Videos und Audiodateien Unterkategorien Es werden 44 von insgesamt 44 Unterkategorien in dieser Kategorie angezeigt: In Klammern die Anzahl der enthaltenen Kategorien (K), Seiten (S), Dateien (D)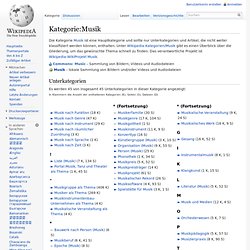 Kategorie: Musik
Musik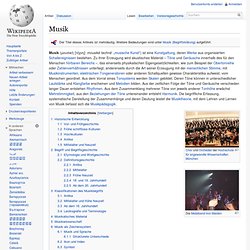 Musik (μουσικὴ [τέχνη]: mousikē technē : " musische Kunst ") ist eine organisierte Form von Schallereignissen . Zu ihrer Erzeugung wird akustisches Material – Töne und Geräusche innerhalb des für den Menschen hörbaren Bereichs –, das einerseits physikalischen Eigengesetzlichkeiten, wie zum Beispiel der Obertonreihe oder Zahlenverhältnissen unterliegt, andererseits durch die Art seiner Erzeugung mit der menschlichen Stimme , mit Musikinstrumenten , elektrischen Tongeneratoren oder anderen Schallquellen gewisse Charakteristika aufweist, vom Menschen geordnet. Aus dem Vorrat eines Tonsystems werden Skalen gebildet. Deren Töne können in unterschiedlicher Lautstärke und Klangfarbe erscheinen und Melodien bilden. Aus der zeitlichen Folge der Töne und Geräusche verschieden langer Dauer entstehen Rhythmen . Aus dem Zusammenklang mehrerer Töne von jeweils anderer Tonhöhe erwächst Mehrstimmigkeit , aus den Beziehungen der Töne untereinander entsteht Harmonik .
Kategorie: Portal (Musik)
aus Wikipedia, der freien Enzyklopädie Die Kategorie Portal (Musik) existiert noch nicht. Bevor du eine Kategorie anlegst, beachte bitte folgende Hinweise:
Portal: Musik
Akkordeon Kategorien: Musik , Akkordeonisten - Liste: Liste von Akkordeonisten Bass Michael Balzary - Jack Bruce - Clifford Lee Burton - Bootsy Collins - Tom Hamilton - Colin Hodgkinson - Mark King - Greg Lake - Christian Liebig - Paul McCartney - Charles Mingus - Jaco Pastorius - Chris Squire - Eberhard Weber - Marcus Miller Kategorien: Musik , Bassisten , Kontrabassisten - Liste: Liste von E-Bassisten , Liste von Kontrabassisten
Ein Musiklabel , Plattenlabel oder kurz Label ['lɛibəl] ist in der Musikindustrie die eigenständig geführte Abteilung eines Tonträgerunternehmens , die ihre Interpreten unter einem bestimmten Markennamen vertreibt. Jedes Label kann sich bei der Gesellschaft zur Verwertung von Leistungsschutzrechten eintragen lassen und erhält dabei zur Kennzeichnung der Platten einen individuellen Labelcode . Musiklabels werden zumeist als vom Tonträgerunternehmen eigenständige Rechtsform geführt und bilden durch mehrheitliche Beteiligung mit dem Tonträgerunternehmen einen Konzern . Major-Labels und Independent-Labels [ Bearbeiten ] Plattenlabels sind somit der Vertriebsbereich eines Tonträgerunternehmens, der auf der Grundlage eines Label-Katalogs sein Repertoire vermarktet. Label-Katalog ist die numerische Zusammenfassung aller von einem bestimmten Plattenlabel veröffentlichten Tonträger.
Plattenlabel
In dieser Kategorie und ihren Unterkategorien sollen Musik-/Plattenlabel einsortiert werden. Dabei werden sie nach Herkunft und Genre sowie Produktionsform (Independent- bzw. Major-Label) kategorisiert. nach Hauptsitz (zwingend): Alle Artikel über Musik/Plattenlabel werden dem jeweiligen Staat ihres Hauptsitzes zugeordnet.
Kategorie: Musiklabel
In diese Kategorie werden nur aktuelle und ehemalige Major-Label einsortiert. Deren Sublabel gehören in die Kategorie:Major-Sublabel . Sind die Verhältnisse unklar, entfällt eine Kategorisierung nach Produktionsform.
Kategorie: Major-Label
Kategorie: Major-Sublabel
Kategorie: Independent-Label
Portal: Musik/Stilrichtungen der Musik
Kategorie: Musikgenre
Portal: Techno
Kategorie: Musiktheorie
Kategorie: Tonlehre
Category:Music theory
Category:Harmony
Category:Chords
Kategorie: Harmonielehre
Dominante
Subdominante
Tonika