Aspergers
A Reporter's Guide to the Autism Speaks Debacle
Autism may make brains of women but not men more male - health - 13 August 2013
Autism may shape the brains of women differently to those of men. The condition seems to cause female, but not male, brains to look more masculine, suggesting that one controversial view of autism – as an extreme version of the male brain – may need rethinking.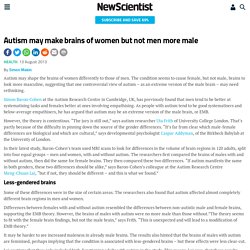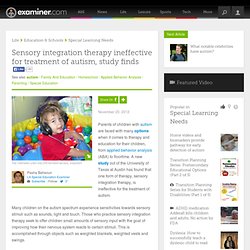 Parents of children with autism are faced with many options when it comes to therapy and education for their children, from applied behavior analysis (ABA) to floortime. A new study out of the University of Texas at Austin has found that one form of therapy, sensory integration therapy, is ineffective for the treatment of autism. Many children on the autism spectrum experience sensitivities towards sensory stimuli such as sounds, light and touch. Those who practice sensory integration therapy seek to offer children small amounts of sensory input with the goal of improving how their nervous system reacts to certain stimuli. This is accomplished through objects such as weighted blankets, weighted vests and swings. The researchers evaluated 25 studies on sensory integration therapy and found that there was no scientific evidence that symptoms of autism were improved.
Sensory integration therapy ineffective for treatment of autism, study finds - Los Angeles LA
Autism Awareness: I see you everywhere - OC Moms
I have Aspergers Syndrome and I am not creative. I can't paint or draw, I can't sculpt or carve, and I have no musical talent whatsoever. In fact by the time you have finished reading this post I am quite sure you will agree that writing is a bit of a stretch! My complete lack of artistry makes me the worst example for the post I am about to write. I often read various interpretations of the diagnostic criteria of Aspergers Syndrome , and one that is commonly listed is "A Lack of Imagination" or something very similar.
Aspergers Syndrome - Aspergers Syndrome & Creativity
Creativity and Adults with Autism « AHEADD.ORG | Adult Autism Support & Services
AHEADD helps college students to succeed academically and socially at some of the country's most competitive colleges. AHEADD coaches, mentors, and encourages self-advocacy for college students with: Autism Spectrum Disorders Attention Deficit Disorder (ADD) Attention Deficit Hyperactive Disorder (ADHD) Dyslexia Learning Differences Non-Verbal Learning Disability (NVLD) Read More AHEADD also offers trainings to high school staff, college campuses, organizations, and employers!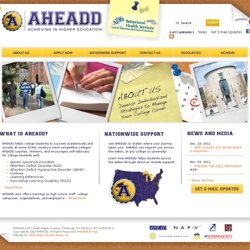 Autism Papers--Children with Asperger's Syndrome: Characteristics/Learning Styles and Intervention Strategies pg 2
Language Comprehension/Auditory Processing Difficulties Characteristics: Children with Asperger's Syndrome generally interpret auditory information literally and concretely . They can have difficulty understanding figurative language, jokes/riddles, multiple meaning words, teasing and implied meanings.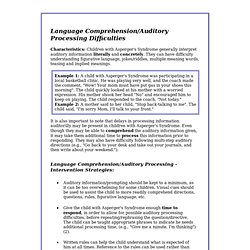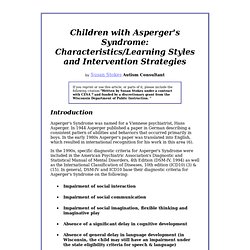 Autism Papers--Children with Asperger's Syndrome: Characteristics/Learning Styles and Intervention Strategies pg 1
by Susan Stokes Autism Consultant If you reprint or use this article, or parts of it, please include the following citation: "Written by Susan Stokes under a contract with CESA 7 and funded by a discretionary grant from the Wisconsin Department of Public Instruction.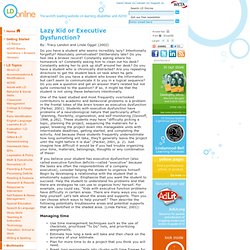 Lazy Kid or Executive Dysfunction?
By: Tracy Landon and Linda Oggel (2002) Do you have a student who seems incredibly lazy? Intentionally forgetful? Absolutely unmotivated?
Homework
In psychology and neuroscience , executive dysfunction , or executive function deficit is a disruption to the efficacy of the executive functions , which is a group of cognitive processes that regulate, control, and manage other cognitive processes. [ 1 ] Executive dysfunction can refer to both neurocognitive deficits and behavioural symptoms . It is implicated in numerous psychopathologies and mental disorders , as well as short-term and long-term changes in non-clinical executive control. Executive dysfunction is not the same as dysexecutive syndrome , a term coined by Alan Baddeley to describe a common pattern of dysfunction in executive functions, such as deficiencies in planning , abstract thinking, flexibility and behavioural control. [ 2 ] [ 3 ] This group of symptoms, usually resulting from brain damage, tend to occur together. [ 4 ] However, the existence of this syndrome is controversial . [ 5 ] [ edit ] Overview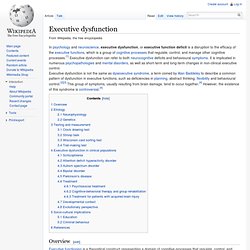 Executive dysfunction
What is the triad of impairments and how can parents work with schools to help overcome them? In addition to the core impairments of the triad, many students with Asperger syndrome will have difficulties with fine and gross motor co-ordination and organisational skills. They can also be affected by underlying fears and phobias, often (but not always) related to sensory sensitivities. These can have a significant effect on their behaviour, and the impact of fears and phobias on daily life should not be underestimated.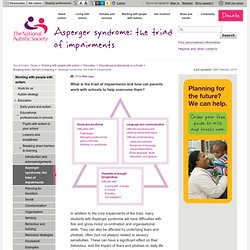 Asperger syndrome: the triad of impairments
Theory of mind (often abbreviated "ToM") is the ability to attribute mental states— beliefs , intents , desires , pretending , knowledge , etc.—to oneself and others and to understand others have beliefs, desires, and intentions that are different from one's own. [ 1 ] Deficits occur in people with autism spectrum disorders, schizophrenia , attention deficit hyperactivity disorder , [ 2 ] as well as neurotoxicity due to alcohol abuse . [ 3 ] Though there are philosophical approaches to issues raised in discussions such as this, the theory of mind as such is distinct from the philosophy of mind . [ edit ] Definition Theory of mind is a theory insofar as the mind is not directly observable. [ 1 ] The presumption that others have a mind is termed a theory of mind because each human can only intuit the existence of their own mind through introspection, and no one has direct access to the mind of another.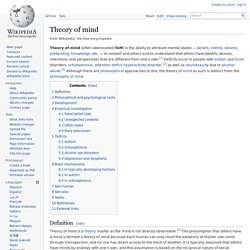 In a 2001 research paper , Simon Baron-Cohen describes Theory of Mind as "...being able to infer the full range of mental states (beliefs, desires, intentions, imagination, emotions, etc.) that cause action. In brief, having a theory of mind is to be able to reflect on the contents of one's own and other's minds." For many of those with autism or Asperger's , mindblindness, or lack of Theory of Mind creates major barriers to communication and closeness. These barriers often lead to those nearest to the individual feel, whether real or perceived, a lack of empathy from the individual. When I think of Theory of Mind, I think of an amusing, but of course very inaccurate, belief I harbored as a young child. While playing games like hide and seek, I used to think, "If I can't see them, they can't see me."
Empathy, Mindblindness, and Theory of Mind
By Nicole Nicholson on August 17th, 2011 Got empathy? I do.
Inside and Out: A Few Words about Empathy | Autism and Empathy
Asperger - Selected Content
iGoogle
Students with asperger's syndrome may experience difficulties with focusing as well as lack of focus. Focus involves attention. Sometimes asperger's students focus all their attention on a particular object or subject; therefore, they fail to focus on what information the instructor is presenting. All their energy is directed toward a particular subject or object. Why? Because that object or subject is not overwhelming to them and they understand it.
Educators can be great allies in keeping your youngster with Aspergers or High-Functioning Autism safe and successful in school, but you'll need to make sure they have all the knowledge they need to help. Use these suggestions to create an information packet to bring educators up to speed... Five Things Educators Need to Know— 1.
My Aspergers Child: Teaching Aspergers Children: Tips For Teachers
What is Asperger syndrome?
Here we explain more about Asperger syndrome - a form of autism - including the three main difficulties that people with Asperger syndrome share, how many people have the condition, and what may cause it. As soon as we meet a person we make judgements about them. From their facial expression, tone of voice and body language we can usually tell whether they are happy, angry or sad and respond accordingly.
Aspergers Syndrome Foundation
Guidelines for teaching students with Asperger syndrome in further education colleges