Asian
Almost-Famous Chicken Lettuce Wraps Recipe : Food Network Kitchens. Directions Prepare the chicken: Whisk the egg white, cornstarch and rice wine in a bowl.
Add the chicken and toss to coat. Cover and refrigerate at least 30 minutes. Make the stir-fry sauce: Whisk 1/3 cup water, the oyster, hoisin and soy sauces, the rice wine and sesame oil in a bowl, then whisk in the cornstarch until dissolved. Chicken teriyaki. I've been cooking for as long as I can remember and in certain periods of my life I did not have much time to spend in the kitchen – I needed delicious yet quick meals for weeknights.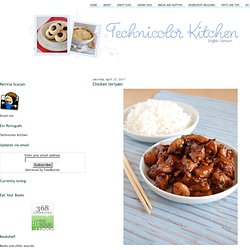 On my days as a single lady I used to make lots of pasta – both my dad and my sister are crazy for it and dinner would be on the table in less than half an hour. Recently I've been trying my hand at Asian recipes and some of them are absolutely delicious – and equally fast. This chicken teriyaki is a great example: it has instantly become a favorite of my husband's – a.k.a. "the picky eater" – and it took me moments to put it together. Let me tell you something: if my husband liked it, picky people everywhere will probably like it, too.
Asian Glazed Drumsticks. These Asian inspired drumsticks are finger lickin' good!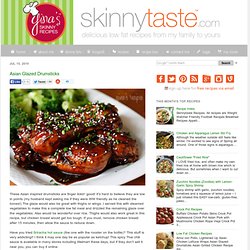 It's hard to believe they are low in points (my husband kept asking me if they were WW friendly as he cleaned the bones!) The glaze would also be great with thighs or wings. I served this with steamed vegetables to make this a complete low fat meal and drizzled the remaining glaze over the vegetables. Slow Cooker Orange Chicken. Favorite Family Recipes: Mongolian Beef. I LOVE P.F.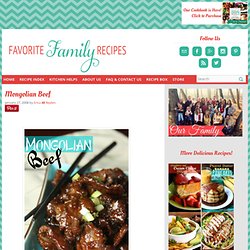 Changs but it can be a little pricy for what you actually get. I have been making this recipe for YEARS now and I always get rave reviews. Most people who have it say they actually like it MORE than P.F. Changs. You can make this dish for the entire family for the same price as one of these as a menu item! Ramen Hacks: 30+ Easy Ways to Upgrade Your Instant Noodles | Serious Eats - StumbleUpon. SLIDESHOW: Ramen Hacks: 30+ Easy Ways to Upgrade Your Instant Noodles [Photographs: J.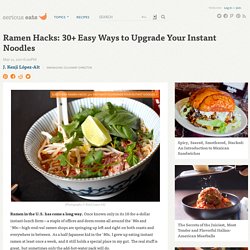 Kenji Lopez-Alt] Ramen in the U.S. has come a long way. Once known only in its 10-for-a-dollar instant-lunch form—a staple of offices and dorm rooms all around the '80s and '90s—high-end real ramen shops are springing up left and right on both coasts and everywhere in between. As a half-Japanese kid in the '80s, I grew up eating instant ramen at least once a week, and it still holds a special place in my gut. Better Than Takeout Orange Chicken - StumbleUpon. Yesterday as I stood in the kitchen trying to figure out what to make for dinner I wondered to myself, how do those people do it on those shows where they are given random ingredients and are suppose come up with something genius.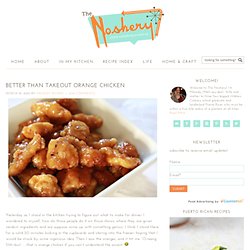 I think I stood there for a solid 20 minutes looking in the cupboards and staring into the freezer hoping that I would be struck by some ingenious idea. Then I saw the oranges, and it hit me "O-raang Shh-ikun"….that is orange chicken if you can't understand the accent. I love orange chicken, and I almost always order # 14 Orange Chicken when we order Chinese take out and I wondered to myself if I could make it better at home. This recipe most definitely delivered! Ha ha Chinese food…delivered….get it?
---