Asian (Korean)
Korean Spicy Chicken and Potatoes - The Adventures of MJ and Hungryman. Spicy Korean Vegetable Stir Fry [ Fat Free ] Back in the day when sodium ruled the roost of my kitchen (Along with cheese stuffed, bacon hamburgers sauteed in butter.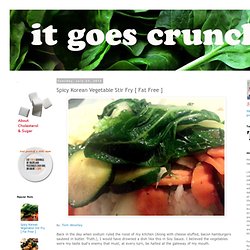 Truth.), I would have drowned a dish like this in Soy Sauce. I believed the vegetables were my taste bud's enemy that must, at every turn, be halted at the gateway of my mouth.Well, a pair of horrendously fat ankles from water retention later and a stern decision to allow for the possibility that I needn't hide vegetables under the protective vestige of that killer black sauce, I came upon this recipe.
Ramen Noodle Upgrade, Recipe from Mad Hungry, March 2011. Effortless Thai Pasta | Produce On Parade. I don't always feel like cooking.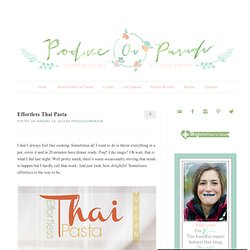 Sometimes all I want to do is throw everything in a pot, cover it and in 20 minutes have dinner ready. Pouf! Gimbap recipe. Hi everybody!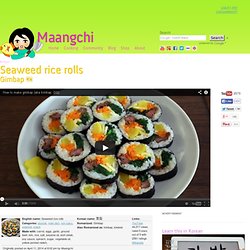 Spring has come! It's time for us to make something delicious, pack a lunch box, and go on a picnic. I can't fully enjoy any activity or event unless delicious food is on hand. Most Koreans are like this. Chicken noodle soup from scratch (Dak-kalguksu. I'm sharing my family's all-time favorite food with you today, chicken noodle soup – dak-kalguksu in Korean.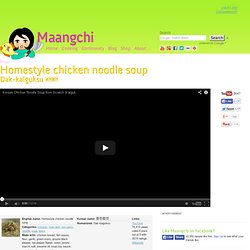 The word kal means knife and guksu means noodle soup, indicating that the noodles in this soup are made by cutting them from the dough. There are many kinds of kalguksu, but this version is made with chicken (dak in Korean). The noodles are made from scratch, which makes this dish very special and welcome in any home. You can picture a housewife kneading dough, the chicken broth boiling in a huge pot on the stove behind her, giving off a great aroma, filling the whole house, and her family excited about the upcoming noodle soup. "Mom, is it ready yet??" Soju Watermelon Cocktail (Subak Soju.
Hello everyone!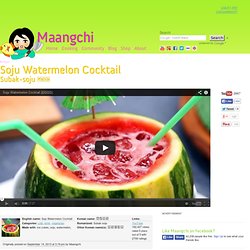 Today I'd like to introduce you to Subak Soju, a very popular cocktail in Korean bars in America that you can easily make at home. It's made with soju, which is the #1 distilled beverage in Korea but not well known to the rest of the world. If you can't find it in a Koreatown near you, you can substitute it with vodka. The fun thing about subak soju is that you can use the blended flesh of the watermelon to make your drink and use the watermelon shell to serve it in — nothing is wasted! Korean Steak Noodles Recipe. Bibimbap (Mixed rice with vegetables. For 4- 6 servings.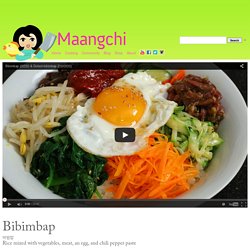 Ingredients: Cooked ricea package of bean sproutsa bunch of spinach2 small size of zucchinis5-7 Shiitake mushroomsfern brakes (kosari)200 grams of ground beef (about half a pound)1 small carrot, eggssoy sauce, hot pepper paste, garlic, sesame seeds, sesame oil, and vegetable oil. Spicy Shrimp and Vegetable Stir-fry: Recipes. Kimchi Fries. Yangzhou Fried Rice.
Sweet Potato Noodles with Beef and Mushrooms (Japchae) Kimchi soup (Kimchiguk. I'd like to introduce you to my family's special kimchi soup recipe today.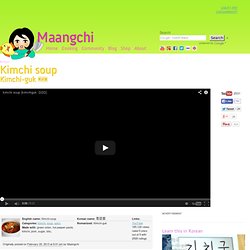 It's called kimchiguk in Korean, is very easy to make and it's a well-balanced "one pot meal" when served with rice. You get the vitamins and minerals from well-fermented kimchi, and protein from pork and tofu. It's great for the winter: nutritious, warm, and satisfying. I don't worry about making any other side dishes when I make kimchiguk. It's so delicious that I don't pay attention to anything else, I just keep eating the soup and rice until it's done. : ) Vegan Dan Dan Noodles. [Photographs: J.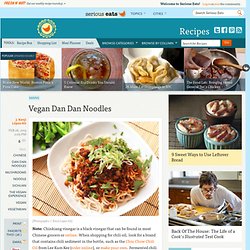 Kenji Lopez-Alt] Note: Chinkiang vinegar is a black vinegar that can be found in most Chinese grocers or online. When shopping for chili oil, look for a brand that contains chili sediment in the bottle, such as the Chiu Chow Chili Oil from Lee Kum Kee (order online), or make your own. P.F. Chang's Chicken in Soothing Lettuce Wraps. Instructions Cover mushrooms with boiling water, let stand 30 minutes then drain.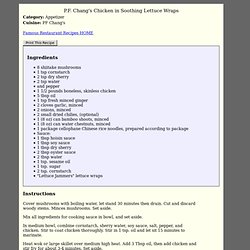 Cut and discardwoody stems. Sauted Potatoes And Fish Cakes Gamja Chae Bokkeum Recipe. Beef Bulgogi Recipe at Epicurious. Photo by CIA/Keith Ferris yield Makes 4 portions For authentic flavor and texture in this dish, the meat should be sliced very thinly.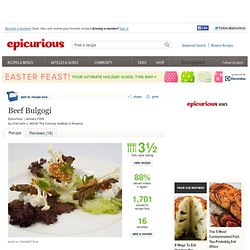 Vegetable Stir Fry - Best Vegetable Stir Fry Recipe! Most vegetable stir-fries are a tad on the boring side, but not this one! This dish sings with so much flavor, you'll forget all about its amazing health benefits (plus it's vegetarian and vegan too!). Using a good stir-fry sauce one of the keys to creating a great veggie stir-fry; the other is in the stir-frying - knowing when to add what. At the same time, this recipe is pretty forgiving - you can add your own choice of vegetables, depending on what you have on hand. Simple SuJaeBi. SuJaeBi is a traditional Korean soup made with flour dough and vegetables.
Since I posted many~~ spicy foods so far, I'll show a non-spicy Korean dish. This dish shows that not all Korean foods are spicy. hehe… Today I will use kelp and anchovies for the broth, but you also use clams or kimchi (or other spicy seasonings.) I like SuJaeBi with clam the most, but I didn't get the chance to make it this time. Dak Galbi, spicy Korean chicken | Beyond Kimchee. There are two things in life that are almost impossible to bring back to their original status. One; the soggy noodles in the soup Two; a boyfriend who left you for another girl. Some food brings memories. My friend got really mad at me when I told her this Philosophy of physical changes in life. Korean Style Black Beans and Rice (fasting, gluten free) « Orthodoxfastingrecipes's Blog.
Greetings all. Continuing our kool kitchen* trend, today's recipe is for the crock pot. Don't leave the crock on the counter keeping the kitchen warm all day. Korean Spicy Marinated Pork (Dae Ji Bool Gogi) Easy Spicy Korean Pork | Beyond Kimchee. I bet I am one of the rare Korean who sucked on "Math" at school. I don't do well with numbers. Seeing unorganized numbers used to give me headaches and I am still mad at why cell phone numbers has to be 10 digits. However, when my 7th grade daughter asked a math homework question (the algebra!) I was sure I wasn't that dumb. Korean Cold Kimchi Noodles Recipe.
Korean Spicy Beef Soup (Yukaejang) Recipe - Recipe for Korean Beef Soup (Yuk Gae Jang) DIY jianbing: How to make the perfect breakfast crêpe. Chicken Fried Rice. The Best Easy Beef And Broccoli Stir-fry Recipe - Chinese.Food.com - 99476. Asian. Bulgogi Taco II. Asian. Asian food. Asian Dishes. Japanese Food. Asian. Asian. Chinese Barbecued Tofu and Vegetables. CrockPot Vietnamese Pho Soup Recipe. Slow Cooker General Tso's Chicken Recipe. CrockPot Honey and Orange Tofu Recipe. Chinese Pork & Vegetable Hot Pot.
Chinese Noodles. Korean Spinach Soup Recipe. A Series of Kitchen Experiments: Chicken Kimchi Stew. Japanese Food – Stirfried Kimchi Chicken. Korean Kimchi Pancake Recipe - Recipe for Kimchi Jun (Kimchee Jeon) Kimchi Jjigae Korean Kimchi Soup) Recipe - Food.com - 324429. Vegetable Stir Fry - Yachae Bokum (Korean) recipe.
Slow Cooker Korean BBQ | Courtesy Of Chef #364735 Recipes | - User recipe. Kimchi Soup With Tuna Recipe. Spicy Korean Slow Cooked Chicken (Dhak Dori Tang) Recipe. CrockPot Korean Ribs Recipe. Shrimp Lo Mein. Grandma's Rainy Day Kimchi Noodle Soup Recipe - Food.com - 402890. Spicy Spinach MuChim | Aeri's Kitchen | Cooking Korean Recipies & Food. Kimchi Casserole | fusion style kimchi dish | Beyond Kimchee. Sweet Potato Noodles (Japchae) Recipe at Epicurious. Lobster to Sweet & Sour: How To Make 6 Stir-Fry Sauces | Apartment Therapy The Kitchn.
Slow Cooked Korean Chicken « Can You Stay for Dinner? Beef Radish Soup, when you feel blue. Korean Spicy Braised Chicken and Potatoes - Recipe for Taktoritang. Korean recipes: Japchae (stir fried noodles with vegetables) Heart Shaped Egg MalI | Aeri's Kitchen | Cooking Korean Recipies & Food.
---