Sites généraux
Longarm Quilting Pattern Book
Josh here! No piecing instruction from me today, but instead I'd like to talk about something that is the very foundation of quilting: color choice. To get an idea of my favorite colors, here is Leah's quilt Shadow Self. I helped Leah in the designing process by selecting all of the colors.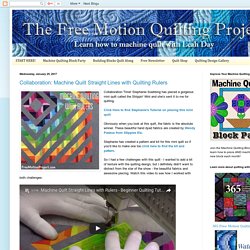 Patsy Thompson Designs, Ltd.
PineNeedles.com : Welcome
Qu'est-ce que Artextures ? The Mishaps Maria Vetter Christiansen Crédit photo : Patrice Delatouche Artextures est une expression artistique contemporaine, démarche créative et recherche personnelle qui a pour support le textile. Artextures veut promouvoir et soutenir les artistes afin de faire connaître l'évolution et l'innovation du monde vivant de l'art textile.
Artextures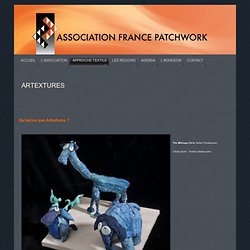 Material Matters | Front Range Contemporary Quilters
Quilt mania - le magazine du patchwork, livres de patchwork, livre de patchwork, livre de Quilt - > ACHETER DES ANCIENS NUMÉROS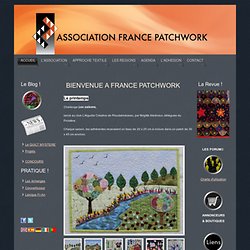 Le printemps Challenge Les saisons, lancé au club L'Aiguille Créative de Ploudalmézeau, par Brigitte Kéréneur, déléguée du Finistère. Chaque saison, les adhérentes recevaient un tissu de 20 x 25 cm à inclure dans un patch de 30 x 45 cm environ. L'Association France Patchwork est une association type loi 1901.
Members' Gallery
C&T Publishing: Books & Products for Quiltmaking, Sewing, Fiber Arts & Mixed Media, Needle Arts, Papercrafts and More
Art Quilters | Front Range Contemporary Quilters
décoration, patchwork, couture, tissus japonais
Material Obsession
Yesterday afternoon a storm blew in and wiped summer away. The lightening and thunder scared the dog to a safe position at my feet beneath the desk as the sky went black and the rain pounded our tin roof. The lights dimmed and then went out.
Quilt Patterns - Page 1
Serendipity Patchwork and Quilting Gallery
RJR Fabrics
Hoffman Fabrics : Free Quilt Patterns
Texas Quilt Shop, Block of the Month Quilt
Quilting Artists - Gallery
1
Quilting Adventures is located in Richmond, VA, in the Shops at Willow Lawn. We have about 4000 bolts of high quality quilting fabric - mostly bright and contemporary, with ~1000 bolts of batiks and hand dyeds, over 350 different solids, in addition to a great selection of 30s reproductions, novelty prints and more. Our product mix also includes books, patterns, threads, and notions for quilting as well as general sewing, cross stitch and embroidery!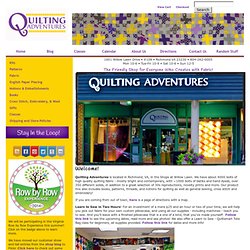 Home - Quilting Adventures
Studio Art Quilt Associates
unnamed pearl
Machine Quilting Unlimited Machine Quilting Unlimited Magazine is focused on the machine quilting process, whether you are using a domestic sewing machine, small frame system or professional longarm machine. Our articles are instructive, informative and enlightening, showcasing the latest products, designs, teachers and quilting celebrities. We continually strive to educate the reader via how-to instruction and detailed product reviews.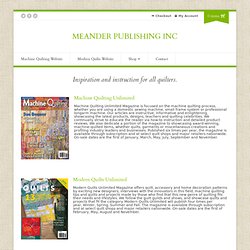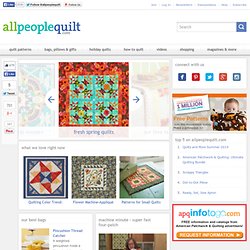 Baby rickrack adds playfulness and dimension to this cute,... Setting a stylish table is easy with this colorful runner. Rows...