Sites généraux
Longarm Quilting Pattern Book. The Free Motion Quilting Project. Patsy Thompson Designs, Ltd. PineNeedles.com : Welcome. Artextures. Qu'est-ce que Artextures ?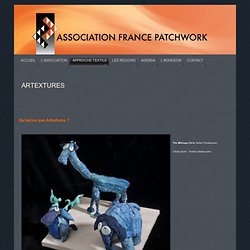 The Mishaps Maria Vetter Christiansen Crédit photo : Patrice Delatouche Artextures est une expression artistique contemporaine, démarche créative et recherche personnelle qui a pour support le textile. Artextures veut promouvoir et soutenir les artistes afin de faire connaître l'évolution et l'innovation du monde vivant de l'art textile. Material Matters | Front Range Contemporary Quilters. Quilt mania - le magazine du patchwork, livres de patchwork, livre de patchwork, livre de Quilt - > ACHETER DES ANCIENS NUMÉROS. Bienvenue A France Patchwork. Members' Gallery. C&T Publishing: Books & Products for Quiltmaking, Sewing, Fiber Arts & Mixed Media, Needle Arts, Papercrafts and More. Art Quilters | Front Range Contemporary Quilters. Décoration, patchwork, couture, tissus japonais. Material Obsession. Yesterday afternoon a storm blew in and wiped summer away.
The lightening and thunder scared the dog to a safe position at my feet beneath the desk as the sky went black and the rain pounded our tin roof. The lights dimmed and then went out. Quilt Patterns - Page 1. Serendipity Patchwork and Quilting Gallery. RJR Fabrics. Hoffman Fabrics : Free Quilt Patterns. Texas Quilt Shop, Block of the Month Quilt. Quilting Artists - Gallery.
1. Home - Quilting Adventures. Studio Art Quilt Associates. Untitled. Open - allpeoplequilt.com.
---