Artificial Intelligence
Mathematicians help to unlock brain function
Mathematicians from Queen Mary, University of London will bring researchers one-step closer to understanding how the structure of the brain relates to its function in two recently published studies.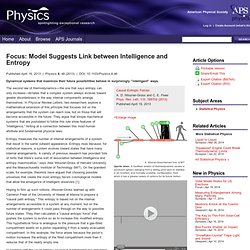 Model Suggests Link between Intelligence and Entropy
+Enlarge image
Q-learning is a model-free reinforcement learning technique that works by learning an action-value function that gives the expected utility of taking a given action in a given state and following a fixed policy thereafter. One of the strengths of Q-learning is that it is able to compare the expected utility of the available actions without requiring a model of the environment. A recent variation called delayed Q-learning has shown substantial improvements, bringing Probably approximately correct learning (PAC) bounds to Markov decision processes . [ 1 ]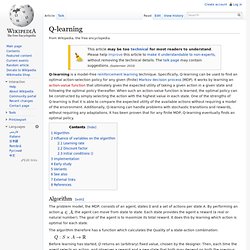 Q-learning
A network of neurosynaptic cores derived from long-distance wiring in the monkey brain: Neuro-synaptic cores are locally clustered into brain-inspired regions, and each core is represented as an individual point along the ring. Arcs are drawn from a source core to a destination core with an edge color defined by the color assigned to the source core. (Credit: IBM) IBM Research – Almaden presented at Supercomputing 2012 last week the next milestone toward fulfilling the ultimate vision of the DARPA's cognitive computing program, called Systems of Neuromorphic Adaptive Plastic Scalable Electronics ( SyNAPSE ), according to Dr. Dharmendra S. Modha , Manager, Cognitive Computing, IBM Research – Almaden .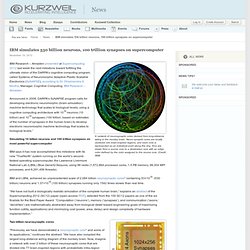 IBM simulates 530 billon neurons, 100 trillion synapses on supercomputer
The core of a TEDx event combines live speakers, performers and TEDTalks to spark deep discussions and connections. The immersive and uplifting event can be a life-changing experience. TEDxBerkeley 2013 will provide a platform for the Bay Area's leading visionaries and storytellers to speak to an energised group of thinkers, as well as to the world at large. At this event, 1000 changemakers, innovators, thinkers, creatives, cultural leaders & social pioneers will witness a back-to-back schedule of talks, performances and other multimedia surprises showcasing the theme of Catalyzing Change : pioneering technologies, fresh thinking and new ideas that will foster creativity and action around the world. April 20th, 2013, from 10:30AM (Registration from 9:00AM) TEDxBerkeley will take place inside Zellerbach Hall, the premiere performance venue for Cal Performance and the greater Berkeley community.
Inspiring Innovation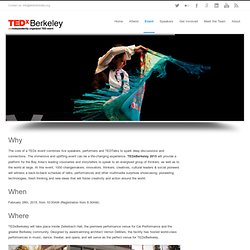 Daniel Romano B Martinho
Daniel Romano B Martinho
Artificial Intelligence - foundations of computational agents
I can feel it in the air, so thick I can taste it.
Later Terminator: We're Nowhere Near Artificial Brains | The Crux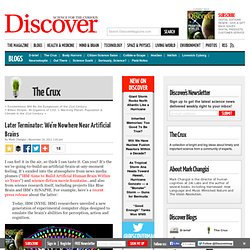 LaTeX for Logicians