Arte museos
Art and Culture Law - Guide to Art and Cultural Property Law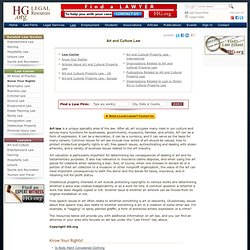 Art law is a unique specialty area of the law. After all, art occupies many roles in our culture and serves many functions for businesses, governments, museums, families, and artists. Art can be a form of expression, it can be a decoration, it can be a currency, and it can serve as the basis for many careers.
The Art Law Blog
Cornell economist Robert H. Frank had a piece in Sunday's New York Times on Detroit and its art collection. He urges us to look at both costs and benefits. Take Pieter Bruegel the Elder's "The Wedding Dance," which could be worth $200 million by itself. At a 6 percent interest rate (after rates "return to normal levels"), "the foregone interest on that amount would be approximately $12 million a year."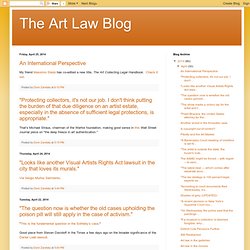 Historia El Museo de Arte de Tlaxcala se inauguró el 27 de mayo de 2004 como una dependencia del Instituto Tlaxcalteca de Cultura (ITC) y cuenta con dos edificios. Creado como un espacio de expresión y exhibición para las artes visuales, particularmente contemporáneas, el Museo de Arte de Tlaxcala supone un punto de convergencia para las diversas expresiones artísticas locales, nacionales e internacionales. Desde el inicio, el museo fue concebido como un proyecto amplio que reuniera adecuadas condiciones de infraestructura para exponer obra relevante con profesionalismo y de acuerdo a las normas mundiales de calidad y seguridad museística.
Museo de Arte de Tlaxcala
MUSEO NACIONAL DE HISTORIA
:: MUAC ::
Museo Soumaya
:: Joe Pogan Sculptures ::
Bennett Robot Works: Robot Index #1
ICA: Institute of Contemporary Art, Philadelphia
Reading Public Museum: General
Artes de México
Guggenheim Go New York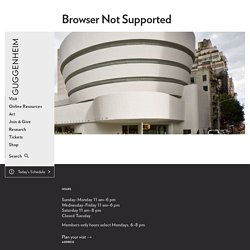 Museo Nacional de San Carlos
español deutsch français italiano 日本語 한국어 русский 中文(简体) 旧版 português Hours (Main Building) Open 7 Days a Week Sunday–Thursday: 10:00 a.m.–5:30 p.m. Friday and Saturday: 10:00 a.m.–9:00 p.m. Closed Thanksgiving Day, December 25, January 1, and the first Monday in May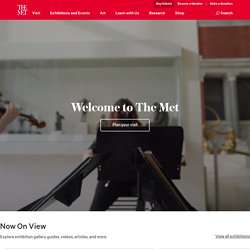 Museo Franz Mayer
La celebración de la gran familia Fun Race, a beneficio de Socieven. Este domingo 16, de 11 a.m. a 6 p.m., es un día ideal para pasarla bien, un encuentro familiar para disfrutarlo con todos los amigos del Fun Race, lleno de actividades al aire libre para grandes y chicos, de muchas sorpresas para celebrar el cierre de año, premiar a los ganadores de la quinta válida y del campeonato Fun Race 4 x 4 Polar Pilsen 2007, para presenciar la rifa de la nueva Toyota Terios y para vivir un grato momento recordando todo lo sucedido en el Fun Race 2007. El costo de la asistencia a la fiesta del Fun Race es de Bs. 60.000 (60 Bs.F) por persona.
Expreso de Arte Mexicano