Arte museos
Art and Culture Law - Guide to Art and Cultural Property Law. Art law is a unique specialty area of the law.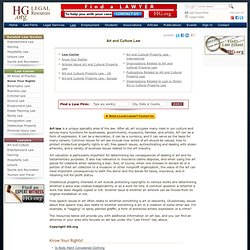 After all, art occupies many roles in our culture and serves many functions for businesses, governments, museums, families, and artists. Art can be a form of expression, it can be a decoration, it can be a currency, and it can serve as the basis for many careers. The Art Law Blog. Museo de Arte de Tlaxcala. MUSEO NACIONAL DE HISTORIA. :: MUAC :: Museo Soumaya. The Amazing Sculptures of Ji Yong Ho. :: Joe Pogan Sculptures :: Bennett Robot Works: Robot Index #1. ICA: Institute of Contemporary Art, Philadelphia. Reading Public Museum: General. Artes de México. The Getty. National Gallery of Art Washington.
New York. Welcome to the Andy Warhol Museum. Museo Nacional de San Carlos. The Metropolitan Museum of Art, New York: metmuseum.org. Museo Franz Mayer. The Museum of Modern Art.
Expreso de Arte Mexicano.
---