Architecture
Coolio
Cluny House by Guz Architects. Cluny House by Guz Architects Amidst the lush environment of Singapore, Guz Architects have built a home that engages the local environment in almost every aspect of its design.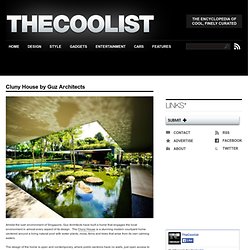 The Cluny House is a stunning modern courtyard home centered around a living natural pool with water plants, moss, ferns and trees that arise from its own calming waters. The design of the home is open and contemporary, where public sections have no walls, just open access to the watery central courtyard.
Architecture concepts. Damn cool places. Winter. Tropical. Office. Restaurants. Living. Historic. Michael Pawlyn: Using nature's genius in architecture. Public. View in architecture - m a l d i n i. At Home with David Ling.